Patriots
What you need to know about Alex Guerrero's involvement with the Patriots
Who is Alex Guerrero?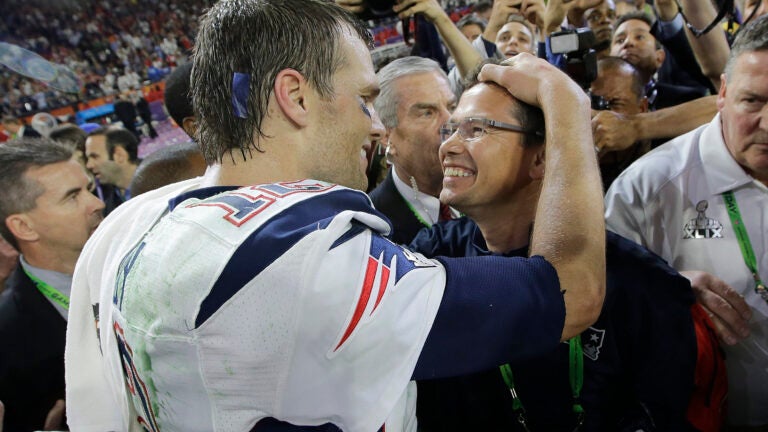 Quarterback Tom Brady's friend, trainer, and business partner Alex Guerrero's involvement with the Patriots has been a controversial subject over the past year.
Here's what you need to know about the situation:
How did Brady and Guerrero meet?
Guerrero grew up in California and studied traditional Chinese medicine at the now-defunct Samra University of Oriental Medicine. After earning his degree, he opened his own practice, focusing on sports injury rehabilitation and nutrition, in Los Angeles. Per Brady's performance guide, The TB12 Method: How to Sustain a Lifetime of Peak Performance, Guerrero began working at his facility in 1996 and soon after started flying across the country to work with specific players. Some of his former clients include retired Chargers running back LaDainian Tomlinson, retired Patriots cornerback Ty Law, and retired Patriots linebacker Willie McGinest.
When McGinest — who overlapped with Brady for six seasons in New England — noticed Brady was taking more and more time off from practice during the 2004 season, he recommended a meeting with Guerrero.
"[Alex] came east for six days every month to work with Willie and other players," Brady wrote in his book. "One of those trips, the two of us met up at Willie's house."
Guerrero introduced Brady to many of the customs he now passionately swears by, including holistic medicine and pliability. The pair saw each other two days every other week during the 2004 and 2005 seasons, which seems infrequent compared to their current schedule of four meetings per week. Brady cited the recovery from his season-ending ACL tear in 2008 as an experience that "really cemented" their friendship and set the stage for everything that has transpired since.
"Over time, we developed a set of principles that have become the foundation of my performance training," Brady wrote. "The TB12 Method that Alex and I developed allows me to feel, play, and perform every week at levels as high as — or higher than — they were back when I was first given the opportunity to step onto the field as the Patriots' quarterback."
Brady has credited Guerrero with changing his perspective on the traditional model of strength and conditioning, which he believes has, in turn, prolonged his playing career. Together, they opened the TB12 Sports Therapy Center at Patriot Place in September 2013. Guerrero's business card at the facility reads "co-founder."
Despite his involvement with Brady, Guerrero has never been an official employee of the Patriots' medical and training staff. Other than confirming that Guerrero does not work for the Patriots, which he did again during training camp, coach Bill Belichick hasn't had much to say about his role with the team.
What kind of relationship has Guerrero had with the Patriots?
The Boston Globe revealed in 2015 that a number of staff members on the Patriots' medical and training team had complained to Belichick not only about Guerrero's alternative approach to health, but also about his controversial background.
Guerrero was sanctioned by the Federal Trade Commission for marketing "Supreme Greens," a supplement that he falsely claimed could help reverse the diagnoses of terminally ill patients. According to the complaint filed by the FTC, he promoted the product as "an effective treatment, cure, and preventative for cancer, heart disease, arthritis, and diabetes." He also purported to be a doctor multiple times and was previously investigated for practicing physical therapy without a license.
The Globe's Bob Hohler reports Belichick's response to the initial complaints was: "Tom wants him. What am I supposed to do?"
In December, however, Belichick reportedly stripped Guerrero of several privileges, including a seat on the team plane, sideline credentials on game day, and the ability to treat players (excluding Brady) in his office at Gillette Stadium.
As for why Belichick opted to take a stand in December, nearly two years later, Hohler speculated the move could have been to "reduce some tension in the workplace." Prior to Belichick's reported decision to cut down on Guerrero's privileges, rumors of a potential rift between the trainer and the team were rumbling. ESPN's Tom Junod and Seth Wickersham wrote in October there's reportedly "a collision coming" between Belichick and Guerrero.
"Brady has found himself in the middle of a conflict between the Patriots and Guerrero," read the story. "With Guerrero blaming the team's trainers for injuries some of his clients have suffered and with Belichick making it resoundingly clear that Guerrero has no actual role on his staff."
When asked about the story, Belichick called the claims "fake news."
"As usual, I think a lot of comments that were in the article you're referring to aren't attributed to anybody — if I am not mistaken," Belichick said during a weekly radio appearance on WEEI in November. "I don't think anybody said anything. This is just a general random opinion about I'm not sure exactly what."
"If we would like to talk about somebody that has an informed opinion about something, that's one thing," he continued. "I mean, otherwise we're just talking about a lot of fake news here, just putting out a lot of things that are unattributable as usual. I'd say we get a lot of that."
Wickersham, however, told Boston.com that he stands by what was written. Wickersham also published another story about the Patriots in January, further detailing a reported rift among Brady, Belichick, and owner Robert Kraft.
According to Wickersham…
While Belichick preferred players visit the Patriots' doctors, players believed visiting Guerrero could be an opportunity to earn Brady's trust. Several consulted coaches and staffers about where to seek treatment.
Brady would tell teammates, "Bill's answer to everything is to lift more weights," which is advice that conflicts with the TB12 method's emphasis on pliability and resistance training.
Although Belichick still permits players to visit the TB12 Sports Therapy Center — just not Guerrero's office at Gillette Stadium — for treatment, many players told coaches and staffers they were under the impression Belichick had completely banned them from working with Guerrero.
After former backup passer Jimmy Garoppolo injured his shoulder in his second start with the Patriots last season, he set up an appointment with Guerrero at the TB12 center. When he arrived for his scheduled session, however, nobody was there and the door was locked. He called TB12 trainers, but nobody picked up. Garoppolo worked with a team trainer that night.
Both the Patriots and Guerrero released a statement following the publication of Wickersham's story.
"I get that many of my beliefs are not mainstream, and I know they may differ from others," Guerrero's statement read. "But they reflect my experience from over 22 years of practice working with some of the best athletes in the world. I understand that some people may disagree with me about how to treat injuries or how to train in order to maximize potential. I welcome this and think it is normal and healthy in all careers, because it helps everyone learn, grow, and improve."
Which other Patriots does Guerrero treat?
The Boston Sports Journal's Greg Bedard estimated in December Guerrero works with 20 Patriots, including two of Brady's most popular targets on the field.
Wide receiver Julian Edelman
Edelman has said his work with Guerrero plays "a huge part" in extending his career and staying healthy at 32 years old.
"It's a lifestyle on how to take care of your body, what you put in your body, flushing your body with his work," he told reporters last June. "Before and after practice, keeping your muscles pliable, keeping them hydrated — those things. All it is is knowledge. The more knowledge you get through the years, the more powerful you can get. That's kind of the little saying: more knowledge, more power. It's definitely helped me a lot and I look forward to continue doing it."
After tearing his ACL in a preseason game, Edelman kept up with Guerrero as a part of his recovery process. He said going to the TB12 center was included in his daily rehab. In a radio interview with WEEI, Edelman called himself "a huge advocate" of the TB12 method, saying "Tom is a living proof of how that has helped his career."
"If it helps you, then it helps you," Edelman said. "I feel like it helps me with a lot of my stuff, and I like consulting with Alex and those guys over there because I've seen through a lot of the rehabs that they have done that it's been unbelievable."
Edelman doesn't follow the TB12 method to a T, however. In an episode of Brady's docu-series, "Tom vs. Time," Brady along with his friend, Kevin, ragged on Edelman for his focus on weight-lifting.
"I've been hearing this for f****** eight years, eight years," Edelman joked to the camera. "We've been in an argument for eight years."
Tight end Rob Gronkowski
Gronkowski started regularly visiting the TB12 center last summer, with a primary goal of supplementing his habits to stay injury-free.
"I just felt like I had to add on to what I was doing," he told the Boston Herald's Karen Guregian last July. "Find a way that my body will respond so I can perform every day. Be in prevention mode for injuries happening."
Gronkowski logged a productive regular season, recording 1,085 receiving yards and eight touchdowns on 69 catches. He kept up with his visits to the TB12 center, which also continued into the offseason. When asked in December whether Guerrero's reported limited access had affected his training, Gronkowski told reporters the change "hasn't impacted [his] preparation at all."
Though Gronkowski was healthy for the majority of the season, he also reportedly "didn't enjoy himself." NBC Sports Boston's Tom Curran reports his satisfaction began as early as training camp of last year. Per Curran, Gronkowski had "difficulty convincing people that he should be able to go and train a particular way."
According to Guregian, Belichick — early on in the regular season last year — criticized Gronkowski in front of other players for being a TB12 client. As Guregian put it, "maybe that was Belichick's not-so-subtle way of trying to keep everyone from jumping ship on the team's training staff."
What kind of relationship does he have now with the Patriots?
Belichick's stringent restrictions may have modified for the upcoming season.
For New England's third preseason game this year, Guerrero reportedly traveled with the Patriots to North Carolina via the team plane. He's also been frequently spotted in the locker room. When asked to confirm reports of Guerrero's flight access, Brady abruptly ended his Monday interview with WEEI's "Kirk & Callahan."
"I said, 'I don't want to get into it,'" he told host Kirk Minihane when pressed.
The incident wasn't the first time Brady has cut things short because of a question about Guerrero. On the third day of Patriots training camp, he walked away from reporters after he was asked for his thoughts on people linking wide receiver Julian Edelman's performance-enhancing drugs (PED) suspension to Guerrero.
"I have no comment,'' Brady said. "That's just ridiculous. I'm out. See you guys.''
Belichick did not offer any details surrounding the decision to re-grant Guerrero a seat on the AirKraft. When asked by reporters, he stuck to his usual response of confirming Guerrero still doesn't work for the Patriots.
"He's not a member of the organization," Belichick said during his weekly WEEI appearance. "He works at TB12. I think we're all aware of that. We have people in our traveling party, some are in the organization — most are — and some aren't. We have people in various capacities that work with us on game day, and, again, every team has that. We have that, too."
"You need some extra people on game day," he continued. "There could be specialty people on the medical staff, security, and so forth. We have other people who are — some are full-time, some are let's call it 'game day-type' employees because of just higher demands in certain areas on game day."