Patriots
Watch Danny Etling run for an 86-yard touchdown
Etling? More like Danny "Jetling."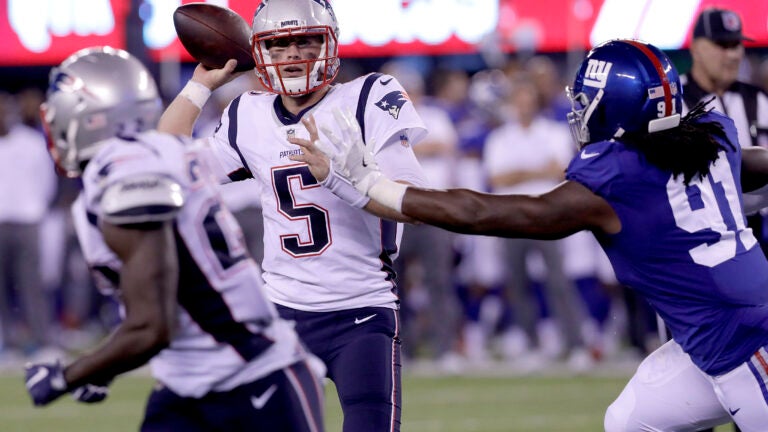 "When's the last time a quarterback ran for 85 yards for the New England Patriots?" coach Bill Belichick asked in his postgame press conference following the Patriots' 17-12 preseason win over the New York Giants Thursday night.
In an effort Belichick called "one of the most exciting plays [he's] ever seen in preseason, backup quarterback Danny Etling flashed his speed for 86 yards in the fourth quarter at MetLife Stadium Thursday.
With New England leading 10-6, Etling faked a handoff before taking off along the sideline. The 24-year-old bolted to the end zone, out-running two members of the Giants' secondary to put six points on the board.
Wait, what?!

Just your standard 86-yard rush TD for QB Danny Etling.#NEvsNYG | #GoPats pic.twitter.com/6aNijrpqc6

— New England Patriots (@Patriots) August 31, 2018
"It was a great job by the running back and the offensive line there to sell it," Etling told reporters after the game. "They made sure there was no one there to make a tackle on me. I think I looked back about seven times and finally crossed the end zone. That was just a great play by the entire offense."
Etling, who played the entire game, completed 18 of his 32 pass attempts for 157 yards and a touchdown. He also threw two interceptions and was sacked twice.
Belichick was very complimentary of the 2018 draft pick after the game.
"Look, nobody has worked harder than Danny," he said. "That kid is the first one in, last one to leave. He is very diligent. He tries to sort as much as he can with all the things that we do and then he stays extra and works on his own. When something like that happens you are just happy for him that all the hard work pays off."
As for other quarterbacks who have potentially rushed 85 yards?
"Maybe [Steve] Grogan, [Jim] Plunkett," Belichick said. "80, that is a long run."