Patriots
What Nate Solder had to say about reuniting with his former Patriots teammates
"I didn't expect the emotions that I had. But it was just one after the other after the other."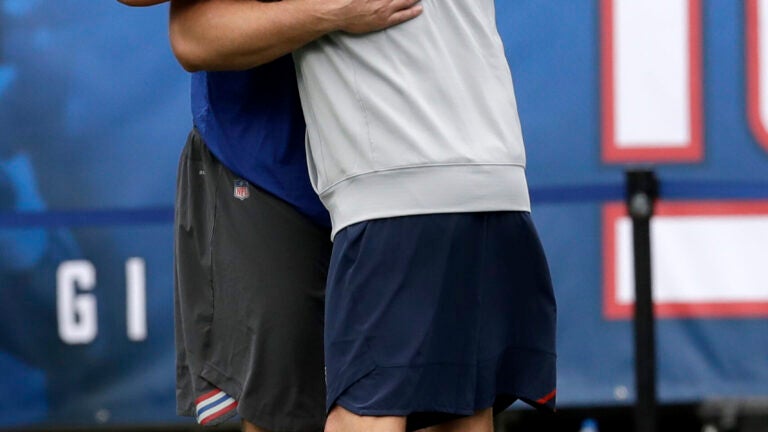 Nate Solder's job for seven years was to make sure no one laid a hand on Tom Brady. That role shifted Thursday when the blindside protector wrapped his former quarterback in a hug before the start of the preseason game between the Patriots and Giants.
Solder won two Super Bowls as New England's left tackle before signing a four-year, $63 million deal with New York this offseason. Several of his old teammates, including fellow linemen LaAdrian Waddle and Joe Thuney, embraced him during warmups at MetLife Stadium.
"It was awesome," Solder told BostonSportsJournal.com after the game. "It was great to see them."
Tom Brady and whole team showing mad love for @soldernate ! I'm not ? you are! #Patriots ❤️ pic.twitter.com/p2H2yaDRnH

— The Camera Guys (@NBCSCameraGuys) August 30, 2018
"I didn't expect the emotions that I had," he said. "But it was just one after the other after the other. So many of them. I think the world of each of those guys. It was touching to see them."
The 30-year-old noted he keeps up with the men he used to line up alongside, noting "those relationships go beyond football, so I know those guys will always be friends with me forever, no matter the circumstances."
Brady recently discussed the deep connection that exists between quarterback and left tackle. He said he "absolutely" misses Solder's presence on the edge of his protective front. For his part, Solder acknowledged switching clubs requires a transitional phase, but remains focused on what lays ahead for him and for his family.
"There are so many things to look forward to," he said. "Not just football. Beyond the world of football. The ability to help multiple communities. A large group of people you can help in the New York City community. There are so many areas we're looking forward to being a part of."
In Boston, Solder integrated himself into the community through his work with the Jimmy Fund — a cause he was all too familiar with as his son battled cancer. The lineman plans to continue his charitable work in his new home.
"Our time in Boston was so special, and that will always be a part of us and what we plan on doing," he said. "But we're going to devote as much time and energy here as we did there."