Patriots
How 7th-round draft pick Keion Crossen reacted to making the Patriots' 53-man roster
"I enjoyed it at 4:01."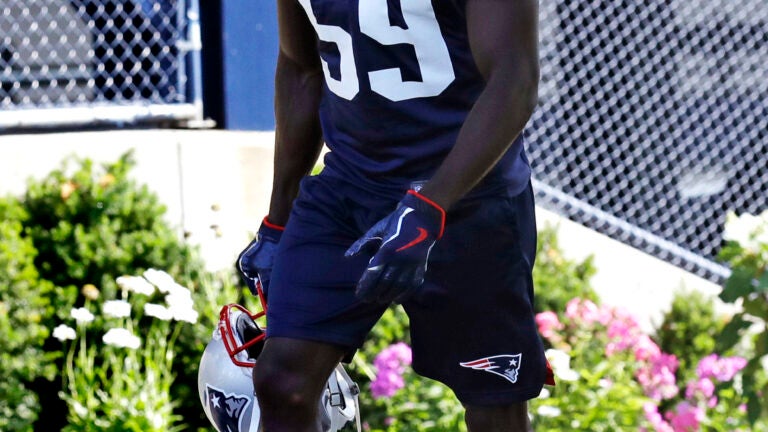 FOXBOROUGH, Mass. (AP) — Keion Crossen spent most of Saturday doing what all NFL bubble players do: wondering, worrying — and, most importantly, refreshing his phone.
"All day. Every second hitting refresh, refresh the Twitter page or whatever you got to do," Crossen said Sunday after making the New England Patriots' final roster as a seventh-round draft pick.
Then came 4 p.m. Saturday — and the phone did not ring.
"It didn't ring. That's a good sign," said Crossen, who spent the day with some teammates, two of whom didn't make it.
The cornerback from Western Carolina, once a 147-pound high school quarterback, had made it to the opening roster of a team seeking its sixth Super Bowl win this century.
"I enjoyed it at 4:01 and I'm ready right now," he said. "I was focused at 4:02 to get started for Houston week."
He added he had trouble sleeping both Friday and Saturday nights, the first night worrying and then looking ahead.
"As the business goes, you gotta move on, you gotta prepare, you can't let your mind stay in yesterday," he said. "Moving forward for me is a big deal, especially for me coming in Week 1 as a rookie, I want to make sure I know as much as I need to know going into Game 1.
"(Saturday night) I was just more focused on getting to know my opponent. That's the reason I couldn't sleep, because I wanted to know my opponent as much as I could before I get with the coaches and everything."
The opponent for Week 1 is Deshaun Watson, the mobile Texans quarterback who can drive a defense crazy. That's enough for even a veteran to worry about/
In a strange twist to the story, Crossen said he didn't tell his parents, Winnie and Thomas, until Sunday morning that he made the cut — and added they didn't know until he told them.
"They're happy parents," he said. "They enjoyed that I get to enjoy my dream. They just hoped the best for me. They did not know … my mom cried, my dad's a little tough, so he played a little hardball. But they're happy, they're definitely happy.
"I didn't call anyone. the last 24 hours I've just been waiting. So I kinda knew, I guess, when you all knew, and I'm very happy to be here and I'm ready to get started."
Crossen dressed in a corner of the locker room with three other young players. Their names, including A.J. Moore and John Atkins, who didn't make the squad, were gone when he came in Sunday morning. Asked if that was different, he said, "It is. It is, very different. But I'm ready to play, focusing on this week and focusing on what I can do to make the team better.
"It's always tough (seeing guys go). I know as a rookie class you come in together, some go and some stay, but at the end of the day I wish everyone who's not here the best and everyone who is here, (to) have a great season."
And now, borrowing a Bill Belichick phrase, it's on to Houston.
"I don't know what to anticipate," Crossen said. "Obviously still a rookie, still learning. I'm just kind of go with the flow. I know we're going to practice, I definitely know that, so only control what I can control and work hard every day.
"It's a joy to be here."
NOTES: The waiver period expired at noon and the Patriots hadn't made any announcements on waiver claims or if their players made it through en route to the practice squad. Saturday's cuts left the roster at 52, one under the limit; the suspended Julian Edelman does not count. Rookie Ryan Izzo was to be put on injured reserve (eligible to return) Sunday, opening another spot. … Last year, New England traded quarterback Jacoby Brissett to the Indianapolis Colts for Phillip Dorsett in one of a series of moves on this date. The Patriots might be hoping to get rookie quarterback Danny Etling through waivers so he could join the practice squad.