Patriots
5 things to know about new Patriots wide receiver Amara Darboh
He was born in Sierra Leone.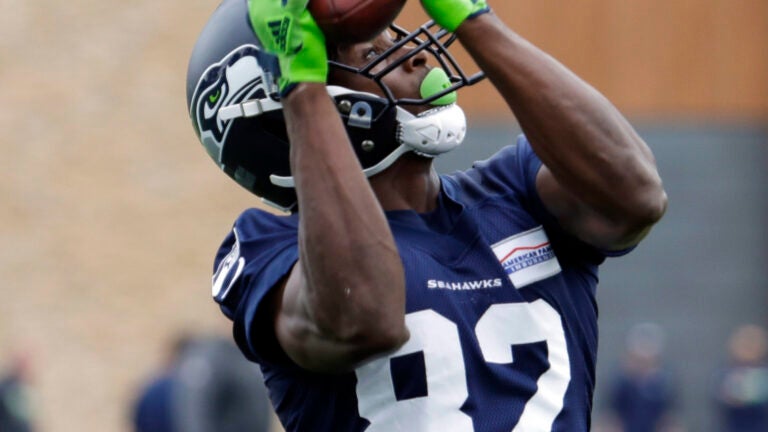 The Patriots claimed Amara Darboh off waivers on Sunday to add another wide receiver to their roster.
Here's what you need to know about Darboh, who is entering his second season in the NFL after spending 2017 with the Seahawks.
He was born in Sierra Leone.
According to an in-depth feature from The Seattle Times, Darboh grew up in Sierra Leone during a civil war that killed an estimated 70,000 people and displaced close to 2.5 million.
Darboh's parents died in the war when he was two years old, and he and some of his family members fled the country to escape the chaos. They ventured to Gambia, and then Senegal, traveling more than an estimated 400 miles by foot, according to the Seattle Times story.
"What went on over there was very tragic," Darboh said in a 2015 interview. "It was a lot of power struggle. I know the rebels were invading people's homes, attacking different cities, and just taking over places, and killing pretty much anyone in their way."
He moved from Senegal to Iowa.
In Senegal, Darboh's family met a church group, Christian Lutheran Services, which was based in Des Moines. When he was seven years old, Darboh and his family then moved to Iowa and, at first, lived in a group home.
"I was scared because I had never been on a plane, and I didn't know where we were going, really," Darboh said in the same 2015 interview. "I didn't really know what the United States was."
Darboh struggled to assimilate upon arriving in Iowa and turned to sports. He met a boy named Max Schaefer through Little League, and The Schaefers, a huge sports family, first became Darboh's guardians before adopting him when he was 17 years old.
"Max and Amara, there was some bond there, that they just became close friends," Darboh's adoptive father, Dan Schaefer, said in the 2015 interview. "Next thing you know, Amara was over more, and more, and more, so he became more of a fixture around the house."
He thought football was boring at first.
Darboh developed into a soccer and basketball star, but football wasn't his calling initially.
According to The Seattle Times, Dan said Darboh called the sport "boring" at the end of a flag football season in sixth grade. Though he wasn't infatuated by the sport right away, coaches were mesmerized by Darboh's potential. Darboh gave in, and he quickly blossomed into a four-star recruit, while growing to like the sport more. He committed to Michigan, where he found a role for himself with head coach Brady Hoke.
He emerged as a go-to option at Michigan.
As a freshman, Darboh appeared in just four games at wide receiver. As a sophomore, he suffered a season-ending foot injury prior to the team's opener.
Darboh was just getting started, though, and, as a junior, he racked up 36 receptions for 473 yards, and two touchdowns. He appeared in 13 games as a senior, then earned All-Big Ten second team honors as a fifth-year senior in 2016.
Though it took him some time to get his first reception, he went on to have at least one catch in 33 straight games, which is the fourth-longest streak in school history.
He appeared in every game for the Seahawks last year.
Darboh ran a 4.45-second 40-yard dash at the NFL Combine and his vertical was 36 inches. He was praised as having good NFL size and above-average arm length. The Seahawks selected him 106th overall in the third round of the 2017 NFL Draft.
Though he wasn't targeted much, Darboh was certainly durable. His best game came in a win over the Giants, when he finished with two receptions for 29 yards. Darboh ended the year with eight catches for 71 yards and no touchdowns.