Patriots
5 things to know about new Patriots wide receiver Chad Hansen
He's a basketball fan, and he admires Larry Bird and LeBron James's greatness.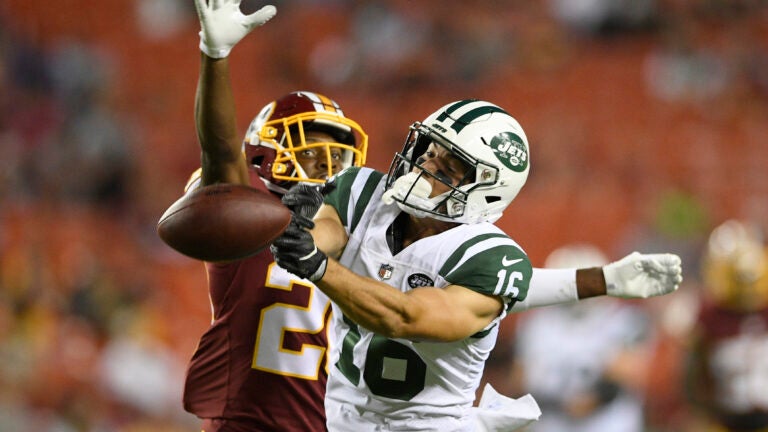 When the Patriots moved Riley McCarron to their practice squad and placed Braxton Berrios on injured reserve, it seemed likely they would pursue additional wide receivers to bolster a strong, but not particularly deep, unit.
On Sunday, the team announced it had claimed Chad Hansen and Amara Darboh off waivers. Hansen, a fourth-round pick out of California in 2017, posted nine receptions for 94 yards in 15 games with the Jets last year. Darboh, a 2017 third-round selection from Michigan, played in all 16 games for the Seahawks a season ago and finished with eight receptions for 71 yards on the season.
Here's what you need to know about Hansen, the 6'2, 202-pounder who is hoping to see the field against the Texans this Sunday and beyond.
He started his college career at Idaho State.
Before he was a member of the Cal Bears, Hansen was a contributor for the Idaho State Bengals. He ended a productive freshman season with 43 receptions for 488 yards and three touchdowns.
Hansen's best game came against Portland State, when he totaled four receptions for 138 yards, including an 80-yard touchdown in the first quarter.
He put up big-time stats at Cal.
After transferring and redshirting in 2014, Hansen finished his sophomore year at Cal with 19 receptions for 249 yards and a touchdown. That was just the beginning, as he broke out in his junior year and earned first-team All-Pac-12 honors.
Hansen ranked third in the country in per-game receptions (9.2) and fourth in receiving yards (124.9) that season, earning midseason All-American Honors from ESPN in the process. Hansen decided to forego his final year of eligibility and enter the NFL Draft in 2017.
He posted some impressive numbers in the 2017 NFL Combine.
Hansen's 4.13-second 20-yard shuffle, 6.74-second cone drill, and 11 bench reps stand out. The NFL.com scouting report at the time said he "works back to the throw" and has "fluid, powerful strides."
Hansen's NFL comparison in that report was Allen Hurns, and scouts were impressed by his size and speed. He could ultimately establish himself as a viable deep threat or a goal-line option.
He's a basketball fan.
Scroll through Hansen's timeline on Twitter, and there are plenty of football tweets, but there are also several basketball-related retweets. He seems particularly fond of Celtics legend Larry Bird and 14-time All-Star LeBron James, but it's unclear where the Fillmore, Calif., native stands in the Celtics-Lakers rivalry now that James is in Los Angeles.
His sister was one of the better college softball players in the country this year.
Hansen, who also starred in track at Moorpark High School, comes from an athletic family. His sister, Erika, wrapped up one of the better careers in Nevada softball history last spring. As a senior, she set the school record with 15 home runs in a season, and she led the Wolfpack with 19 multiple-hit games and 15 multi-RBI games.