Patriots
What Bill Belichick had to say about the Patriots' pair of new wide receivers
"They were available, so we'll take a look at them and see how it goes."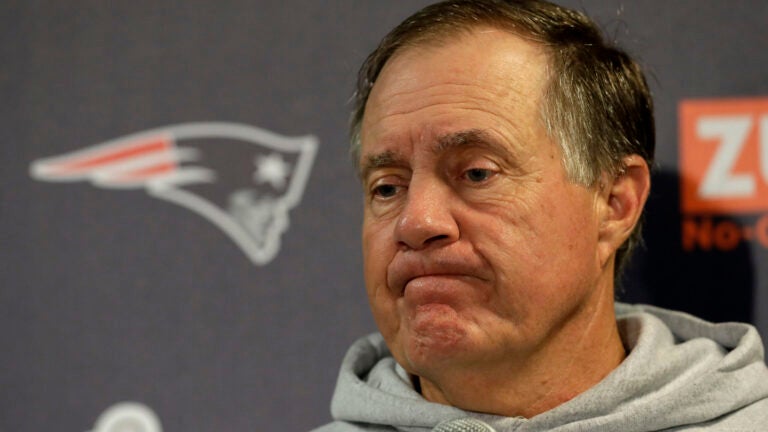 Patriots coach Bill Belichick isn't making any promises about the team's two new receivers, Chad Hansen and Amara Darboh.
"They were available, so we'll take a look at them and see how it goes," Belichick said during a conference call Monday morning.
On Sunday, New England claimed Hansen off waivers from the New York Jets and Darboh off waivers from the Seattle Seahawks. Belichick said the team had looked at both players prior to the 2017 NFL Draft and got a second look at Hansen during preseason this year. As rookies, the two put up relatively comparable numbers, combining for 17 receptions and 165 receiving yards last season.
The Patriots had just four wide receivers (Chris Hogan, Phillip Dorsett, Cordarrelle Patterson, and Matthew Slater) on the depth chart following their final roster cuts Saturday, so it's unsurprising they brought in additional help at the position — especially with Julian Edelman's four-game suspension to start the season.
"We're not trying to plan out anything other than where we are today, where we are tomorrow, see where we are the next day, and just see how all that comes together," Belichick said.
Learning the Patriots' playbook is notoriously a difficult task — quarterback Tom Brady said last week the team has "a very graduate-level type of offense" — so Hansen and Darboh have their work cut out for them. Belichick said the team will take a day-by-day approach when getting them up to speed.
"We have a little bit of extra time this week, not a whole lot, so we'll just see how quickly that can or can't happen," Belichick said. "We don't have any background with these players other than from college, which we're a long way away from that. We'll just take it day by day, go through the process, and see how it comes along."
The Patriots host the Houston Texans at 1 p.m. Sunday.