Patriots
Bill O'Brien thinks Tom Brady is moving better now than ever
"I think he's actually improved."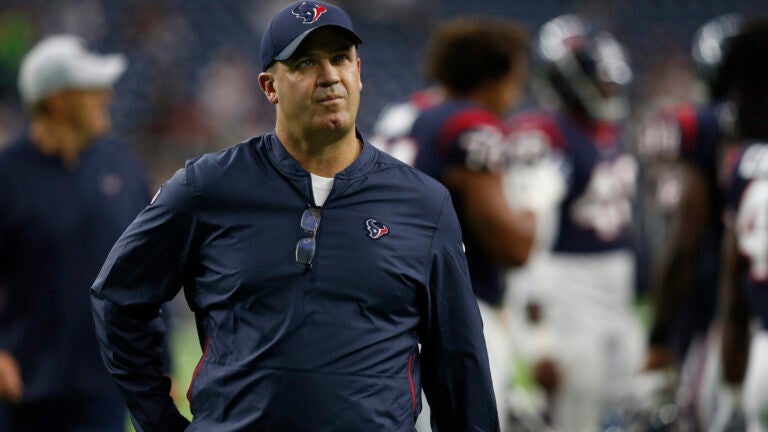 FOXBOROUGH — Houston Texans coach Bill O'Brien says Patriots quarterback Tom Brady's movement hasn't deteriorated since the two worked together in New England.
"I think he's actually improved,'' O'Brien said during a conference call Tuesday afternoon. "I think this guy is a great football player. He works so hard at all the different parts of his game, relative to mechanics, knowledge of the game, [and] knowledge of his teammates. He's always working on it.''
O'Brien — who spent five years, including two as quarterbacks coach, on the Patriots' staff — said Brady used to call him during the offseason to ask for clarification on certain plays and offer suggestions on others.
"He's always thinking about football and how to get the edge,'' O'Brien said. "That's why he's the player he is and he's had the career that he's had — and that's why he's still playing. He's found that edge, and he continues to try to get better every single day.''
Brady has credited trainer Alex Guerrero, the TB12 method, and pliability with helping extend his career into his 40s. Though O'Brien didn't mention Guerrero by name, he gave a shout to Brady's ability to take care of his body — a trend he sees in veteran players across the league.
"They always find a way to take care of their bodies in different ways,'' O'Brien said. "Every guy does it in different ways. They found a way to keep their legs in shape, to keep their upper bodies in shape, [and] to keep their minds sharp, relative to the game. Obviously, Tom does a great job of that.''
The Patriots host the Texans Sunday to kick off their 2018 season. Houston quarterback Deshaun Watson will be returning after undergoing surgery for a torn ACL in November. O'Brien said Watson was "basically a full go'' before the team's offseason program began.
O'Brien cited Watson's maturity and work ethic as two factors that aided him in his recovery. Watson — who also tore his ACL his freshman year of college at Clemson — threw for 1,699 yards and 19 touchdowns in seven games last season.
Though the quarterbacks are in different stages of their careers, O'Brien sees a commonality between Brady and Watson.
"Deshaun is very passionate about football, loves to watch tape, loves to talk about the game, come in early, stay late, [and] always has good suggestions or ideas of game play,'' O'Brien said. "He really loves the game and it shows every day.''
Sunday's game won't just be a reunion for O'Brien and the Patriots.
Patriots cornerback Stephon Gilmore and Texans outside linebacker Jadeveon Clowney played football together at South Pointe High School and the University of South Carolina. They grew up in Rock Hill, S.C., where Gilmore says Clowney was "killing the little kids" on the field.
"Everybody knows he's a freak athlete and a freak player," Gilmore said.
Gilmore had high praise for the Texans, calling the matchup a "good challenge" for the Patriots. He said Watson's play-making ability and elusiveness in the pocket can make things difficult for the secondary.
"You got to stay on the receiver as long as you can because he can make plays with his legs," Gilmore said.
Wide receiver DeAndre Hopkins also got a shout-out from Gilmore for his "big catch radius, great hands, [and] ability to turn his body any way to make plays on a ball." Gilmore's first interception as a Patriot came on a pass intended for Hopkins last September, and the two will likely face off again on Sunday.
"You go to really play physical with him and fight him all the way to the ground when the ball comes his way," Gilmore said.