Patriots
Here's what J.J. Watt had to say about facing Tom Brady
"It's a great challenge right out the gate."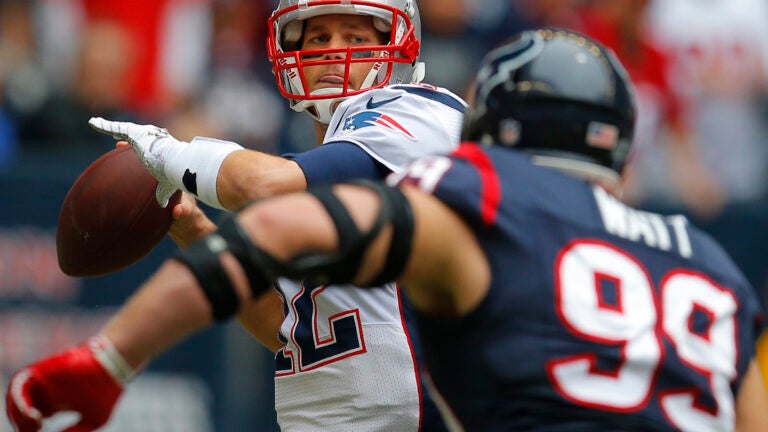 Ahead of the Patriots' season opener on Sunday, one of the NFL's premier defenders was asked about Tom Brady.
And Texans defensive end J.J. Watt, who's now recovered from a season-ending leg injury he suffered last October, didn't mix words in describing Brady's place in history:
I mean, obviously you're facing the best quarterback of all time and possibly the best coach of all time. I mean, they're incredible and everything that they've accomplished in their career speaks for itself. They've obviously done some phenomenal things and they deserve all the praise and the accolades that they get because of what they've accomplished. So you're facing that. You're facing guys with a ton of experience, a ton of knowledge, a lot of skill, a lot of talent and who work very hard. It's always a good challenge and so for us to open up the season against a team like that and a player like Tom, it's a great challenge right out the gate.
One of the aspects o the "great challenge," according to Watt, is Brady's ability to maneuver in the pocket. Watt singled out Brady's "relationship with his o-line" as particular Patriots strength:
He's very comfortable back there. I mean he knows what he's doing, he knows – his o-linemen know where he's going to be, he knows how to shuffle around and slide around to get into the open spot. I think he has a great relationship with his o-line in that matter where they know where he wants to set up and he knows where he wants to set up and if he needs to make an adjustment he can. But I think that's one of his – definitely one of his strengths is his ability to move around, find the open window, find the open space and get the ball out quick as well. I mean he's been very good at that his whole career.
The Patriots face the Texans at 1 p.m. EST at Gillette Stadium on Sunday.