Patriots
Phillip Dorsett isn't concerned about the Patriots' thin wide receiving corps
"Josh has a great way of getting everybody involved, so I think we'll be fine."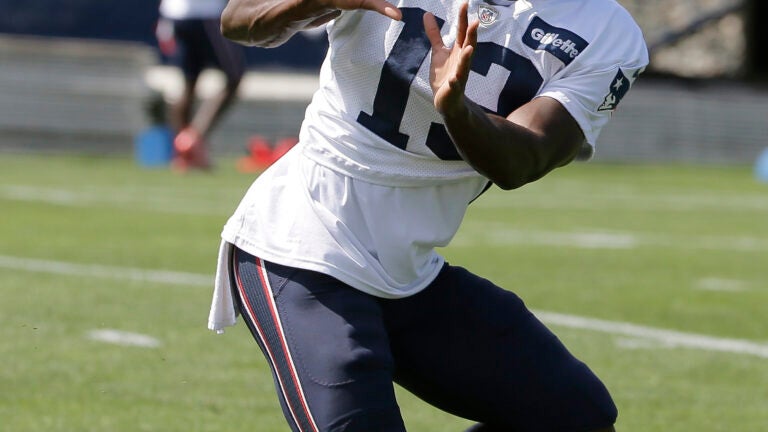 FOXBOROUGH, Mass. (AP) — Phillip Dorsett has a message for anyone who thinks the New England Patriots don't have enough talent at wide receiver with Julian Edelman suspended for the first four games of the season.
"I think we're ready to go," Dorsett said Thursday as his team gets ready for Sunday's opener against the Houston Texans.
"We've got a lot of guys, a lot of playmakers, not just in the receiving room, but in the running back room, the tight ends room.
"Josh [McDaniels, offensive coordinator] has a great way of getting everybody involved, so I think we'll be fine. I think we'll be ready to go."
With Edelman suspended, there are five WRs on the active roster — Chris Hogan, Dorsett, Cordarrelle Patterson, Chad Hansen, and Riley McCarron.
Hansen was just picked up on waivers. And McCarron was added Thursday from the practice squad to the 53-man roster. Amara Darboh, claimed off waivers Sunday, failed his physical and never made it to the practice field.
Dorsett said regardless of the depth chart, what makes this Tom Brady-led offense so potent is unpredictability.
"You don't know where the ball's going. (McDaniels) can get everybody involved and that's what makes this offense go. Just everybody getting involved and not knowing where the ball is going to go."
Dorsett, a former first-round pick of the Indianapolis Colts, arrived in New England just a few days before the start of the 2017 season — New England trading backup quarterback Jacoby Brissett to Indy.
Trying to catch up while learning the playbook, he was on the field for 377 snaps, but was only targeted 18 times, with 12 catches.
"Last year when I got here, obviously I didn't know anything," Dorsett said. "I just got here a couple of days before the first game, had to play in it, so I just had to learn as much as I could — obviously you can't learn that much in a couple of days.
"I just took it week by week, just trying to learn as much as I can, going home, doing extra walk-throughs (with receivers coach Chad O'Shea), getting in my playbook when I get home. Not really much time for anything extra.
"All the time I put in it's been working, I've been learning every week, still learning to this day — and I built a lot of chemistry with the guys on the team and just trying to get better every day. My process, my thought process, doesn't change — just trying to get better every day."
There have been veteran wide receivers — Reggie Wayne, Joey Galloway and Chad Ochocinco, and most recently Eric Decker — that have struggled in New England.
Dorsett enters this season with 63 regular-season catches in his career and added two more in last year's postseason.
"It was difficult," he said of the playbook. "Any playbook is difficult, but this one is definitely … it's the ONE. But I put the work in. I feel like if you put the work in you can learn it. I've always been a pretty smart guy.
"More dedicated than smart, just determined, really trying to learn it, but you have to pay attention to the details. That's the thing about it — you have to pay attention to the details, because if you're not detail-oriented you can't play in this offense."
Dorsett enjoys working with Brady.
"It's been great. I'm learning every day. I'm still learning to this day," Dorsett said.
"Every now and then something comes up that we didn't go over since I've been here so I have to learn it. But I'm like a sponge — I just want to keep learning, and soaking in all the information. It's definitely been great."
NOTE: Cornerback Duke Dawson, a second-round pick, was placed on injured reserve.