Patriots
Bill Belichick isn't shy about his love for his new puppy
"You've been a very good boy."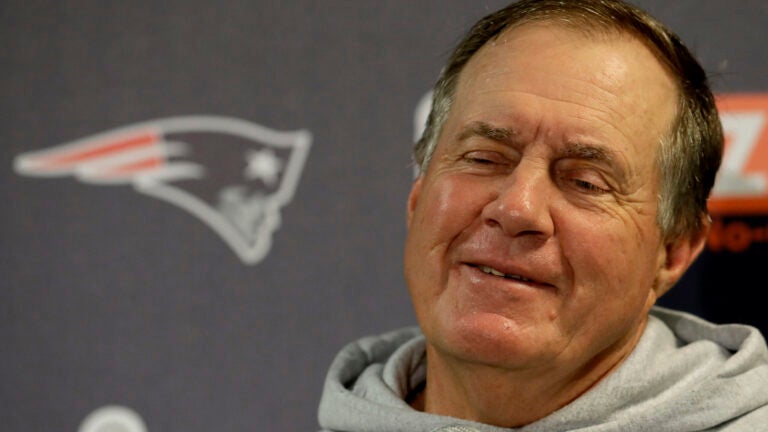 "I love dogs," said Patriots coach Bill Belichick in a recent interview with CNBC's Suzy Welch, who visited Belichick and his longtime girlfriend Linda Holliday in their Sconset home on Nantucket. "Yeah, I love dogs — all dogs. Most all dogs love me."
But there's one dog Belichick probably likes a little more than the others.
Five months ago, he and Holliday welcomed an Alaskan Klee Kai named Nike into their family. According to the dog's breeder, Emily Hua of Team Klee Kai, Nike was part of a litter of four puppies born on Jan. 29. Hua told Boston.com Nike "was a bit more rambunctious" compared to his siblings, but also "tender and sweet."
So what's the head coach's official scouting report on his new pup?
Belichick called Nike "a fun dog," who "enjoys playing" and is "pretty good with his paws." He said Nike can be aggressive with his chew toys, often wanting to rip out their stuffing and squeaker, but the nine-month-old is generally well-behaved.
Given the frequent amount of traveling required by NFL coaches, Belichick was initially hesitant about getting the pet when Holliday first informed him of her plans.
"Then 24 hours [later], he falls in love with Nike," Holliday said.
Not only has Nike accompanied the couple to Nantucket, but he also has been spotted around Boston. In April, Belichick was seen at Boston University's Nickerson Field holding the dog on his way out from a BU-Holy Cross women's lacrosse game. Like owner, like pet: Nike was wearing none other than a gray cut-off hoodie.
"That was my fault," Holliday admitted. "He was a puppy, and it was cold that night, and he's shivering. All of us have on our big winter coats in the middle of April, so I [put a little hoodie on him]. Then Bill is taking him up the stairs after the lacrosse game is over, and I guess someone snapped a picture. I didn't even think, you know, the man with the hoodie carrying the dog with the hoodie."
Bill Belichick taking in the @TerrierLacrosse game tonight at Nickerson Field. Terriers played Holy Cross where his daughter, Amanda, is the head coach. @WTBUSports pic.twitter.com/el6BhqtREM

— Matt Doherty (@m_doherty23) April 19, 2018
Despite their matching game day outfits — and the fact that the Patriots wear the brand Nike — Belichick said he doesn't think Nike cares too much about football.
"I get plenty of football at football," he said. "I love football, but it's nice to get away and a change of scenery and not talk about it."
Even though Belichick revealed he originally wanted to name the dog, Jack, he said the love between him and Nike is unconditional.
"It's unconditional love," he said. "You just walk in the door, they love you. They wag their tail, they look at you, they're happy to see you. It doesn't make any difference what kind of day you had or what happened or anything else. It's just unconditional."