Patriots
The age-old question: How good can Tom Brady be this year?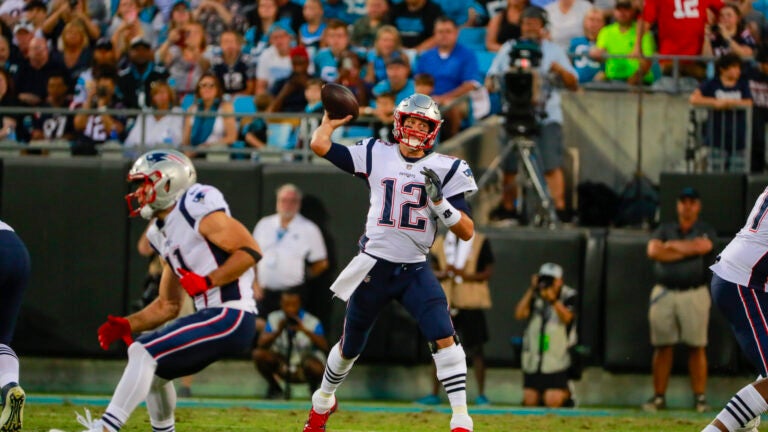 Sandwiched alphabetically in the 2018 Patriots media guide, between a single page for rookie receiver Braxton Berrios and two for fourth-year defensive tackle Malcom Brown, is all the fundamental information on Tom Brady even a Patriots diehard could desire. It includes his basic bio, game-by-game data from his 18 previous seasons, and a full inventory of accolades and achievements, many of which are unmatched in professional football history.
To tell Brady's story in this no-frills, just-the-facts way requires 28 pages. But it still doesn't touch the most important chapter of his story: The one that comes next.
How can he thrive at 41, an age when no quarterback before him has?
"How long can this guy do this? I don't know. It's crazy, it's crazy. We saw Brett Favre play well at 40 to 41, and then it stopped,'' said Steve Mariucci, an NFL Network analyst who was an assistant coach with the Packers during Favre's youth and later coached Hall of Famer Steve Young with the San Francisco 49ers.
"It's the most demanding position in all of team sports . . . To take a beating like quarterbacks do, to do it without always being able to protect themselves, to be that sharp mentally, requiring the talent and intelligence that quarterback does with all of the intangible requirements, that if any of those things fade, you're in trouble.
"If your arm fades, you're out. If your leadership skills slip, you're out. If you lose your wheels, you're out. There are so many factors that if you're deficient in any one of them, you may lose your life's work. There is an expiration date for everyone. But Tom, at 40, was as good as he ever was, and no one has ever been better. It's fascinating, because what he is trying to do really is unprecedented.''
Not even the greatest athletes defeat time in the end, an acknowledgment Brady seemed to tacitly acknowledge in naming his 2017 Facebook Watch documentary series "Tom vs Time.''
But Tony Romo, who retired as the Dallas Cowboys quarterback at age 36 in 2016, synopsizes a belief shared among more than a dozen former players, ex-coaches, and current statistical analysts who were asked one question: What, exactly, should we expect from Tom Brady at 41 years old?
"He's not beating Father Time,'' said Romo, now an NFL analyst on CBS, with a smile, "but he is capable of keeping the lead longer than any of the rest of us ever could.''
Breaking new ground
In the history of the NFL, only 11 times has a quarterback 40 or older reached double figures in touchdown passes in a season, and only three times has a 40-plus QB thrown more than 17: 41-year-old Warren Moon (25 for the 1997 Seahawks), 40-year-old Favre (33 for the 2009 Vikings), and 40-year-old Brady (32).
While Moon's age-41 season is the statistical target Brady aims to surpass, Favre could be the closest — and cautionary — parallel. His age-40 season, with the 2009 Vikings, was strikingly similar to Brady's age-40 season last year. Favre completed 363 of 531 passes for 4,202 yards and a 68.3 completion percentage, with 33 touchdowns and 7 interceptions for the 12-4 Vikings. His quarterback rating was 107.2 — second best in the league.
Favre was exceptional at 40. At 41, it all collapsed. Plagued by a shoulder injury and at least one concussion, he played 13 games, his record streak of starts ending at 297. He threw just 11 touchdown passes while coughing up 19 interceptions. The Vikings went 5-8 in games he played. He retired at season's end.
"Obviously, Brett was productive into his 40s, and at the end wasn't,'' said Troy Aikman, whose own Hall of Fame career with the Cowboys ended at age 34 in 2000 because of repeated concussions. "That's kind of what happens for most aging guys. When it comes to an end, it's rather drastic. They're off a cliff. And we don't have anybody beyond Brett to compare [Brady] with, just in terms of longevity.''
Brady has some attributes in his favor that Favre did not. He's a more disciplined and cerebral quarterback than the big-armed, occasionally reckless Favre, who was nicknamed the Gunslinger. "He is the most polished quarterback in terms of physical and mechanical fundamentals I've ever seen,'' said Doug Farrar, author of the "Genius of Desperation: The Schematic Innovations That Made the Modern NFL.''
And it actually works in Brady's favor that he's not dependent upon elite physical tools certain to fade as he ages. When do you not have to worry about losing your speed? When you never had much in the first place.
"It's not like he was running around a lot and now he's getting slower and pulling hamstrings,'' said Kurt Warner, a Hall of Fame quarterback who retired in 2009 at age 38. "If he was winging the ball down the field every play and had to throw it 60 yards, that's another thing. But that's not how he plays the game. He plays the game underneath, quick decisions, accurate with the football, get the ball out, protect yourself from getting hit.''
In a podcast interview with prominent NFL writer Peter King after the 2017 season, Brady said that try as they might, opposing defenses didn't fool him anymore. "You can't surprise me . . . I've seen it all,'' he said.
Matt Hasselbeck, the former Xaverian and Boston College star who spent 17 seasons in the NFL, retiring at age 40 after the 2015 season, says Brady is playing a mind game with that statement, and an effective one.
"Of course defensive coordinators can throw things at him that he's never seen before,'' said Hasselbeck, now an NFL analyst for ESPN. "But when he says it like that, you believe him . . . He psyches you out before the game has begun. When he says something like that, to me it's a great move, he's setting you up, and it 100 percent works.''
Louis Riddick, who played safety for Bill Belichick's Cleveland Browns teams in the early '90s and is now with ESPN, also sees a sharp point on Brady's message. "He's saying, 'I already know what I can do to you no matter what it is, and I'm going to cut your ass apart. Bring it. I've seen it all.' ''
Rules in his favor
Brady has not missed a game because of injury since the 2008 season, when a devastating hit to the knee from Chiefs safety Bernard Pollard ended his season in the first quarter of the season opener. (I'll pause here to allow Patriots fans to knock on the nearest wooden object.) Some of his durability is because of conditioning — Brady's devotion to eating healthy and training with an emphasis on flexibility is such that it has become a lifestyle brand unto itself. Some is because of savvy in avoiding hits and getting rid of the ball. Some is just good fortune.
It is also because of rule changes designed to protect quarterbacks. As former Steelers coach Bill Cowher puts it with a half-glower and just a hint of sarcasm: "You can't hit 'em in the head, you can't hit 'em in the legs, but everything else is fair game.''
Instituting rules to protect quarterbacks, many of whom are the league's marquee players, is a wise move by the NFL, even if it leads to back-in-my-day nonsense about how players used to be tougher. The league cannot allow its biggest stars on and off the field to be folded, spindled, and mutilated on game day.
"When I came into the league in 1998, quarterbacks were taking crown-of-the-helmet shots to the chin,'' said Hasselbeck. "Steve Young was knocked out on the field, unconscious for a minute. It ended his career. Troy Aikman, out cold. The rules are different, thank goodness.''
"We need rules to protect our endangered species, the starting quarterback,'' said Mariucci. "There aren't many around walking this earth. There are 7.5 billion people, and there are only a couple of dozen true franchise quarterbacks who have ever lived. It's like a pterodactyl or a Tyrannosaurus rex. Gotta protect them, and we've done some of that with the rules.''
Aikman believes the rule changes and the vast improvements in conditioning will lead to a generation of quarterbacks playing into their 40s. But Romo, who suffered a back injury that accelerated the end of his career, isn't so sure that durability will be commonly sustainable. "At some point down the road, the physical skills will deteriorate,'' he said. "The mind will still be there, and it will still be such an advantage. The catastrophic injury is really what you worry about, for him or any player attempting to last an unusual amount of time.''
Barring a Pollardesque catastrophe (go ahead, knock on that wood again), it looks as if Brady will be in the enviable position of determining the end point of his career. If there have been signs of regression so far, they are subtle, barely detectable yet, even to the trained and critical eye.
"I have seen no drop-off at all,'' said former Cardinals coach Bruce Arians. "And I don't think it happens this year. He was the MVP last season. He threw for [505] yards in the Super Bowl. Even if he slips a little, what does that mean, that he throws for 400 yards in the Super Bowl?''
There are some statistical hints that Brady is no longer at his absolute pinnacle. Farrar cites Pro Football Focus's data on deep throws. According to the website, in 2016 Brady completed half of his deep passes (meaning 20 yards or more in the air), connecting on 35 of 70, for 11 touchdowns and 1 interception. "That's an insane completion rate for deep passes,'' said Farrar. Last season, Brady hit on 43 of 103 deep throws, for 6 touchdowns and 4 interceptions. "More opportunities for those big plays, fewer completions, more mistakes,'' said Farrar.
Mariucci says the true measure of greatness in a quarterback is one that makes his teammates better than even other high-caliber quarterbacks would make them. This is what loquacious Jaguars cornerback Jalen Ramsey was getting at in a recent ESPN the Magazine article in which he said the success of former Patriots receiver Danny Amendola is the byproduct of playing with Brady. "People think [Amendola is] so great,'' Ramsey said. "No, he's not. Tom made him look good. Tom could take me as a receiver and I'd be a first-team All-Pro.''
[fragment number=0]
Farrar wonders whether Brady has the right personnel around him this year, at an age when perhaps he shouldn't be expected to make everyone better. Tight end Rob Gronkowski and running back James White are superb pass catchers, but the Patriots are thin at receiver with Amendola in Miami, Brandin Cooks dealt to the Los Angeles Rams, and Julian Edelman serving a four-game suspension for violating the NFL's policy on performance-enhancing drugs.
"Has his deep arm declined? Yeah,'' said Farrar. "Has it declined from 2007? Sure. Does he still have a functional deep arm where he can get things done with the right receivers? Yes. I think the question is who are the right receivers and are they on this team.''
How much longer?
Brady, to ESPN's Ian O'Connor in May 2017, on how long he plans to play: "I think 45 is a pretty good number for right now.''
Brady, to Oprah Winfrey in June 2018, on the same subject: "I think about [retiring] more now than I used to. I think I'm seeing there's definitely an end coming sooner, rather than later.''
It has been jarring to hear Brady's shift from defiant certainty about how long he will play to his recent ease in acknowledging (including in Tom vs Time) that football requires significant sacrifice in other aspects of his life and he may put away his helmet well before that 45th birthday. He's said he wants to spend more time with his three children before they are grown. He's also suggested that there should be more room for fun with the Patriots.
It remains uncertain to outsiders how much time Brady has in the NFL. Perhaps it remains uncertain to him to some degree. But as his 19th season dawns, this much remains apparent to those who observed him in the preseason: He remains as intensely competitive as ever.
Nate Burleson, who spent 11 years in the NFL as a wide receiver, never played with Brady. But one of his closest friends is former Patriots receiver Deion Branch, whom he played with in Seattle. And Burleson's long been a Brady admirer. He sees no dimming in the quarterback's competitive fire.
"I used to ask Deion about him all . . . the . . . time,'' said Burleson, now a studio analyst on CBS and co-host of the NFL Network's "Good Morning Football'' program. "It's like if one of your close friends dated Halle Berry. You're just curious. Like, what was that like? Deion always talked about how cool he was, but also how fiercely competitive he was. He'd never seen anyone like that. That always stood out to me.
"So when I'd play against the Patriots, I'd always try to find Tom and look for that intense look that he gets on his face. I wanted to see that up close. It's Psycho Tom . . . Damned if Psycho Tom wasn't still there in the preseason.''
Aikman said he still sees the passion in Brady as well, and hopes he doesn't walk away while it still burns. There are more pages to be added to that media guide, after all.
"I always tell people, well, you'd better make sure that you're really done playing, because the time is going to come when it doesn't matter what you want to do any longer,'' said Aikman. "If you still enjoy the profession, then I think you should continue to play for as long as you can. Tom might waver about certain things now and then, but it's clear he still has the passion. He's 41, but on the field he doesn't look a day over 31 to me.''
Aikman laughs. "Heck, maybe even younger than that.''
[fragment number=1]