Patriots
Rob Gronkowski reportedly stopped trade talks involving him this offseason
"He said he did not want to catch touchdowns from anyone besides Brady."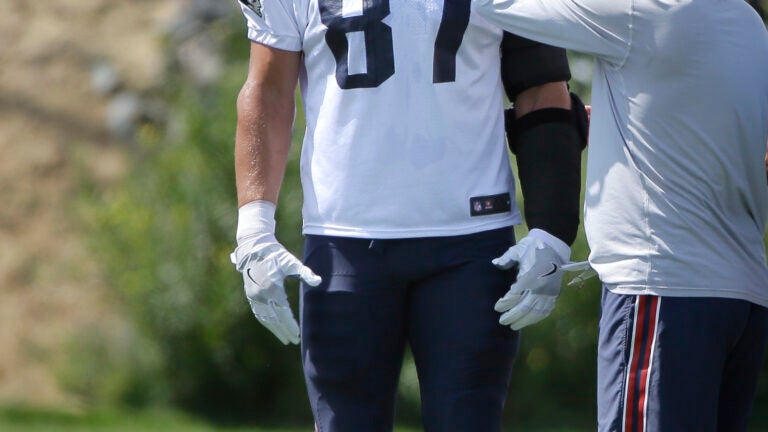 The Patriots were in "intense" discussions to trade tight end Rob Gronkowski this offseason, according to NFL Network's Ian Rapoport.
Rapoport reported Sunday morning the Patriots had "several interested parties" and, at one point, a deal seemed likely to send the four-time first-team All-Pro selection out of New England. Gronkowski, however, reportedly resisted.
"What I am told is that Gronkowski stopped those talks and said he would rather step away from the game — would rather retire — than play for anyone else besides the Patriots, besides coach Bill Belichick, [and] besides the quarterback Tom Brady," Rapoport said on NFL Network's "Good Morning Football" Sunday. "He said he did not want to catch touchdowns from anyone besides Brady."
The trade talks then stopped, according to Rapoport. Gronkowski and his agent, Drew Rosenhaus, reportedly sat down with the Patriots for a meeting that resulted in Gronkowski announcing he would return to New England for the upcoming season. The two parties also agreed to a reworked contract at the end of August.
"It does guarantee now Gronkowski will be a member of the Patriots for the balance of his career," Rapoport said Sunday.
Both trade and retirement rumors involving Gronkowski were rumbling throughout the offseason. Pro Football Talk reported in June the Patriots were shopping Gronkowski in the days leading up to the 2018 NFL Draft. Owner Robert Kraft called the buzz "hogwash," telling reporters a deal was never in the works.
https://twitter.com/RapSheet/status/1038755288504061952