Patriots
Some NFL fans are still getting discounted Dunkin' Donuts coffee after wins. Patriots fans, not so much.
"I guess that's what we get for winning too much?"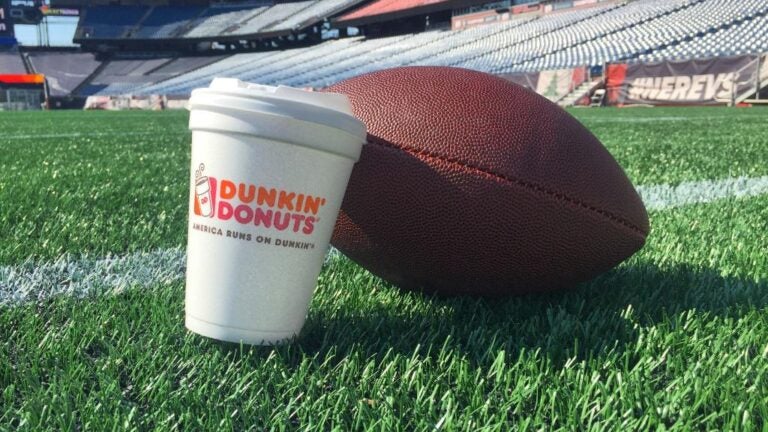 There was a time when New Englanders could get free Dunkin' Donuts coffee the day after Patriots wins. During the 2015 season, literally millions of free coffees were given out as a result.
Dunkin' dialed back the promotion before the 2016 season. Since then, customers enrolled in the Canton-based company's perks program have had to settle for a Rob Gronkowski-inspired, 87-cent medium coffee the day after Patriots wins.
But now, the "Pats Win, You Win" promotion has finally come to an end. Despite Tom Brady and company's season-opening win Sunday against the Houston Texans, local Dunkin' customers were forced to reckon with a difficult reality Monday: Full-priced coffee.
The Twitter account @DunkinBoston, which represents stores in Greater Boston and southern New Hampshire, spent Sunday afternoon and Monday morning delivering the sad news to dozens of disappointed fans of both football and coffee (as did the account for the Dunkin' locations in Rhode Island and southeastern Massachusetts).
"Not to be dramatic, but what is even the point of the Patriots winning now," wrote one crestfallen Twitter user.
"Don't punish us for the fact that the @Patriots are incredible and win all the time," tweeted another.
In a statement Monday morning, a Dunkin' Donuts spokesperson said that the company has "no plans for a Patriots-themed program at this time," but plugged the second year of their "Sip. Peel. Win." chance promotion. On Twitter, the lottery game was of no consolation.
If you were really showing your love for Pats nation, you'd have a promo for 87 cent coffee again when they win!!

— Shari (@EssJay919) September 9, 2018
— Sean Every (@everyjones) September 10, 2018
The indignity doesn't stop there.
While customers in New England pay the full price for their caffeine fix, the discounted coffee programs will continue for their counterparts in the Philadelphia area. Following the Eagles opening win Thursday night, the company reminded local customers that they could get a $1 coffee — as if (accidentally) serving local Patriots fans reminders of the Super Bowl LII result emblazoned on their iced coffee cups wasn't enough of an affront.
Game #1. Win #1. Cheers to an @Eagles victory! Celebrate tomorrow (9/7) w/ a $1 Med Hot or Iced Coffee when you pay with your DD Perks enrolled card. (Limit 1 per DD Perks member). #FlyEaglesFly pic.twitter.com/AJb9aNt6h2

— Dunkin' Philly (@DunkinPhilly) September 7, 2018
Victory never tasted so good ? CHEERS to the @Eagles win last night! Celebrate today with a $1 Medium Coffee when paying with your DD Perks Enrolled Card (Limit 1 Per DD Perks Member). ☕️ #FlyEaglesFly pic.twitter.com/QfPE89Lkt5

— Dunkin' Philly (@DunkinPhilly) September 7, 2018
DD Perks members apparently have it good in the Philadelphia area. Not only can they get $1 medium Dunkin' Donuts coffees following an Eagles win this regular season, they can also score $1 coffees on all of the team's game days — no matter the result. Earlier this year, Philly-area perks members could also get 52-cent coffees for the entire week headed into Super Bowl LII (no such deal existed in New England).
The national chain has also offered $1 coffees to customers in the Tri-State area following New York Giants and Jets wins in previous seasons as part of their "New York Wins, You Win" program, but it's unclear if that promotion returned this year. The Giants lost Sunday; the Jets play their first game Monday night.
Meanwhile, Dunkin' customers in Baltimore can apparently still get free coffee following Ravens wins this regular season.
Are you ready for some football, @Ravens fans?! Ravens Win You Win is BACK! ? Stop by your local Dunkin' the day after a win for a FREE Medium Hot or Iced Coffee when enrolled in DD Perks to celebrate victory ? pic.twitter.com/sltbFmX246

— Dunkin' Baltimore (@DunkinBaltimore) September 9, 2018
Dunkin' Donuts did not directly respond to questions about why they decided to discontinue the "Pats Win, You Win" program this season, while continuing similar promotions elsewhere. In a statement to Boston.com, the company said that it "remains the official coffee and breakfast sandwich" of the Patriots, adding that "the local market has decided to focus on its Sip. Peel. Win. promotion in New England this fall."
If there's one point on consolation Patriots fans can fall back on while sipping their full-priced coffees this season, it's the team's unprecedented run of success since the beginning of this century.
"I guess that's what we get for winning too much?" one local fan tweeted Sunday, after being informed the 87-cent coffee deal had been discontinued.