Patriots
'It still haunts you a little bit': Here's the play from the AFC Championship the Jaguars can't forget
"I would be lying if I said that didn't keep me up all offseason."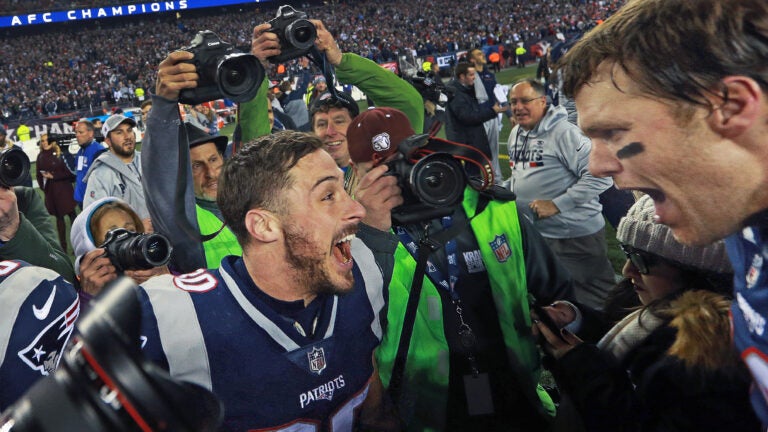 JACKSONVILLE, Fla. (AP) — Myles Jack squeezed into his locker stall, his leather chair pushed to one side, his sweaty clothes scattered across the floor.
He had Jacksonville's season opener against the New York Giants running through his mind, so the mere mention of New England caught him off guard.
"Oh, we're going way back?" Jack asked last week.
Just eight months. Just to the team's final game of the 2017 season. Just to the closest the small-market franchise has even been to the Super Bowl.
Just to one play, really. The Play, actually.
With the Patriots (1-0) and Jaguars (1-0) meeting again Sunday in Jacksonville, it's sure to be a topic of conversation outside — maybe even inside — the locker rooms.
The Jags allowed a third-and-18 conversion in the fourth quarter of the AFC championship game at New England in late January, a lapse that was instrumental in the Patriots overcoming a 10-point deficit and one that still haunts Jacksonville's players and coaches more than 250 days later.
"I was just starting to forget about that play," Jack said. "I can't believe I have to relive that."
The Jaguars did just about everything right through three-plus quarters against the defending Super Bowl champions. The defense pressured Tom Brady, sacking him three times. The offense controlled the clock, keeping the three-time league MVP on the sideline. Together, they built a lead and stretched it to 20-10 with a field goal early in the final frame. Jack even forced a fumble on the next possession that could have been a touchdown.
He was ruled down by contact, and the Jags followed with a three-and-out series.
Everything started to unravel a few minutes later.
With 10:49 remaining and the Pats facing third-and-18 at their own 25-yard line, the Jaguars liked their chances — and for good reason. Jacksonville's vaunted defense ranked fifth in the league in preventing third-down conversions of 16 yards or longer.
The unit featured six Pro Bowl selections, two speedy linebackers, the league's top-rated secondary and arguably the best pass rush in franchise history. The Jags had few, if any, holes on that side of the ball.
In third-down situations of 16 yards or longer, they had stopped opponents short of first downs 17 times in 18 tries during the regular season.
None of those came against Brady.
The New England quarterback handled a low snap in a shotgun formation, took a five-step drop to buy extra time, shuffled left to avoid Dareus' rush and then threw a low pass to Danny Amendola in the middle of the field that he hauled in for a 21-yard gain.
.@DannyAmendola keeps the drive alive on 3rd-and-18. #GoPats pic.twitter.com/YicyhrrgIF

— New England Patriots (@Patriots) January 21, 2018
"I remember how big the play was," Patriots running back James White recalled. "I don't remember the exact play call or what-not, but it was a big play. I mean, Danny always comes up with plays like that, finds the right spot in zone. We had good protection; the offensive line did a great job. Tom did a good job finding him. We needed that play in order to get to where we wanted to be, so it was huge play."
New England scored four plays later, seizing the momentum from the unlikely conversion and leaving the Jags reeling.
Players, coaches, and fans point to other reasons for the Patriots' comeback: Brady being Brady; officials ruling Jack down; Pro Bowl defensive linemen Calais Campbell and Yannick Ngakoue getting injured; two busted coverages near the goal line that resulted in touchdowns; and the offense's inability to run the ball late.
But the one that sticks out for everyone is the third-and-long play.
"It still haunts you a little bit, but just like every game, you learn good things and bad things," Jaguars defensive coordinator Todd Wash said. "Would you change things? Would you not change things? I do not think one play determines the outcome of a ball game. I think if you do, you are crazy. Obviously, we would have liked to get off the grass there."
Wash called for a zone scheme, "Two Palms" to be precise. It was a calculated move based on the belief that most of Brady's explosive passing plays come against man coverage.
After the game, All-Pro cornerback Jalen Ramsey questioned why the Jags played so much zone in the second half, noting how Amendola found holes for the key reception as well as two touchdowns.
On the third-down catch, Amendola ran a seam route that started between the left-side numbers and the hash marks. He curled behind Jack, who had taken a few steps right to cover White out of the backfield, and in front of safety Tashaun Gipson.
Gipson, who missed practice during the week because of a foot injury, took blame for the reception.
"That is just one of them things where you got relaxed," said Gipson, adding that he thought the team's pass rush would get to Brady. "I am not going to lie to you. I told myself I would never answer this question again. But that play right there, I would be lying if I said that didn't keep me up all offseason. Got lax."
Now the Jaguars are left to deal with The Play forever and relive it this week.
"Now you're making me sad," Jack said.