Patriots
What NFL experts are predicting for Sunday's Patriots-Jaguars game
The Patriots have the bone to settle here.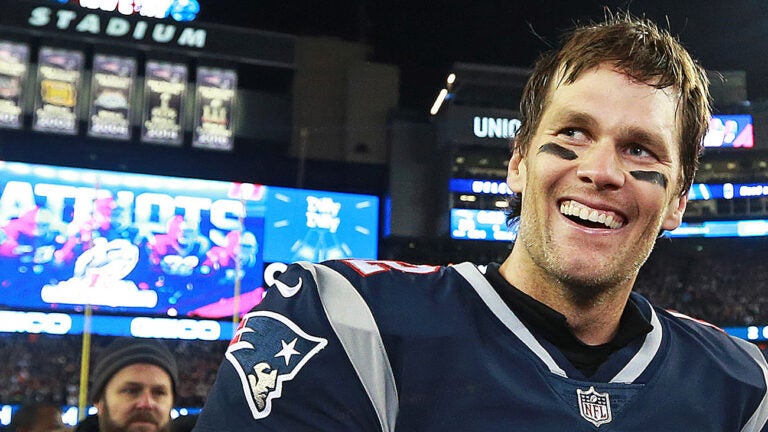 COMMENTARY
When we last saw the Jacksonville Jaguars, you might remember, the Jags very nearly pulled off the first victory over the New England Patriots in franchise history, a win in the AFC Championship game that would have thus negated any and all Malcolm Butler head-scratching that took place from the beginning of February until … well, forever.
You could say that the Patriots owe the Jaguars a little bit of revenge for not pulling things off in Foxborough.
If it were the Jaguars to win the AFC title, it would no doubt have stung the souls of Pats fans, but knowing what you know now, would you make the exchange?
Not likely. But it's intriuging to think of the repercussions of a loss to the Jags.
Bill Belichick wouldn't single-handedly be held responsible by some for blowing the Super Bowl.
"Tom vs. Time" might have been shelved.
Maybe the Jaguars figure out a way to stop the machine that was Nick Foles.
Perhaps you save a few grand instead of traveling to godforsaken Minnesota. In the middle of winter.
Add it all up, and it's the Jaguars who are supposed to be looking for revenge on Sunday?
Please. The Patriots have the bone to settle here.
This week's picks:
Greg Cote, Miami Herald: Patriots 23, Jaguars 20. "Tom Brady vs. Jalen Ramsey edges Vikes-Pack for the coveted GOTW title. Brady's veteran wile versus one of the NFL's elite defenses should have a playoff feel to it. In fact Jacksonville led into the fourth quarter of last season's AFC Championship Game before Brady prevailed, 24-20. So you know Jags fans will be howling for payback. Result could swing on availability of top running backs Leonard Fournette (hamstring) of Jags and Rex Burkhead (concussion) of Pats, but the home team would miss Fournette more. This one is as close to a tossup game as any Week 2 offering, but trusting Brady is seldom a reach."
Pete Prisco, CBS Sports: Jaguars 21, Patriots 17. "This is the best game of the week, a rematch of the AFC Championship Game. The Patriots won that game, but they won't win this one. The Jaguars are even better this year on defense, which will slow Tom Brady and gang, while the Jaguars will make enough plays on offense to win it."
CBS Sports staff: Six out of eight pick Jacksonville (Jaguars +2). Five of the eight pick the Jags straight-up.
Gerry Dulac, Pittsburgh Post-Gazette: Patriots 24, Jaguars 20. "A rematch of the AFC title game in which Tom Brady produced two TDs in the final 8:54 to beat the Jaguars, 24-20. The Patriots have never lost to the Jaguars (7-0) and, despite the emotion of revenge for Jacksonville, don't think that will change."
David Steele, Sporting News: Jaguars 26, Patriots 24. "Their AFC title game meeting in Foxborough last season is not officially known as the Woulda-Shoulda Game in Jacksonville, but it ought to be. Everyone in EverBank Field will be thinking about Blake Bortles, the play calling, Myles Jack not being down and how glad they are not to see Danny Amendola this time. The rest of the country, meanwhile, will marvel at the notion that the marquee, must-see game of the weekend is being played in Jacksonville, Fla."
Vinnie Iyer, Sporting News: Patriots 23, Jaguars 20. "The Patriots learned from their comeback playoff win over the Jaguars' Sacksonville defense last season. They will have Tom Brady fire quick throws to the middle of the field often and use tight end Rob Gronkowski's mismatch ability to make Jalen Ramsey a non-factor outside. Jacksonville needs a healthy Leonard Fournette to have a chance, as New England's defense will be better prepared for the short-passing game plan with Blake Bortles."
Michael Hurley, CBS Boston: Jags (Jacksonville +2). "That Jags defense is too good. It will be a long, hot afternoon for the Patriots' offense. That's a unit that lost Jeremy Hill (torn ACL), probably lost Rex Burkhead (concussion) for this week, might have to lean on Sony Michel (didn't even get to play in his rookie preseason), and of course still doesn't have Julian Edelman (suspension). It's a tough task. Even Tom Brady can't save this one*.
*He probably can."
Mike Florio, Pro Football Talk: Patriots 24, Jaguars 20. "Go ahead and put your best corner on Gronk, Jags, and watch what happens when that corner isn't available to cover any of the team's receivers. Also, Blake Bortles."
Michael David Smith, Pro Football Talk: Patriots 30, Jaguars 27. "The AFC Championship Game rematch should be a good one, and I think Tom Brady will have some fourth-quarter heroics."
SB Nation staff: Split.
MassLive staff: Three out of four pick the Pats (New England -2). "If this isn't the toughest game on the Patriots' schedule, it's close. The Jaguars are at home. They're motivated and the Patriots aren't at full strength yet. Leonard Fournette is a question mark for Jacksonville, but the Jags' D is healthy and that could be the difference."
Tampa Bay Times staff: Four of six pick the Patriots.
NJ.com staff: Four out of six pick New England. "Get your popcorn ready for this one, folks. Jacksonville's defense will come to play in a big way, and can take every non-Rob Gronkowski weapon out of the game for New England. If the Patriots defense wasn't so improved, I'd go with the home team."
USA Today staff: Three out of five take Jacksonville.
Jimmy Kempski, Philly Voice: Patriots (-1). "I watched the Jags-Giants game on Sunday, and the Jags were thoroughly unimpressive on offense against a bad Giants defense. While that shouldn't come as a huge surprise, seeing as Jacksonville wins with their defense, they're still, you know, going to have to find ways to score. The Patriots are going to score, and I don't think the Jags can match them."
FiveThirtyEight: Patriots with a 56 percent chance of winning.
ESPN staff: Seven of 11 like New England.
Elliot Harrison, NFL.com: Jaguars 17, Patriots 14. "This sucker made my "Top 18 games of the 2018 season" back in April. It's an enticing matchup that should come down to the wire — unless the Jaguars' defense absolutely controls the engagement. Put another way: If the Patriots are to win, it will be in a close contest where Tom Brady engineers a couple of clutch fourth-quarter drives. However, if Jacksonville plays its best football in front of the raucous DUUUUUVAL residents — and if Leonard Fournette is healthy — this game could get ugly for Bill Belichick's group. None of the Pats' wide receivers are superior one-on-one players when compared to the Jags' DBs. Put Jalen Ramsey on Rob Gronkowski to counter that strategic advantage. So, what's the issue with this prediction, and the score? The uncertainty of Fournette's hamstring."
It says here: Patriots 17, Jaguars 0. Sweet defense in Jacksonville. It'll look good Sunday against a Pats offense running at around 55 percent. But will the Jags score? Win? Nah.