Patriots
The Patriots are reportedly 'getting close' to acquiring Josh Gordon
"Not official yet but headed that way."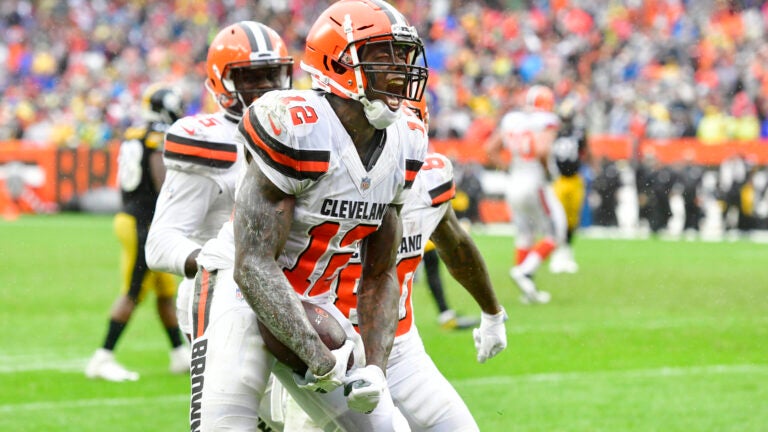 The Patriots are "getting close'' to acquiring wide receiver Josh Gordon, according to an NFL Network report Monday afternoon.
"Not official yet but headed that way,'' NFL Network Ian Rapoport tweeted.
The Cleveland Browns announced Saturday that they intend to release or trade the former Pro Bowl wide receiver, whose talent has been overshadowed by substance abuse that derailed a promising career. Gordon missed Sunday's game against the Saints with a hamstring injury.
Gordon has been suspended by the NFL for most of the past four seasons because of multiple drug violations, and the Browns have been supportive of the 27-year-old for years as he tried to get his life together. The team gave no details behind their decision to part ways with Gordon.
''This afternoon we informed Josh Gordon and his representatives that we are going to release him on Monday,'' general manager John Dorsey said in a statement Saturday. ''For the past six years, the Browns have fully supported and invested in Josh, both personally and professionally and wanted the best for him, but unfortunately we've reached a point where we feel it's best to part ways and move forward. We wish Josh well.''
He missed three weeks of training camp this summer to undergo counseling and treatment, and he recently said he was in a good place mentally and physically. Gordon played in last week's season opener against Pittsburgh.
In Week 1 against the Steelers, Gordon caught a 17-yard touchdown, his only catch on three targets. For his career, Gordon has 3,106 yards and 16 touchdowns on 180 catches over 41 games.