Patriots
Tom Brady described the 'long day' against the Jaguars in a WEEI interview
Brady also gave his thoughts on the Patriots' next opponent: Matt Patricia and the Detroit Lions.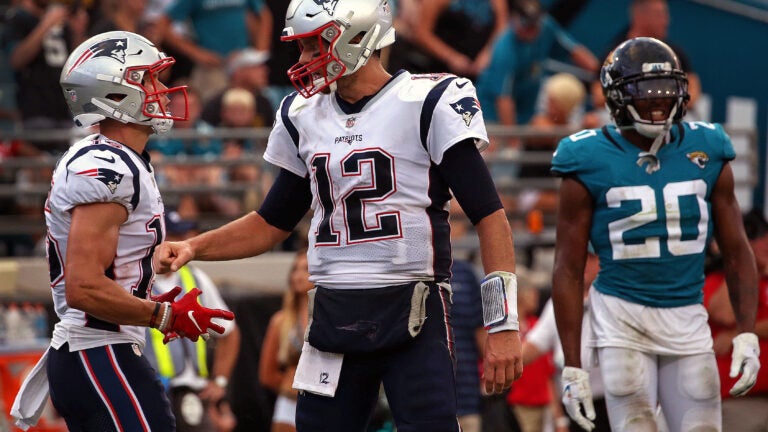 Following the Patriots' 31-20 loss in Jacksonville to the Jaguars on Sunday, Tom Brady wasn't about to blame the heat.
"We got off to a bad start, and that's certainly more about football than the weather I thought," Brady explained on Monday during his weekly interview for WEEI's "Kirk & Callahan." "I mean it was hot, I think any time you go to Florida in September, that's how it's going to be. We had a hot training camp, but we just didn't perform to our level of expectation in any way."
Instead, Brady blamed the loss on poor execution all around.
"There's no area of the game where we performed the way we need to be," Brady said, "and they beat us basically in every area, first down, third down, red area, it just was not a very good day for us."
The inability to play error-free football hurt, especially against a contain-focused defense like the Jaguars.
"We had too many mistakes, and I think their game plan was to keep the ball in front of them, and makes us drive the ball the length of the field. We just didn't have enough execution or discipline in order to do that."
Rob Gronkowski, normally such a prominent member of the Patriots' game plan, was held to just two catches. Brady noted how the tight end drew attention on third downs.
"He was double-covered I would say most of the day on third down, which should give other people opportunities. But we could just never get in a rhythm at that position.
Brady notably mentioned a non-call against Gronkowski early in the game, though he ultimately blamed his own team's lack of efficiency.
"We had an opportunity early in the game, I thought they got away with a call on the first drive which would've been a big play to Rob, but we were really out of rhythm all day."
The Patriots fell behind 21-3 at halftime. The game flowed from the Jaguars' early lead, as the home team – cheered on by their fans – were able to stay aggressive.
Lamenting the team's slow start to the game, Brady acknowledged that the Jacksonville crowd remained a factor.
"Its just not the way to play a good team," said Brady. "We had to do a better job early to give ourselves a more competitive game, take the crowd out of it, but the crowd's in it for 60 minutes and they challenged the communication."
"It just made for a long day," Brady concluded.
Looking ahead to the Patriots' Week 3 opponent, the Detroit Lions (coached by former Patriots' assistant Matt Patricia), Brady dismissed the notion that an 0-2 start makes the Lions a welcomed opponent.
"This isn't a high school football team," Brady pointed out. "These guys are extremely talented, they have a lot of great players, they have a great offense, they have a new defensive scheme. We better have the best week of preparation we can."