Patriots
Josh Gordon is a Patriot, but Bill Belichick still doesn't want to comment on the trade
"We're at the same place with him that we were yesterday."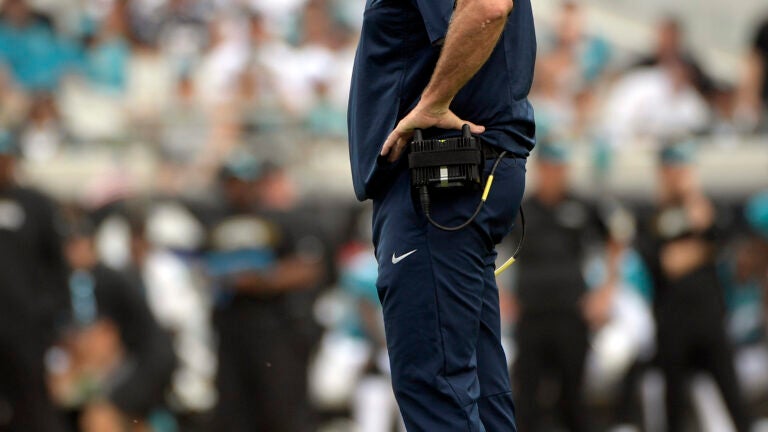 Josh Gordon has been added to the Patriots roster, but coach Bill Belichick still wasn't willing to confirm the trade on his Tuesday morning conference call.
"We're at the same place with him that we were yesterday,'' Belichick said. "We're in the process of working through it. We'll see how it goes.''
On Monday — after both the Patriots and Browns had announced the trade, which sent the wide receiver to New England in exchange for a conditional fifth-round draft pick — Belichick said during a radio interview on WEEI he wasn't going to discuss or confirm the trade until a physical had been completed.
Gordon reportedly has a mild hamstring injury, but it wouldn't prevent him from playing as soon as Sunday against the Lions, according to ESPN.
Asked generally what role off-field issues play in determining when to acquire a player, Belichick said, "I don't know.''
Gordon has had multiple drug-related suspensions as an NFL player.
The Patriots coach also didn't offer an update on safety Patrick Chung or defensive end Trey Flowers. Both players left the Jaguars game on Sunday with concussions.
In the case of Chung, who left the field briefly in the second quarter, returned, and then was announced injured after halftime, Belichick said he wasn't sure if the Patriots doctors or the independent NFL concussion spotters had checked Chung for a head injury in the second quarter before he was allowed to return to the field.
"I don't know whether they did or didn't, those are medical procedures,'' Belichick said.
Belichick's next scheduled media availability is Wednesday.