Patriots
A timeline of Josh Gordon's history with substance abuse and suspensions
Prior to the start of this season, Gordon had missed 43 of Cleveland's past 48 games because of suspensions.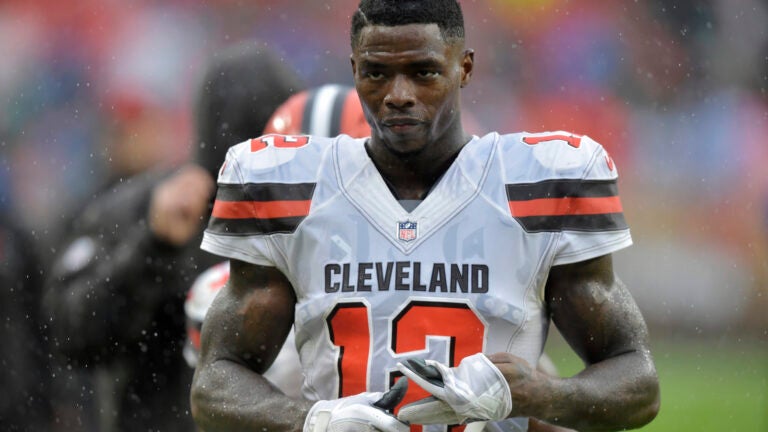 Patriots wide receiver Josh Gordon announced Thursday he is stepping away from football to focus on his mental health.
According to NFL Network's Tom Pelissero, Gordon is facing another indefinite suspension for violating the terms of his reinstatement under the league's substance abuse policy.
— Flash Gordon (@JOSH_GORDONXII) December 20, 2018
New England took a risk in September when they acquired Gordon from the Cleveland Browns in exchange for a fifth-round draft pick. Throughout his six-year tenure in Cleveland, Gordon battled substance abuse and faced several suspensions from the league. He hasn't been active for a full NFL season since his rookie year.
Here's a look at his past:
Middle and high school — Gordon told GQ's Clay Skipper he first started self-medicating with Xanax, marijuana, and codeine in middle school. He said his initial usage stemmed from social awkwardness, anxiety, feelings of inadequacy, and "adolescent trauma-based fear." According to Gordon, the drugs helped "numb those nerves so [he could] just function every day." When he was in seventh grade, Gordon said he took a "whole bar" of Xanax and ended up "nodding off" and "drooling" in class. He said his peers started laughing at him.
"The teacher's back was turned, and I just kinda raised my hand and asked to go to the restroom real quick," Gordon told Skipper. "That was my first experience of a high. In 7th grade. And it was to that extent. So I was definitely out of control."
Gordon told Sports Illustrated's Ben Baskin he was expelled from two middle schools for stealing electronics from other students. During that time, his usage also continued. Gordon earned a basketball scholarship at Westbury Christian, a prep school in Houston, but was thrown out in the 10th grade for marijuana. He then attended and graduated from Lamar High, a public school in Houston.
At Lamar, Gordon said he joined a gang, Six Deuce Harvard Park Brim Blood, which involved carrying and shooting a gun — never "maliciously," he said — stealing cars, fighting, scamming businesses with counterfeit money, and dealing drugs.
Gordon said he sold drugs, mainly marijuana, to "feed" himself. He said he smoked marijuana every day and drank vodka from Minute Maid bottles during class. He said he also started drinking codeine syrup mixed with soda his junior year and experimented with Xanax, hydrocodone, and oxycodone at nearly every opportunity. Before football games, Gordon said he would chug Mad Dog 20-20, flavored fortified wine, to gauge whether he could play drunk.
Gordon told GQ his usage "became the norm" in high school and said it was "on an accelerated pace" by the time he turned 20 years old.
College (Baylor): Gordon was recruited by several Div. I programs, but chose Baylor because his supervised probation following a felony credit card theft when he was 17 years old prevented him from living outside the state of Texas. Gordon was required to return home to Houston once a month for drug tests and he said he only passed because his diluted samples were never flagged.
As a sophomore, Gordon was arrested mid-season when police found him and teammate Willie Jefferson asleep in a car parked in the drive-thru lane of a Taco Bell at 2 a.m. Officers found multiple bags of marijuana in the car, and both players were charged with misdemeanor marijuana possession, though the charges were dropped. Gordon's coach at the time, Art Briles, also suspended him. Gordon played in 13 games, recording 42 catches for 714 yards and seven touchdowns that season.
While at Baylor, Gordon said a dealer from home would send him as much as six pounds of weed per week that he would sell in Dallas, Austin, and San Antonio. He estimates he banked over $10,000 per month from dealing.
Gordon told Uninterrupted in October 2017 that a coach at Baylor helped him cheat drug tests. Gordon said the coach instructed him to take "these bottles of detox."
"I've been enabled most of my life honestly," Gordon said. "I've been enabled by coaches, teachers, professors — everybody pretty much gave me a second chance just because of my ability."
Briles suspended Gordon again before the start of his junior season — this time indefinitely. Briles said the suspension was for an undisclosed rules violation, but Gordon has since revealed in interviews "it was due to a failed marijuana test."
Despite his suspensions at Baylor, Gordon received transfer offers from schools like UCLA, USC, Oregon, and Utah. He said he would smoke blunts and pop Adderall on the way to a few visits. Gordon left Baylor in 2011.
College (Utah): Gordon transferred to Utah, where he said he tried cocaine for the first time. He told SI he also began taking Adderall daily. After failing another drug test, he returned home to Houston, where he said he began selling marijuana again to support his family. Gordon never took a snap at Utah, instead opting for the NFL's supplemental draft in 2012.
NFL (Cleveland Browns): Gordon told GQ he had a pregame ritual where he would take bong rips and/or shots of Grand Marnier or whiskey before kick-off.
"I would drink probably like half a glass, or a couple shots to try and warm my system up," he said. "To get the motor running. That's what I would do for games."
Gordon estimated he had something in his system for "probably every game of [his] career," including those in college. Gordon said he also frequently missed meetings and often showed up late — with bloodshot eyes.
2012: Gordon's rookie year is the only season he's played in all 16 games. He logged 50 receptions for 805 yards and five touchdowns.
2013: Prior to the start of the 2013 season, Gordon was suspended two games for violating the NFL's substance abuse policy. He started Cleveland's remaining 14 games, hauling in 87 receptions for 1,646 yards and nine touchdowns. In Weeks 12 and 13, Gordon became the first NFL player to record back-to-back 200-yard receiving games. He finished the year as the league leader in receiving yards and earned first-team All-Pro as well as Pro-Bowl honors.
2014: Prior to the start of the 2014 season, Gordon was arrested for a DWI in Raleigh, N.C. According to police, he was pulled over just before 3 a.m. for driving 50 mph in a 35 mph zone. His blood-alcohol level was .09 — .01 over the legal limit. Two months after Gordon's arrest, the NFL announced he had been suspended the entire 2014 season for a failed drug test (marijuana). The suspension was later reduced to 10 games due to the league's reformed drug policy.
Gordon played five games in 2014, recording 24 catches for 303 yards. He was suspended by the Browns for the final game of the season for a violation of team rules. Gordon said he had missed the team's Saturday walkthrough.
"I stayed out late, but the thing is we had to be up in the morning for like a 7:30 a.m. team meeting," Gordon told Uninterrupted. "I didn't wake up until 10 o'clock, 10:15, coming out of a blackout. I'm getting a bunch of texts and calls, you know, from coaches, 'Where you at? We're headed to the tarmac already.' I'm like, 'Ah, s***.'"
2015: Gordon was suspended the entire 2015 season due to another violation (alcohol) of the league's substance abuse policy. Days after the suspension was reported, Gordon published an open letter in The Cauldron in which he acknowledged his "repeated transgressions."
"I failed myself when started using marijuana regularly as a young teenager," he wrote. "I failed myself when I ruined a once-in-a-lifetime chance to be Robert Griffin III's running mate during his Heisman Trophy-winning season at Baylor. I failed myself when I didn't check with the league office to ensure that my doctor-prescribed, codeine-based medicine was allowed under NFL guidelines. I failed myself when I was arrested for driving a motor vehicle with a blood-alcohol level over the legal limit. I failed myself when I missed a team walkthrough late in the season and was suspended for the final game of the year."
2016: Gordon's initial application for reinstatement was denied by the league in April because he failed another drug test. Gordon was reinstated by the NFL in July, allowing him to participate in training camp, but he remained suspended for four games to start the season. Gordon was expected to play in Week 5, but he elected to enroll in a 30-day intensive rehab program in New Hampshire.
"After careful thought and deep consideration, I've decided that I need to step away from pursuing my return to the Browns and my football career to enter an in-patient rehabilitation facility," Gordon said in a statement. "This is the right decision for me and one that I hope will enable me to gain full control of my life and continue on a path to reach my full potential as a person. I appreciate the support of the NFL, NFLPA, the Browns, my teammates, my agent, and the community through this extremely challenging process."
Following his completion of the program, Gordon once again had to be reinstated by the league. He did not take a snap during the 2016 season.
Gordon told GQ he stayed sober for six months following his initial 30-day stint in rehab. He then wanted to celebrate "in the way [he knows] how," which was drugs and alcohol. Gordon said at this point he reached his "rock bottom" and checked back into rehab for over three months.
"I found myself around the city of Gainesville just wandering, looking for a drug dealer," he told Uninterrupted. "Looking for people on the street corner, whatever smelled like weed, somebody that looked like they had something, asking random people, knocking on like smoke shop storefronts seeing where I could find some stuff at. I was just looking for something, some type of relief."
According to GQ, Gordon was also informed in 2016 that there was a warrant out for his arrest for failure to comply with a paternity test. He said he wondered, "Who's this girl? If there is a kid, who is this kid?" Gordon admitted to being his daughter's father in court.
2017: Gordon's application for reinstatement was first denied by the NFL in May. He reapplied in the fall and was granted conditional eligibility, with the potential to be active in Week 13. Gordon played in five games in 2017, recording 18 receptions for 335 yards and a touchdown.
2018: Gordon announced he would miss the start of training camp to focus on his recovery. He said his absence was "part of [his] overall health and treatment plan."
"I am reaching out to you all personally and letting you know that I am not only doing great physically but mentally as well," Gordon wrote in a statement.
— Flash Gordon (@JOSH_GORDONXII) July 23, 2018
Gordon remains in Stage 3 of the NFL's substance-abuse program, which means he is subject to random drug testing. If he fails a test, he faces another indefinite suspension. Gordon told Uninterrupted the consequences of his actions "never really set in," but he also called the experience "humbling."
"If you fail a drug test, you know, this is over, they're not going to let you keep playing," Gordon said. "I never really took it serious. I thought I could keep on doing it and getting away with it and getting away with it."