Patriots
When it comes to Josh Gordon and the Patriots, there is no apt comparison
He's not Randy Moss.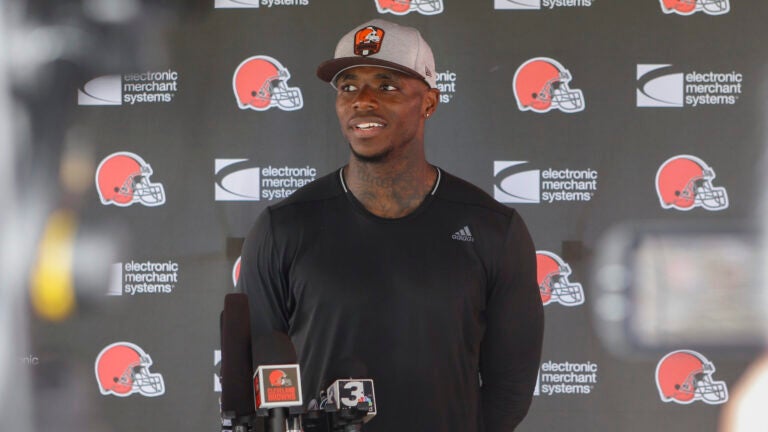 Josh Gordon is going to require his own carousel at Logan or T.F. Green for all of the baggage he's hauling with him from Cleveland to Foxborough.
The former All-Pro receiver, acquired by the Patriots from the Browns Monday for a fifth-round draft pick, had 87 catches for 1,646 yards during the 2013 season, when he earned the league's high honors.
But he has played just 11 games, catching 43 passes, in the four seasons since while battling substance abuse problems that have led to multiple suspensions.
The inclination when a team acquires a talented, troubled player is to scour the media guide for other bad actors and perceived miscreants in that franchise's history, and draw immediate parallels to how they fared in similar scenarios.
It's irresistible, and it sometimes can even be instructive. If Bill Belichick can get a 1,600-yard season out of running back Corey Dillion, as he did in 2004, well, perhaps that other hard runner with a hard edge is worth a look. In a sense, it's called due diligence.
The problem is that it doesn't apply to the 26-year-old Gordon, no matter how often the names of Dillon, Randy Moss, or Albert Haynesworth — the three most controversial players to be acquired in a trade by Belichick, with draft pick Aaron Hernandez alone in his own sinister category — are cited.
Gordon's talent is unique to him. So are his troubles.
Gordon's history with drug and alcohol abuse, as synopsized by colleague Nicole Yang in a story Tuesday, is jarring in a couple of different ways.
You're stricken by the pathetic depths of the enabling, from middle school to high school to Baylor University and then the Browns, with other scattered outposts along the way, that proved detrimental to his well-being even as — or because — his talent blossomed.
And you're stricken by the breadth of his substance abuse problems. You can't help but wonder what led such a charismatic athlete to drugs and in the direction of darkness. How did he even function, let alone thrive?
Shrugging off his issues and saying, 'Oh, it's just weed,' doesn't come close to telling Gordon's full story. He told GQ in 2017 that he began using Xanax and codeine along with marijuana in middle school to help him cope with social anxiety and feelings of inadequacy. He sold marijuana in high school, and used cocaine and Adderall in college. Sometimes he drank before games. His problems were fully established long before his first NFL Network highlight as a Cleveland Brown.
Moss is the easiest and most common comparison, since he was a dynamo at the same position, wide receiver. While Moss had his run-ins and controversies — squirting an official with a water bottle in 2000, bumping a traffic officer with his car in 2002, crudely celebrating a touchdown in a way that cause broadcaster Joe Buck to collapse onto his fainting couch in 2005 — he never endangered his own career, and most of his issues were caused by the frustration of a lost cause, such as with the 2006 Raiders. Besides, as a deep receiver, the singularly sensational Moss is beyond compare.
Any comparisons of Gordon to Dillon and Haynesworth are abstract and inaccurate. Both had a history of malice. Dillon, who was acquired by the Patriots in April 2004 and set their single-season rushing record that season, had slipped to a second-round choice because police reports obtained by the NFL listed nine arrests from ages 13 to 17. In 2000, he was arrested on domestic assault charges. In a February 2005 story by Damon Hack in The New York Times, Dillon's brother Charley described his upbringing like this:
"If you wanted trouble in Seattle, you could find it. In the 1980's, gang activity started to appear and things were questionable with the people he was hanging with. There was some gunplay with a lot of the guys. Corey was always big, so they would not have given him a fair fight.''
Haynesworth, a massive, skilled and occasionally interested defensive tackle acquired from the Redskins for a fifth-round pick in July 2011, established his malevolence on one unforgettably ugly play in 2006, when he tore the helmet off Cowboys center Andre Gurode's head and stomped on his forehead. He lasted six games with the Patriots, making two tackles, probably by accident.
There is no suggestion of meanness or menace in Gordon's record. "He's just a genuine guy,'' former Browns teammate Donte Whitner told NBC Sports Boston Tuesday. "He's always there for his teammates, no matter if it's on the field, off the field . . . if you need him to do something for you, he'll do it.''
In a different context, though, the opposite is true: Too often, he hasn't been there for his teammates, at least on Sundays. Tom Brady values reliability more than just about anything from his receivers. He counts on them to be in the right place all the time on the field, and Gordon has been a player who you can't always count on to be on the field. It's going to take him a long time and a lot of work to win Brady's faith, and we don't know if he has it in him.
Gordon is a supremely talented player, and given the Patriots' paucity of quality and depth at receiver, there is an opportunity for him to make a meaningful contribution. He is never going to have a better opportunity to straighten out his career. He might not even have another opportunity.
He's not Randy Moss. But in the right frame of mind, Gordon could significantly help the Patriots.
It's an even better story if the Patriots help him.