Patriots
Here's what Matt Patricia said about facing his former team this week
"It's still me, like I don't think that you would ever change that as a coach."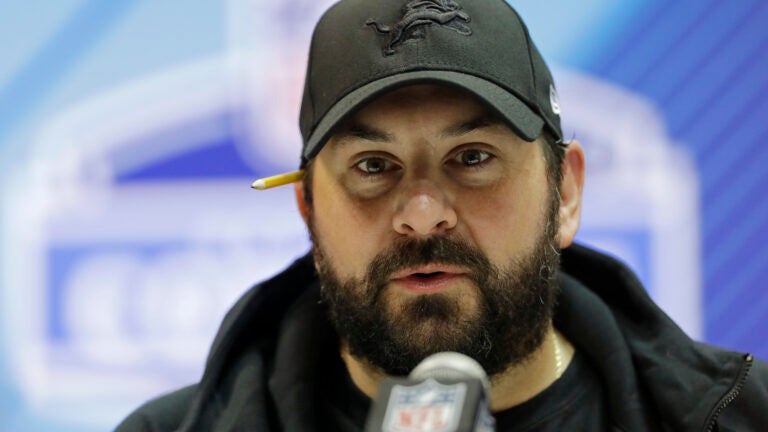 Detroit Lions coach Matt Patricia participated in a conference call with the New England media ahead of Sunday night's game with the Patriots.
The former Patriots defensive coordinator discussed what it will be like to face his former team.
"Obviously the Patriots are a great team, great ownership, great head coach, great players and we've got a huge challenge in front of us,'' said Patricia. "You know, you just try to keep it to the game. I think you can't make it any more than that, just us trying to go do better than what we did last week and trying to improve obviously with a very difficult opponent coming in here to play.''
Patricia believes the familiarity among Bill Belichick, Josh McDaniels, and himself is a wash.
"There's some things that they do that can hurt you and you know there's certain things that hurt them, you know each other so well,'' said Patricia. "But I think in the end, it really comes back to just having a good game plan and good execution, hopefully coaching well enough to give the players the opportunity to come out and do it the right way. I don't think it's anything really more than that. It's really about the players and the game itself more so than I would say it is about anything else.''
Patricia was asked how he has gone about sharing his knowledge of the Patriots with his new team.
"I think you can really, I don't want to say over do it, but you don't want to give them so much information that you just kind of paralyze what they're doing,'' said Patricia. "They still have to watch, they still have to play, they still have to react, they still have to execute a game plan. So you try to just give them good fundamental knowledge like we do every week about the opponent that we play, try to really explain to them what they need reps on, what they like to do and about the players that they use and how they use them and give them a good solid game plan to hopefully go out and execute at a high level. I think it's a delicate balance.''
After facing him in practice for years, Patricia now has the challenge of trying to slow down quarterback Tom Brady in an actual game.
"He's obviously such a great player, someone that you see every single day that I would practice against that I have the upmost respect for, the way that he approaches the game, his competitiveness, the way that he can just increase the level of his focus in the competition of practice was great,'' said Patricia. "Lot of obviously great memories and great situations where every single day it's kind of going against each other. I think he's just a phenomenal player and an even better person.''
Pre-snap disguises can be helpful on defense, although Patricia is wary of trying to do too much against Brady.
"With his level of expertise and his level to just understand defense, understand coverage, understand location, run-stick, I mean it's the full package,'' said Patricia. "So you get that done and you go out there and do that pre-snap, it's great.
"I think you're also in a situation though where people go out and try to do too much or trying to over-disguise something, you put yourself in a bad situation, [and] he's going to find that pretty quick. You might be either out of position or slightly out-leveraged or just not really lined up where you're supposed to be lined up because you're worried about the disguise and in the end, the disguise kind of ruins your opportunity to execute and that's where you can get in a lot of trouble.''
When asked if it was difficult to separate himself from Belichick given how much time he spent in the Patriots organization, Patricia was quick to point out how much he learned from Belichick, while also asserting that he is his own man.
"I've really always appreciated how much time that Coach Belichick spent with me individually and taught me as a coach and taught me a lot about the importance of trying to coach a team and coach a defense, which I think has been really phenomenal from that standpoint,'' said Patricia.
"But I think even through the progression of my coaching career before the Patriots — Syracuse, Amherst, whatever it is — I do feel like I am kind of my own person, my own personality with the players. It's still me, like I don't think that you would ever change that as a coach.
"I think the guys that I had in New England, as a young linebackers coach, there was no other way to coach those guys. And I learned more from those guys than anyone. Great players, the Mike Vrabels, and Tedy Bruschis and Junior Seaus and Willie McGinests, Rosevelt Colvin and just the list goes on, Larry Izzo. I mean, just how to be yourself but also teach and coach the importance of what needs to be taught for everyone to be successful. I think that's really the biggest thing.''
Related: How much will Matt Patricia and Mike Vrabel embrace the Belichick Way?