Patriots
What NFL experts are predicting for Sunday's Patriots-Lions game
Can Matt Patricia hold his own against Bill Belichick?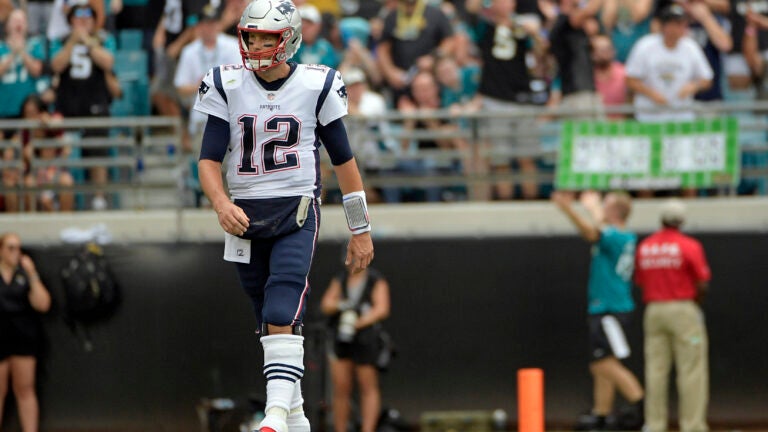 COMMENTARY
Sunday's game is billed as a showdown between Bill Belichick and Matt Patricia, when it really should be considered a clash between the new Lions head coach and Patriots offensive coordinator Josh McDaniels.
To say it's gone swimmingly for Patricia over the course of his first two games as head coach in Detroit would be like figuring there's a welcoming party scheduled for McDaniels at the airport the next time he travels to Indianapolis. Of course, McDaniels spurned his second chance at a head-coaching gig with the Colts while Patricia packed up for Ford Field, where they're already placing wagers on how long he'll last. That might be the same perception following McDaniels had he not accepted then unaccepted the job offer in Indianapolis.
Couldn't blame McDaniels for mockingly asking how things are working for Patricia.
But he's already got strike one in his back pocket after his disastrous run in Denver. Patricia has barely gotten to bat in Detroit.
Master vs. pupil? Nah. This will be more like Cain and Abel. The brother who stayed and the brother who strayed.
Just don't figure the father, Belichick, to be as forgiving.
This week's picks
Greg Cote, Miami Herald: Patriots 38, Lions 16. "Pats added Josh Gordon and the over/under is 4. Which could be catches Sunday night, or games played before next suspension. NE got spanked in Jax last week but here's the thing: The Patriots bounce back. Almost always. They are 45-6 after a loss since 2003, and 5-0 against the spread after a loss the past two seasons. And Tom Brady is on a 9-2 roll on Sunday nights. In Bill Belichick versus Matt Patricia, it will not go well for the mentee."
Pete Prisco, CBS Sports: Patriots 33, Lions 23. "The Patriots are playing consecutive road games, after losing to the Jaguars last week. But that won't matter here. The Lions are bad. They have major issues on defense. Even if Josh Gordon doesn't play, Tom Brady carves up the Lions."
CBS Sports staff: Six of seven pick New England (Detroit +6.5). Everybody picks the Patriots straight-up.
Gerry Dulac, Pittsburgh Post-Gazette: Patriots 34, Lions 20. "New Lions coach Matt Patricia will try to slow the offense and pressure the quarterback he went against for six years as the Patriots defensive coordinator. It won't help that his former team is smarting from a beatdown in Jacksonville."
David Steele, Sporting News: Patriots 34, Lions 20. "Pay no attention to that too-late rally in San Francisco; the Lions are not creeping closer. They're just being less of an embarrassment than they were on the first Monday night of the season. If Matthew Stafford was more reliable, the Lions could be as much of a threat to the Patriots' struggling defense as the Jaguars were last week. (And if you're being compared unfavorably to Blake Bortles, your career has taken an unfortunate turn). Outside of all that, the most watched inactive-list announcement of the week will be the Patriots, for Gordon."
Vinnie Iyer, Sporting News: Patriots 51, Lions 21. "New England has feasted in Detroit before, as its last trip to Ford Field, in 2010 on Thanksgiving, resulted in a 45-24 rout. Now former Michigan star Tom Brady has a new toy in Josh Gordon against a Lions defense that got ripped by former Patriot Jimmy Garoppolo and might be without top corner Darius Slay. Matt Patricia vs. Bill Belichick will be a fun storyline … until they kick off and actually play."
Michael Hurley, CBS Boston: Patriots. "What a tough spot for Matt Patricia. Obviously Week 1 was a disaster. Week 2 should have been a hard-earned win, if not for a really unwise penalty away from the play. Tough break. But now with 0-3 staring you in the face, it's Bill Belichick and Tom Brady coming to your new house. And they're coming off a loss. Kind of a bad loss, too. Yeesh. Pray for the Lions."
Mike Florio, Pro Football Talk: Patriots 34, Lions 20. "Matt Patricia will eventually turn the Lions around, if they give him the time to do it. For now, well, it's time to get used to things staying the way they've been."
Michael David Smith, Pro Football Talk: Patriots 35, Lions 20. "Matt Patricia practiced against Tom Brady plenty of times, but he'll have no answer for how to shut Brady down on Sunday night."
SB Nation staff: Eight of nine go with New England.
MassLive staff: All Pats. "The Patriots would have been heavy favorites even if everyone was at full strength. But the Lions could be without Darius Slay, their best defensive back, and the Patriots could debut Josh Gordon, one of the best receivers in the game if his head and body are right."
Tampa Bay Times staff: All six pick New England.
NJ.com staff: Five out of seven pick the Patriots. "The Matt Patricia era is off to an inauspicious start in Detroit. With a win desperately needed, the Lions get the worst possible matchup in Week 3: The Patriots off a loss."
USA Today staff: Everybody loves the Pats.
Jimmy Kempski, Philly Voice: Patriots. "This Patriots team isn't that good, or at least it's nowhere near as good as some of their dominant teams of the last decade and a half. There's Brady and Gronk, who are both obviously incredible, but then… what? Well, whatever. Brady is enough to beat this pencil-toting doofus."
FiveThirtyEight: Pats with a 64 percent chance of winning.
ESPN staff: Pats across the board.
Elliot Harrison, NFL.com: Patriots 30, Lions 23. "Look for Tom Brady to rebound in a big way this week after last week's loss to the Jags. Detroit's front four does not resemble the Jacksonville wall Brady faced in Week 2. Moreover, the Lions only seem to generate a pass rush when they blitz — and blitzing the Patriots' quarterback has never been the ticket. If Detroit coach Matt Patricia attacks his former team with linebackers, he's going to get James White-d 'till the cows come home. An advantage to that strategy is the lack of a vertical component to the New England attack. I can't imagine recently acquired receiver Josh Gordon will have a huge role this week. Expecting the Pats to prevail. That said, if the secondary fares as it did in Jacksonville, Matthew Stafford will eat them alive (provided he's not off for the whole first half again)."
It says here: Patriots 35, Lions 17. Feeling here is Josh Gordon has a big role in the game. After all, if Belichick can afford — not to mention take pleasure in — the chance to tinker with his new toy, it's against his old pal. Assuming Gordon's roster spot is officially official, by Sunday, that is.