Patriots
Patriots are a dysfunctional mess that won't be easy to rectify this time
The Patriots are 1-3 since ESPN's Seth Wickersham delivered an account of serious fractures within the system in Foxborough.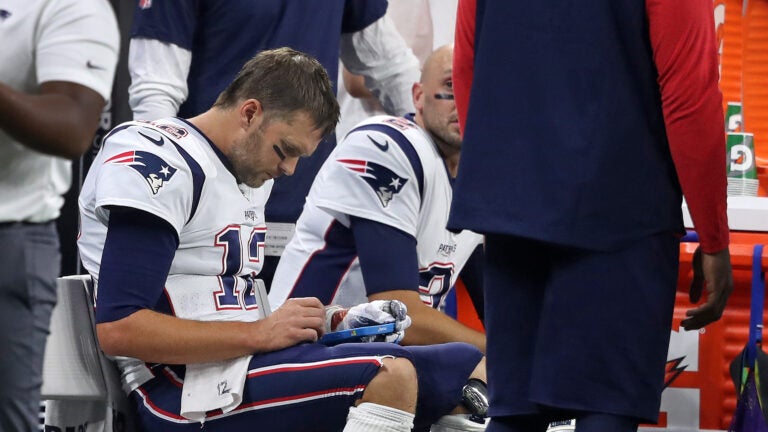 COMMENTARY
It's over.
I know. We should know better. In Bill we trust, wait until Josh Gordon steps on the field, Julian Edelman returns, and the 2018 New England Patriots characteristically morph into the sort of unit normally expected under the hierarchy of Bill Belichick and Tom Brady. Only reactionaries like Trent Dilfer and Tom Jackson have seen fit in the past to thrust the stake in the Patriots at this early juncture.
It's all too easy to declare futility when the Patriots look as discombobulated as they managed to during Sunday night's 26-10 loss in Detroit. From a New England perspective, there was nothing to like, and it's only natural to refer to the last time New England laid such a mephitic bud, when the team was so thoroughly out of sync on both sides of the ball. And how'd things ultimately work out after that 41-14 loss in Kansas City the last week of September in 2014?
Four years later, we're onto Miami.
But it was a lot easier to look past the blemishes on that 2014 team and perceive it was possibly still worthy of hoisting the Lombardi Trophy. Brady had a similar cast of characters to throw the ball to, but the roster was loaded with a defensive presence (Chandler Jones, Rob Ninkovich, Darelle Revis, Vince Wilfork, Jamie Collins, Brandon Browner) this edition could only find at a memorabilia signing.
Those guys rebounded from a 2-2 start to plow through the remainder of the season and ultimately onto the franchise's fourth Super Bowl win.
These guys just allowed a Detroit Lions rookie running back to amass 100 rushing yards for the first time in five years.
Still, don't you fools know…
Once Edelman returns from his four-game suspension and Gordon emerges as the biggest wide receiving threat the Patriots have had since Randy Moss, Brady will lead the Patriots to a better offensive groove than they've produced over the first three games this season. You'll see.
Sure. But Brandin Cooks is in Los Angeles busting out with the surging Rams, Danny Amendola is with the AFC East-leading Dolphins, and every beat writer who took a victory lap after Phillip Dorsett's success in Game 1 of the season has been awfully quiet about their training camp prognostications since he's turtled over the last fortnight.
It's all been added to a recipe that has yielded the team's first 1-2 start since 2012. And a pair of rookie coaches have managed to pick up their first career wins against Bill O'Brien's 0-3 Texans over the last two weeks, so maybe that season-opening victory shouldn't be considered such a quality outing for Belichick's team.
However, something that is perhaps more notable in determining how deep this drought might run though is the acknowledgement that the Patriots are only 1-3 since ESPN's Seth Wickersham delivered an account of serious fractures within the system in Foxborough in January, hinting that the beginning of the end the New England dynasty might be dawning.
Considering the emerging problems under of the hood of Patriot Place this season, it's becoming less easy for Patriot fans to scoff at such suggestions with their inherent insolence.
There's a lot more baggage to overcome with this year's slow start. The team clearly hasn't done enough to rebuild its maligned defense, Belichick gave Brady the Reche Caldwell Memorial Crew to work with offensively, and more and more of those "juicy" tidbits deta iling the crumbling relationship that makes up the Brady-Belichick-Kraft trifecta are being verified by the parties that surround them. Gronkowski even uncharacteristically confirmed Adam Schefter's report that he threatened to retire rather than head to the Lions in a trade last spring. That sort of verification not only goes against the Patriots' code, but it does put weight into the perception of just how fractured things are behind the scenes.
Once vilified in New England, it seems Wickersham has delivered a lot less "gah-bage" than Patriot fans once probably thought.
OK, so the terrible Bills beat the Vikings, the so-so Redskins gave the Packers the same 1-1-1 record as the Cleveland Browns, and the Jaguars turned last week's clinic over the Patriots into a two-field goal clunker against the Titans. All part of just another random weekend in an NFL September.
Why should the Patriots' struggles be considered any more threatening than the Bills' fantasy of .500?
Because there is an emerging dysfunction on this team that doesn't permeate other early-season successes or failures. Maybe Belichick was simply overly distraught over watching Jimmy Garoppolo's likely season-ending injury on Sunday and mailed things in against his former defensive coordinator. But the man has now been thoroughly out-coached in three of the last four games. And frankly, coaching against O'Brien is looking more and more like beating a toddler in Madden.
The Patriots are an absolute mess. That much is certain.
Whether or not they can find their way out of the rubble yet again is up for debate.
Been here. Done this.
Maybe they'll do it again. After all, prematurely burying the Patriots has become a hobby easy to mock in the ensuing months. Hopefully, Freezing Cold Takes has its screenshots at the ready for when it comes time.
But these Patriots feel like a disaster that is just beginning to shed its layers of malfunction.
It was a good ride. But it's all over. Really, this time.*
*Maybe.