Patriots
Trent Dilfer was right on cue after the Patriots fell to 1-2
"Hey Patriots fans, I am on it."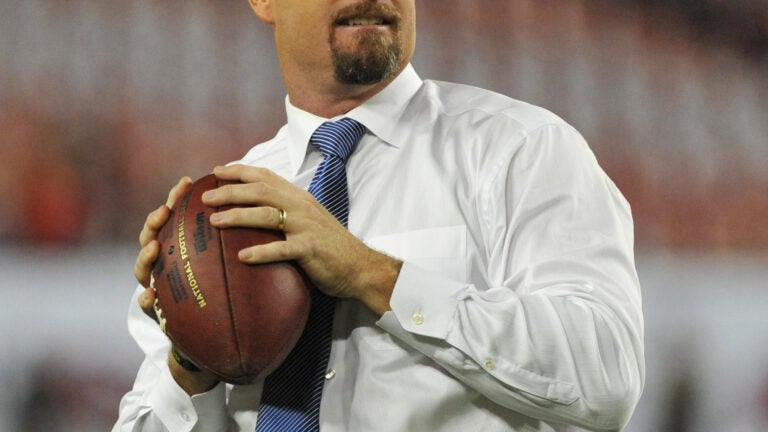 Don't worry, Patriots fans.
NFL analyst Trent Dilfer has you covered.
"Hey Patriots fans, I am on it," Dilfer tweeted after New England's wretched 26-10 loss to the Detroit Lions Sunday night. "This week, I'll make sure to make another stupid knee jerk reaction statement, so y'all can go on another epic run."
Dilfer famously lambasted the Patriots in 2014, after the team got demolished by the Kansas City Chiefs and fell to 2-2.
"We saw a weak team," Dilfer said on ESPN's Monday Night Football broadcast. "The New England Patriots, let's face it, they're not good anymore."
The Patriots, of course, proceeded to assemble a 12-4 regular-season record and advanced to the Super Bowl that year. Thanks to a goal-line interception from cornerback Malcolm Butler, they defeated the Seattle Seahawks, 28-24, for Tom Brady and Bill Belichick's fourth title together.
Dilfer later acknowledged his initial take might have been too hot.
"I made the mistake I hate making in this job, and that's knee-jerk reacting to what you see in real time and not thinking about who you are saying it about," Dilfer said, via ESPN. "What I forgot at the moment, and what I think anybody who wrote the Patriots off early forgot, is what Bill Belichick has done over his career: getting the most from the least and the best from the best. And let's not forget, that's what coaching is. So at its core, being a great coach is getting the most from the least and the best from the best."