Patriots
Chris Gronkowski says Rob is 'super frustrated' on the field
The Patriots tight end's brother also shed light on the reports about his "crazy offseason."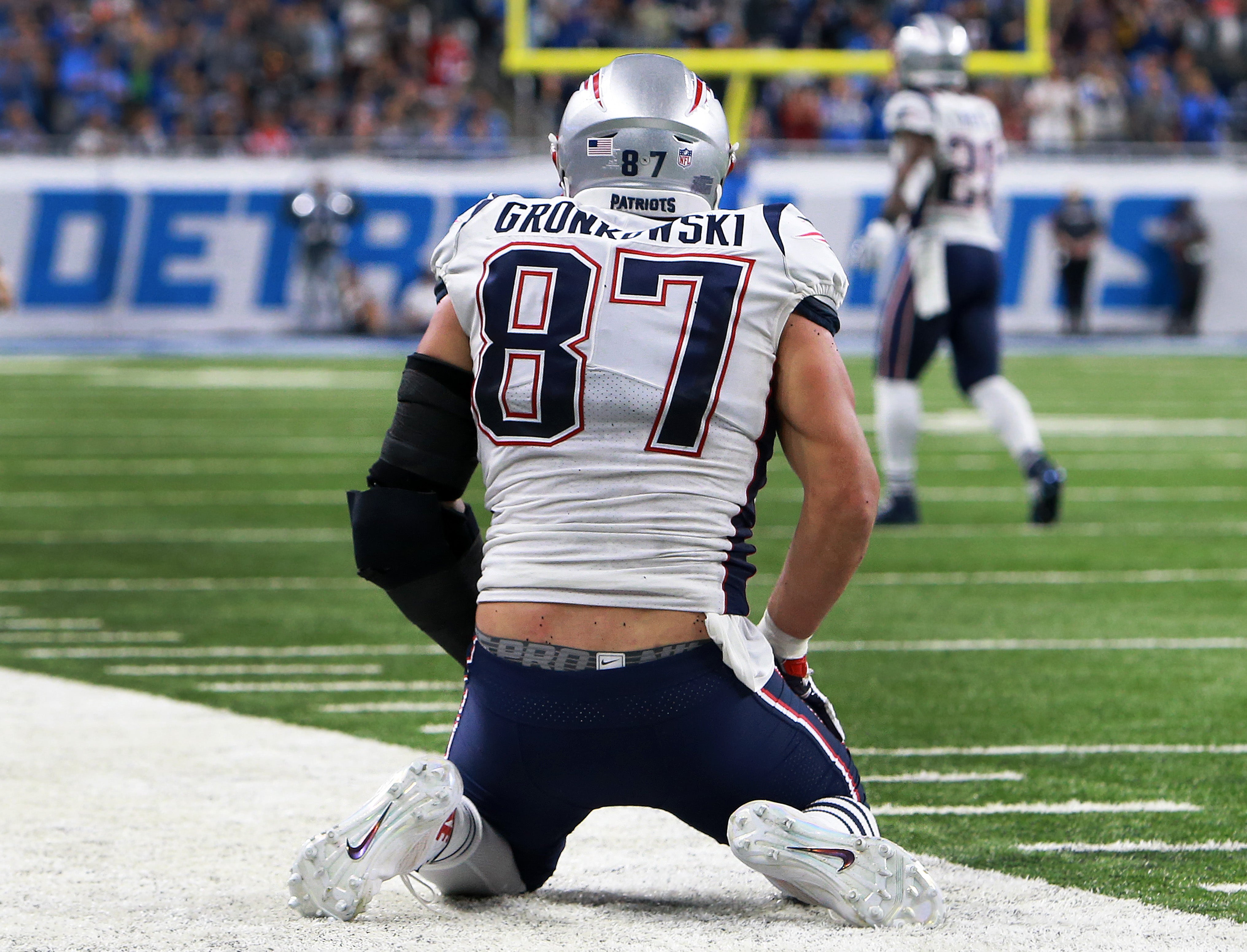 Chris Gronkowski wasn't on the field Sunday, but he feels his brother's frustration.
In an interview Tuesday morning on WEEI, the former NFL fullback lamented the inability of other Patriots receivers to get open through the team's first three games this season — adding that not only has it been "super frustrating" for him personally to watch, but also frustrating for Rob.
"Usually a tight end is being covered by a linebacker, who really can't cover anyone," the Patriots tight end's older brother told WEEI.
"When you're giving up two of your best defenders —  two safeties or a corner and a safety — to cover a tight end, your guys on the outside should be able to win," he said. "It's just super frustrating to watch, and they've got to figure something out."
Despite opening the season with seven catches, 123 receiving yards, and a touchdown against the Houston Texans, the 29-year-old Pro-Bowl tight end has since been limited, totaling a combined six catches for 66 yards in the Patriots subsequent two losses. Following the team's loss Sunday night to the Detroit Lions, Chris tweeted a meme venting his own frustration with the lack of help his brother was getting from his teammates.
When your tight end gets double covered and no one else can get open. #OnToMiami pic.twitter.com/Hso2NYDUva

— Chris Gronkowski (@Chrisgronkowski) September 24, 2018
The Patriots wide receivers and running backs produced just 10 catches for 81 yards in the 26-10 loss. Many observed that, even with the Lions devoting two defenders to the team's 6-foot-6 tight end, Tom Brady had few open options. While Gronkowski said Tuesday he hadn't talked directly to Rob about it, the 31-year-old said he could tell from his younger brother's body language on the field that he wasn't happy.
"I can just tell by his emotions, his facial features, that he's super frustrated with it. You can see at the end of the game, how they ended the game double-covering him, pressing him off the line," he told WEEI. "He just wants to get the ball in his hands and make plays. But you just can't do it when no one else is getting open."
Gronkowski added that his brother would likely keep getting double covered "if no one else can beat single coverage," but that Julian Edelman's return from his four-game suspension could change things.
"He's a man-beater," he said. "He's gonna get open if you put man on him. Once Edelman's back, I think the whole game changes."
Gronkowski was also asked about the recent reports that Rob was nearly traded this past offseason, including one near-blockbuster deal with the Lions that he stopped by threatening to retire. Rob confirmed the reports following Sunday's game. Addressing his brother's tumultuous offseason, Chris said that it was a matter of Rob looking to get paid "what he deserved."
"It was kind of a crazy offseason," he said. "There wasn't a ton of communication between [Rob and the Patriots]. He wanted to get paid what he deserved. He wanted to be paid as one of the top tight ends for once. It's been a struggle for him to make that money."
Gronkowski said his brother probably could have made up to $15 million with another team. After agreeing to certain performance-based incentives in the past, Rob was looking for a new deal with potentially higher compensation than the $10 million he earned last year. The reworked deal, which the Patriots tight end signed in August, allows him to earn up to $12.3 million this season and $13.3 million in 2019.
"[Rob] knows what he needs to get done. He just wanted some more freedom, and he wanted to get what he deserves," Gronkowski told WEEI. "He was being paid like he was just a mediocre tight end and just wanted to get some respect on that front."
Gronkowski suggested that Rob felt somewhat disrespected by the Patriots' insistence on veterans attending voluntary offseason training camps and their lack of off-days for veterans during the season, corroborating reports that his brother didn't enjoy the past season. Chris also later added that his brother wanted more "flexibility" during the offseason, even if his reputation for partying was overblown.
"It's a guy who's proven himself over and over and over again," he said. "Why just sit there and beat him up every single week? It's tough to play in New England, but they win, so you can't argue with it."
Gronkowski said he never thought a trade would happen and that his brother is happier with the situation now. Despite some "communication errors," the two sides came together in April after Rob met with Bill Belichick, he said.
"It was just all about getting on the same page with him," Gronkowski said. "They sat down, they talked everything out. He let him know what he needed done, and Belichick let him know what he needed. After that he came out, he tweeted, 'I'm going to be in New England,' and he's happy to be there. There was just communication errors where they weren't talking, and they sat down, they got it together and figured everything out."