Patriots
What NFL experts are predicting for the Patriots-Dolphins game
Sunday's game could be the doorway to some new territory for the Patriots.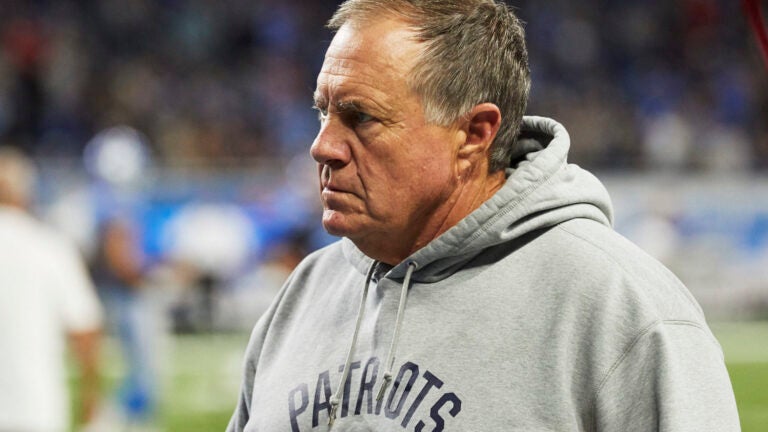 COMMENTARY
Woof. 
The common, yet hopeful, theme for the New England Patriots coming out of camp with a depleted wide receiver corps, reported dissension in the ranks, and a re-tooled defense was assuming that they'll eventually figure it all out. They always do. 
This might not be always. 
The Patriots return to Foxborough after losing two in a row on the road in Jacksonville and Detroit, but are at their own internal crossroads. At 1-2, the Patriots are either on the precipice of better days with the returns of Josh Gordon and Julian Edelman or at the beginning of a downward spiral. 
The 3-0 Miami Dolphins come in with old friend Danny Amendola in the fold, which has to be a kick in the teeth for Tom Brady. The Patriots head into the contest 29th out of 32 teams in third down completion percentage, a ghastly 28.6 percent. Last season Amendola had 18 third-down catches, 22 percent of the team's 82 attempts. 
According to the Washington Post, only the Bills, Seahawks, and Colts have had a higher percentage of drives go three-and-out. The league average is 34 percent. The Patriots have done it 44 percent of the time. 
The Dolphins? Yeah they beat the Titans, Raiders, and Jets and so what. Using that to discount Miami ignores everything that happened in Detroit last weekend. 
The Dolphins at Gillette should be a slam-dunk. 
But this Sunday could be the doorway to some new territory for the Patriots, not to mention the AFC East. 
This week's picks
Greg Cote, Miami Herald: Dolphins 30, Patriots 24. "I have drawn a deep swig of the Kool-Aid and gulped it down with gusto. Perhaps by mid-afternoon Sunday there will be signs I have drank poison, but, for now, it is pure ambrosia — the nectar of the gods! I believe the Dolphins will be the best team on this field. I believe that the Patriots' shortcomings (especially on defense) are real. And I believe the combination will see Miami finally beating Tom Brady in Foxboro. Yes, I get why most would think otherwise. I get all the disclaimers that have New England a 7-point favorite. Miami is 0-14 at Gillette in games Brady starts. The Fins have lost nine consecutive away games in this series (the last win over Matt Cassel) by an average f 18.4 points. The Pats haven't lost three in a row since 2002, and have won their last eight in a row at home. Yes, the Patriots, home and desperate, are a dangerous thing, and the Fins are 3-0 vs. a less-than-ferocious schedule. I get all that! But this I know, too: Ryan Tannehill has been in command and excellent. The Dolphins offense possesses a quick-strike, chunk-play element not seen in years. Adam Gase's trick plays have been a delight. Ex-Pat Danny Amendola will be a strong fantasy play. And the big-playmaking defense has been a huge surprise. I'm not saying that when you say Miami, you're talkin' Super Bowl. But this is a playoff-contending team with all cylinders pumping, a Dolphins team catching Brady at just the right time for a damned change."
Pete Prisco, CBS Sports: Patriots 26, Dolphins 23. "The Dolphins are flying high at 3-0, while New England is floundering. That's usually a bad spot for a road team coming to Foxboro. But this Dolphins team is playing outstanding defense and I think that continues against a depleted New England offense. Miami hangs around and could pull off the upset." 
CBS Sports staff: Split (New England -7). Everybody picks the Pats straight-up. 
Gerry Dulac, Pittsburgh Post-Gazette: Patriots 23, Dolphins 20. "Back-to-back losses for the Patriots? And to the Lions … for the second year in a row? What is happening in New England? OMG, fire Belichick. He's obviously lost control of the locker room. Has anyone noticed the Dolphins are unbeaten?" 
David Steele, Sporting News: Patriots 24, Dolphins 23. "By now, no one wants to be the one to fall for the banana-in-the-Foxborough-tailpipe. Who wants to be the one to have their words, about the Patriots' dynasty finally tumbling down, thrown back in their faces during Super Bowl week in February? Plus … who wants to be the one fooled by the Dolphins, the NFL's biggest annual teases, again? Complicating this one is the fact that the Dolphins have beaten the Patriots four times in the last five years, three times with Ryan Tannehill at quarterback."
Vinnie Iyer, Sporting News: Patriots 30, Dolphins 20. "The Dolphins are 3-0, but they have barely escaped with wins against three shaky teams. The Patriots will not be right offensively until Julian Edelman returns, but they have plenty to drive Miami batty, especially at tight end with Rob Gronkowski. Two consecutive losses for Bill Belichick is weird, and three doesn't happen. Adam Gase will keep its close with ball control and the running game, but New England will pull away late."
Mike Hurley, CBS Boston: Miami (+7). "I do feel as though this could be a week where the Patriots slap themselves in the face and come out looking like THE PATRIOTS, but it would be wise to take a wait-and-see approach to that. They've looked to have too much of a talent deficit over the past two weeks — admittedly in tough environments."
Mike Florio, Pro Football Talk: Dolphins 23, Patriots 17. "This is one of those "forget about the uniforms and focus on who's wearing them" games. The Patriots have been physically overmatched, and it will continue at least until Julian Edelman returns. The spirit may be willing, but that's currently not good enough."
Michael David Smith, Pro Football Talk: Patriots 24, Dolphins 21. "If the Dolphins win this game, they're the undeniable favorites in the AFC East. Who saw that coming before the season? But I just don't think the Patriots are ready to give up the division throne just yet."
SB Nation staff: All Pats. 
MassLive staff: Three out of four pick the Patriots (-6.5). "Previously in this series, the home team has a huge advantage. But it's hard to know just how much to rely on history right now. The Patriots have been a bad football team the past two weeks. Losing Ja'Whaun Bentley looks like a potential body blow to a defense that was already struggling. Miami might be playing over it's head, but so far, it's handled the only three teams on the schedule."
Joe Giglio, NJ.com: Patriots. "Every year one team shocks the league, gets off to a good start, then falls back. The Dolphins are this year's team that fits the bill. New England, off back-to-back losses by 10-plus points, goes home for division revenge." 
USA Today staff: Everybody likes New England. 
Jimmy Kempski, Philly Voice: Patriots. "I've seen some media types scoff at the notion that the Pats' dynasty is coming to an end, and that their 1-2 start is just a normal early-season hiccup they've experienced in the past. I mean, they'll get things right and return everything to the way it should be, right? Maybe. We'll see. I will say that if an alien football scout from some other planet with no knowledge of previous seasons parachuted in and observed this NFL season through three weeks, he/she/it would think the Pats were a bottom-third team. They look like crap. Still, the Pats own a nine-game winning streak over the Dolphins at home, and even at 3-0 this Miami team doesn't inspire much confidence."
FiveThirtyEight: New England with a 70 percent chance of winning. 
ESPN staff: Pats across the board. 
Elliot Harrison, NFL.com: Patriots 30, Dolphins 23. "Strongly contemplated picking the Dolphins in this all-important AFC East match. But it's challenging to go with Miami when that team has fared so poorly at Gillette over the years. Yes, the Dolphins have won a lot of games over Bill Belichick's group (one each in four of the past five seasons), but remember: almost all of those have come IN Miami. In fact, the Dolphins' last win at Foxborough came on Sept. 21, 2008, when Tony Sparano and Ronnie Brown's Wildcat special took over pro football — and took down the divisional royalty. Since then, at Gillette Stadium, it's been almost all blowouts in the Pats' favor. If the script is to be different this time, Ryan Tannehill must be careful with the football (he has a TD-to-INT ratio of 7:2 thus far) and use his legs to extend drives. Keep Tom Brady off the field, like the Lions did in their win over New England last week."
It says here: Patriots 28, Dolphins 23. Because if the Patriots lose this one, then things are officially an imploding mess. I'm not so sure they're ready to succumb to that status quite yet.