Patriots
After his 112-yard breakout performance, Sony Michel can 'pretty much do it all'
"I'm around a great group of guys, so it's amazing."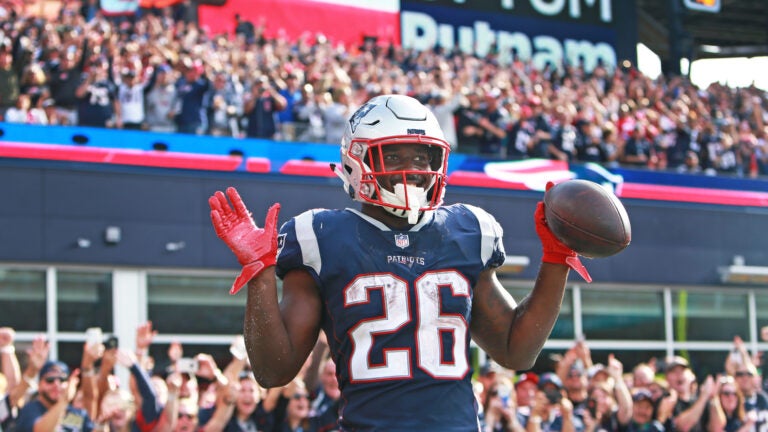 Sony Michel missed the Patriots' season opener, then struggled in his first two games — both defeats for New England. On Sunday, Michel finally displayed the burst that made him a first-round pick as the Patriots beat the Dolphins.
Michel made the most of an excellent performance by the New England offensive line, averaging 4.5 yards per carry through the gaps in the Miami front seven. The 23-year-old took 25 handoffs from Tom Brady for 112 yards, including a 10-yard touchdown run in the fourth quarter.
"It's always great to go out there, just play football and the ultimate goal is to go out there and get a win," Michel told reporters after the 38-7 victory. "That's why we play the game."
One for the books. @Flyguy2stackz's first career TD.#MIAvsNE | #GoPats pic.twitter.com/CSg3PRM6mS

— New England Patriots (@Patriots) September 30, 2018
Michel noted the foundation for his performance was laid at practice, where the coaching staff preached a fast start. The Patriots had 38 points on the board before the Dolphins scored a garbage-time touchdown. He also credited his teammates for lifting him during his early slump.
"My teammates do a great job of complimenting me to keep my confidence up," Michel said. "I'm around a great group of guys, so it's amazing. I'm blessed to be around guys like James White, the offensive line, and Tom [Brady] and them. It's amazing."
James White, who equalled Michel's 112-yard, one TD afternoon on eight carries and eight receptions, said Michel is a tough runner who can "pretty much do it all."
For Michel, the family environment in Foxborough helped him overcome a rough start — and now he's poised to become an integral part of the Patriots offense.
"I would say I'm blessed, because going through times that aren't the brightest helps you learn so much," Michel said, per NESN's Zach Cox. "I'm blessed to say I had those times that I could learn from. A lot of people don't. A lot of people may have those times coming, and they may not know how to react to them.
"But me, I had a rough start, but I've got great guys around me to encourage me, to stand next to me. It's a family in here, so it helps. But you've got to just keep pushing and keep fighting."