Patriots
Tom Brady got what he wanted in Week 4: more James White
"James always does a great job."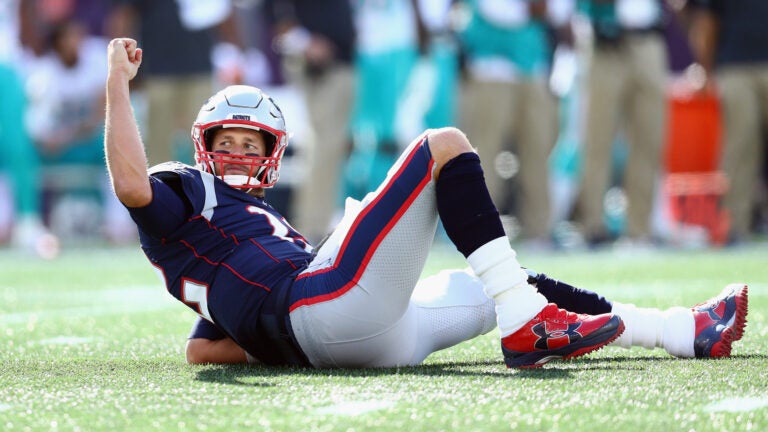 After the Patriots' 26-10 drubbing in Detroit in Week 3, quarterback Tom Brady identified running back James White as one of the players who needed to be more featured in the team's offense.
"He's just a great player for us," Brady said of White last Sunday. "He's got to be involved. Guys who can make plays are the ones that should be involved — and James is certainly one of them."
White — who was limited to 37 yards on four carries against the Lions, seemingly taking the backseat to rookie Sony Michel — erupted for 112 total yards and two touchdowns Sunday against the Miami Dolphins. White's first score came on a 22-yard run following linebacker Kyle Van Noy's fumble recovery in the second quarter, while his other came on a high-arcing 14-yard pass from Brady in the third. Sunday's victory was the first time this season White recorded both a rushing and receiving TD — a feat he achieved three times during the 2017 regular season.
"James always does a great job," Brady said after New England's 38-7 win. "He played a big role today, and it was a big win today. We needed it, and, hopefully, we can build on it, gain some confidence in some things. It's a quick turnaround, so it's good to win, and we've got to get ready to go again here shortly."
Newly tapped as a captain for the 2018 season, White has time and time again proved himself as both a capable rusher and pass catcher. He finished last season with 56 receptions for 429 yards and three touchdowns as well as 43 carries for 171 yards. White's usage might be inflated (due to receiver Julian Edelman's four-game suspension) to start the 2018 season, but the 26-year-old is on track to reach career highs in several statistical categories, having already rushed for 110 yards on 21 carries and caught 22 passes for 193 yards.
"It's just great to have a guy that's that dependable and that consistent on a daily basis," fullback James Develin said. "Everyone can kind of come in the door and just look at him for a lead by example type of guy. The guy just does everything right it seems and you can always just rely on him in a tough position or a tough moment in a game and he's come through time and time again, so to have that kind of dependability is awesome."
One by ground.
One by air.@SweetFeet_White | #MIAvsNE | #GoPats pic.twitter.com/ixSEvnOvnD

— New England Patriots (@Patriots) September 30, 2018
"We all know, it's no secret that he's integral part of this offense," wide receiver Phillip Dorsett added. "Getting him going, it just opens doors for everybody and makes it kind of tough for people to pick where the ball's going."
White was the only running back to log 112 yards Sunday, as Michel rushed for exactly 112 yards and a touchdown. While Michel maintained the bulk of the carries, White highlighted the backfield's flexibility, telling reporters any one of them (including Kenjon Barner, who was recently signed to the 53-man roster from the practice squad) are capable of stepping up.
"It's not just us," he said. "We have a good group of guys that's very versatile, can catch, block, and run the football. One week, it may be one of us; one week, it may be two of us. We don't really know how it's going to go. We just try to make the most of our opportunities and try to help this offense go."