Patriots
Bill Belichick offered a detailed explanation on why Dont'a Hightower is so valuable
Belichick's quote offered a glimpse at the subtleties of play recognition on defense.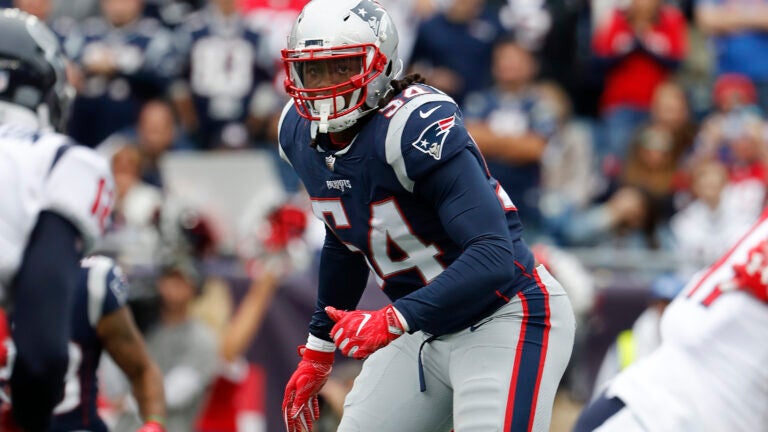 During a Monday conference with Patriots media, Bill Belichick offered some insight into how middle linebackers on defense are able to decipher and disseminate important information quickly.
Asked by NBC Sports Boston's Phil Perry about the importance of do-all defender Dont'a Hightower's ability to diagnose plays, Belichick gave a lengthy response.
"I think about that and talk about it quite a bit, to be honest with you," Belichick admitted. "Sometimes, players, maybe they can't even tell you how they know what the right thing to do is, they just know what the right thing to do is. Sometimes they anticipate it. Sometimes it just comes to them just instinctively."
"But, High's a smart player," Belichick continued. "He can play multiple positions. The mental part of the game seems to come very easy for him, going between mike or sam or will or defensive end or a different position in pass rush on third down. Assignment wise, all those come pretty easily for him, and athletically he has a great combination of size, power, pass rush, zone, man coverage – he's done all those things for us. How does he know what to do? I'm sure it's a combination of all those things, like it is with a lot of great players."
Belichick compared the instinct to other veteran players on the Patriots' defense.
"You could ask [Patrick] Chung and [Devin] McCourty and Malcom Brown and [Kyle] Van Noy and guys like that all the same question, and I'm sure each play and each situation might give you a little bit of a different answer. Through my experience with players, sometimes they can't even give you an answer. They know, but they just don't know. They just kind of – it just sort of looks a little different and that's how they knew it was a screen or that's how they knew it was a play-action pass or that's how they knew it was something that was a little bit different. They could just, instinctively, figure it out."
Few positions are as important for the intelligence of the defense as middle linebacker, as Belichick explained.
"The middle linebacker position, is a key communication position for us on defense, as it is for every team – middle linebacker to safety, like center-quarterback are on offense. So, when you're in the middle of the formation, that's the person who has to coordinate the things in front of them, and the communication works from the inside out, not the outside in."
So far in 2018, the Patriots have started several players at middle linebacker.
While Belichick maintained that all of them are capable, he acknowledged that none of them match Hightower's experience:
So, Dont'a does a good job of that, and again, because of his experience at all the different linebacker positions, as well as defensive end, I think he has a real good feel for what everybody else needs to know and how important it is that they get the proper communication because he's played all those spots. And, so, he does a great job for us in that area – so do Kyle and Elandon [Roberts] and [Ja'Whaun] Bentley when he was in there. They're all good communicators. High has the most experience and he does an excellent job of it, but those other guys do a good job, too.