Patriots
Can Tom Brady dunk? He says he thinks so
"Maybe I'll put that on my Instagram one day."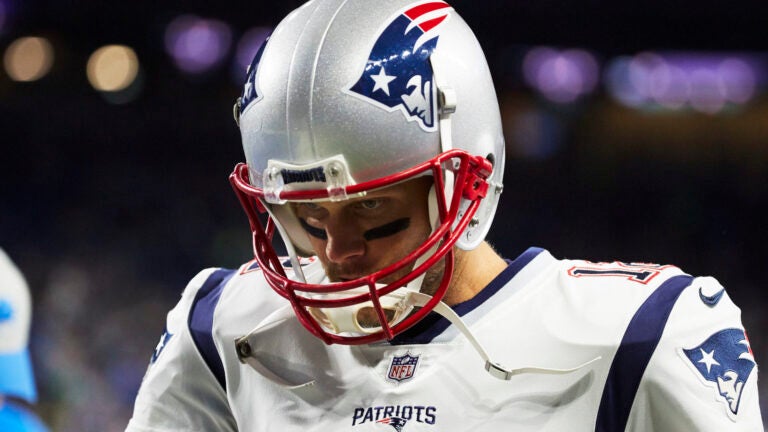 We know Tom Brady can get down. But can he get up?
The Patriots quarterback has espoused the athletic benefits of his meticulous training and diet regimen. So during a press conference Monday, Brady was asked how his fitness plan has made him a more explosive athlete. More to the point, as a 6-foot-4 professional athlete, can he dunk?
"Yep," Brady replied point blank, before somewhat softening his answer.
"I haven't tried in a while, but I think I can," he continued. "Maybe I'll put that on my Instagram one day. Try to see if I could do that."
An Instagram video might be necessary, as there's not a ton of evidence supporting Brady's claim.
Unlike his Patriots teammate Rob Gronkowski (who threw down some vicious dunks in his day), Brady didn't play basketball in high school — only football and baseball. And aside from a short, pitiable clip earlier this year showing him getting beat in a game of knockout, there's hardly any footage of Brady on the hard court.
The one notable exception came in 2015 when Brady was spotted playing in a celebrity-filled pickup game (while wearing khaki shorts) on the same team as Michael Jordan. An extended version of the video captures Brady swishing a 20-foot jumper, but there's not much showing his relative jumping ability.
Going back a bit further, Brady recorded a 24.5-inch vertical leap as a rookie during his infamous 2000 NFL Combine workout. For context, according to the advanced stats website NFLsavant.com, that's more than seven inches lower than the average vertical leap for the average quarterback. It's even several inches lower than average for NFL nose tackles and offensive linemen.
In other words, Brady is no Zach Lavine.
But still, at 6-foot-4 and with much-improved pliability, it's not unrealistic to think Brady could manage to jump high enough to throw one down, even at his relative old age. We might just need video proof.