Patriots
At Forbes' 'Under 30 Summit,' Jonathan Kraft talks evolution of the Patriots and the NFL
Things have come a long way.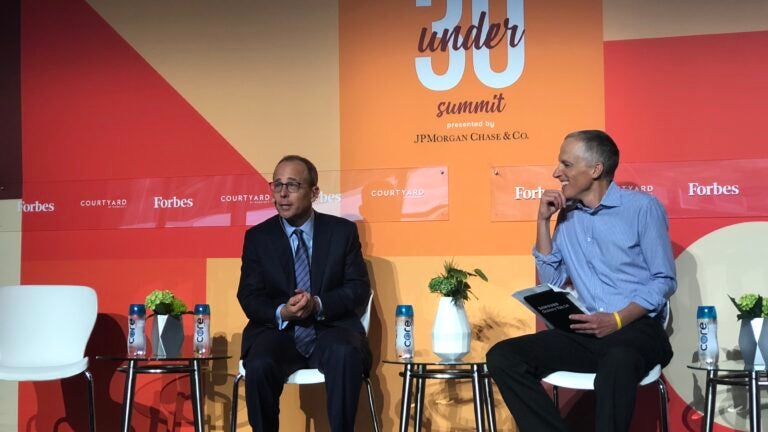 A lot has changed since Patriots president Jonathan Kraft and his family first started attending football games at Schaefer Stadium in 1971.
Kraft, one of team owner Robert Kraft's four sons, said he was seven years old when his father came home with their initial package of Patriots season tickets — a purchase that would later inspire Robert to buy the team outright for $172 million in 1994, which, at the time, was the highest price paid for an NFL team.
"Occasionally, we'd travel around the country and go to NFL games in other cities when the Patriots were playing," Kraft said at the Forbes' "Under 30 Summit" Monday. "We saw it be so different in other places. We thought if we ever had the opportunity to [buy the team], we would try to jump at it and we did."
Before 1994, things were looking rather grim in Foxborough. As Kraft explained, the Patriots had the league's worst win-loss record over the past decade, they had only 19,000 season-ticket holders, games averaged 35,000 people in attendance (at a stadium with 60,000-plus capacity), and the club clocked in at negative $6 million in earnings before interest, taxes, depreciation, and amortization (EBITA).
In other words, the Patriots weren't making very much money. Their revenue and franchise value both ranked in the bottom half of the league.
But the Krafts were confident their love for the team coupled with their business acumen would produce positive results. Plus, the NFL's salary cap was introduced in 1994 — a rule that Kraft said influenced his father to spend big bucks on the team. With the salary cap, there was less emphasis on who could out-spend the competition and greater focus on what Kraft calls "traditional, strategic operating principles of a business" — a shift he said they liked.
"Why we were willing to pay up so much for a business that was negative $6 million in EBITA and didn't have a lot going for it was because we loved the competition of the National Football League," Kraft said. "We believed that with a hard salary cap, the teams that we're going to be successful were teams that understood how to evaluate talent, sign it up under the rules of the cap, and then coach it well."
From their first season in ownership, the Kraft family began instituting changes. Kraft said they upped their roster of season-ticket holders from 19,000 to 50,000 for the '94 season, and all eight home games were sellouts for the first time in franchise history. From then on, the Patriots established a paid waiting list, which Kraft said currently carries approximately 80,000 people.
"Fortunately, we've won some games more than we've lost, and we've turned the EBITA from negative [$6 million] to positive," Kraft said.
Forbes estimates the organization's EBITA now stands at $200 million and ranks the Patriots as the second-most valuable NFL franchise with a total value of $3.7 billion. Under the Kraft ownership, every home preseason, regular-season, and postseason game has been a sellout. Kraft said his family's experience as season-ticket holders has helped shape their approach to business.
"I think for us, having been fans, having been season ticket holders, having sat there, this is more to us than just a team on the field," Kraft said. "The community of the whole thing was really powerful."
His family also drew on their experience operating the Kraft Group prior to acquiring sports teams. (In addition to the Patriots, the Krafts own an MLS team, the New England Revolution, and an e-sports team, Boston Uprising.)
"Our core business is in paper and packaging — commodity- and capital-intensive businesses," Kraft said. "The only way you differentiate yourself in those businesses is by providing better customer service than your competition. If your product is exactly the same, that's what you do. In our paper and packaging businesses, we do that. When we bought the Patriots, we brought that same philosophy. We said, 'Whether you give us your time watching us on TV, your money being a season-ticket holder, [or] you sponsor with us, we're going to give you great value for that because we understand what it's like to sit in those seats."
Sponsors receive the same care as season-ticket holders, Kraft noted.
'This isn't just eight home games a year with your sign up on the wall," he said. "It's a 365-day-a-year association with our brand, with our players, [and] with our family. We'll work with you in a whole host of ways to help give your brand a platform that it wouldn't otherwise have had."
Kraft identified two major changes in sponsorship deals since 1994: 1. In-stadium brand impressions are "less and less and less important," especially for bigger national brands. 2. There's an emphasis on "unique experiences," as opposed to basic hospitality. Kraft used Bose Corporation, the supplier of the Patriots coaches' headsets, and Samsonite as two brands the team has successfully woven into their social media presence.
Outside of sponsorships, Kraft envisions social media to be a more integral part of the league moving forward. When the NFL's television deals expire in 2022, Kraft anticipates a number of new bidders will join the traditional networks in the fight for broadcast rights. The NFL has already broken new ground, by partnering with Amazon Prime and Twitch to stream Thursday Night Football this season.
Kraft expects the new bidders to be companies that understand not only "how to deliver content, but more importantly, how to deliver it with interactivity within the stream of what is traditionally called a broadcast." Within the stream of an NFL game on Twitch, for example, viewers can elect to see a social feed or real-time statistics scrolling down the right-hand side of the screen. Kraft expects those options to expand, largely due to the legalization of sports gambling.
"I really believe that come 2022, 2023, whoever has the rights to our games will give you a stream, like you see today, but you'll be able to, if you choose to, have a stream of real-time proposition bets scrolling at the bottom of the screen," he said.
For the Patriots, Kraft said the focus isn't on the potential increase in direct revenue, but rather, the uptake in fan engagement. He believes real-time prop bets like 'Will the next play be rushing or passing?' or 'The Patriots are starting a drive. Is it going to end in a touchdown, turnover, field goal, or punt?' should boost entertainment and engagement beyond the outcome of the game.
As far as the league as a whole, Kraft said things are trending upward, even though ratings appear to be down. Part of the reason why he believes the future is bright is due to the "influx of stars at skilled positions," naming rookie quarterbacks Baker Mayfield, Sam Darnold, and Josh Rosen as a few examples. He also gave a shoutout to a trio of emerging passers in Jared Goff, Deshaun Watson, and Dak Prescott.
"For the first time in a number of years, it appears like we've got a lot of great, young quarterbacks," Kraft said. "Star power and quarterbacks, I think, really helps to move the needle, as well as skill positions — wide receiver and running back in particular. … Part of it is in the markets they're in. Part of it is in the positions they play."
Kraft said he believes the NFL is going to be just fine — they just need to ensure previous successes don't "scare [them] from pushing forward and innovating."
Oh, and the 2-2 Patriots? Kraft said they'll be just fine, too.
"There's not a lot of panic," he said. "I think sports teams who panic don't end up ever being successful."