Patriots
38 thoughts on Patriots' win over the Colts
Still, some questions remain.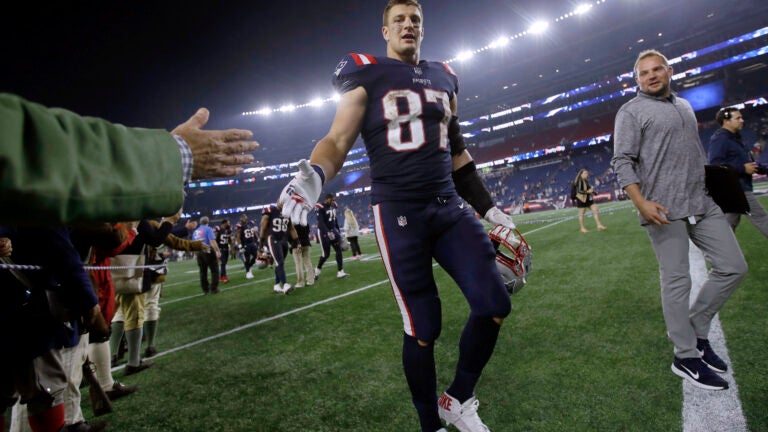 Thirty-eight thoughts on the Patriots' 38-24 victory over the Colts . . .
1. We've finally seen them in full, at least when they have the football. Led by Tom Brady, who completed 34 of 44 passes for 341 yards and three touchdowns, including the 500th of his career, the Patriots beat the feisty but overmatched Indianapolis Colts Thursday night, 38-24. Julian Edelman and did his Julian Edelman things in his return from missing the last 23 meaningful games, Josh Gordon tantalized in a limited role, and backs Sony Michel (game-icing 34-yard touchdown run) and James White combined for 187 total yards. An offense that looked waif-thin just two weeks ago now appears to have options to envy.
2. Still, some questions remain. The defense, which shut down the Dolphins in what appeared to be a statement of pride Sunday, allowed three touchdowns to Colts tight ends while quarterback Andrew Luck threw for 365 yards. The Colts aren't exactly reminiscent of the Manning-Harrison-James heyday — Eric Ebron, a bust with the Lions, was Luck's top receiver Thursday night. Overall, it was an encouraging performance that put the Patriots over .500. But it was far from a flawless one.
3. But this one sure was fun from the start. How many encouraging plays and developments happened on the Patriots' methodical first possession, which covered 80 yards on 12 plays in 6 minutes and 2 seconds? While acknowledging that I probably missed several good things out of utter obliviousness to the line play, I counted at least five.
4. It began with a Brady dart to Edelman for 9 yards on the first play from scrimmage, a welcome-back-Jules moment you got the sense would have happened even if he were triple-covered.
5. There was Michel (98 rushing yards overall) picking up a couple of yards on third and short to prevent a three-and-out and keep the chains moving. That's what they could not do two weeks ago versus the Lions.
6. There was Brady's 19-yard pass to Rob Gronkowski on a second-and-5 situation, a route and grab on which Gronkowski looked completely healthy. He also moved into eighth place in receiving yards by a tight end on the play, passing Pete Retzlaff, a 1950s-era Eagle whom Belichick probably could write a book about.
7. There were back-to-back passes to White (this counts as two good things) that turned a first-and-15 into a first-and-goal. White finished with 10 catches for 77 yards and a touchdown, his second straight stellar game as a pass catcher.
8. And there was Brady's quick screen to Cordarelle Patterson on third-and-goal from the 1 that resulted in the touchdown. Patterson is going to be exasperating at times, but he's very, very good at the short menu of things he does well.
9. Maybe the creativity of that drive was Josh McDaniels's way of trolling them for what they missed out on. I do believe Frank Reich will do a good job once there are a few more horses on his roster. He's creative and bold, and the guy is pretty good at comebacks after slow starts.
10. Edelman's opening catch was his first official reception since a 15-yard catch on second-and-13 from the Falcons 40 yard line on the winning overtime drive in Super Bowl LI. Four plays later, White made the confetti rain.
11. Overall, Brady was 9 for 9 on the drive, completing passes to five different receivers (Edelman, Gronkowski, Phillip Dorsett, White, and Patterson).
12. You've surely heard this stat in recent days, which was dug up by ESPN's Mike Reiss and repeated elsewhere: This game marks the first time Gronkowski and Edelman have been on the field together since November 27, 2016. The Patriots won that game, 22-17. Neither of them had a touchdown, but here's a what-could-have-been: Malcolm Mitchell had two.
13. You know what realization surprised me even more? That Edelman and Brandin Cooks never played a meaningful down together, since Edelman suffered his knee injury in preseason last year. Would have been fun to watch them together.
14. I'm not saying Edelman was super-amped up for his season debut, but if you looked closely I'm pretty sure you'd see sparks flying off his helmet during pregame warmups.
15. The Colts tried to create some suspense in the second half, cutting the Patriots lead to 24-10 on an Ebron 14-yard touchdown catch, then intercepting Brady six plays into the Patriots' next possession.
16. The Colts couldn't cut the margin to a touchdown then due to an aggressive play from Devin McCourty, who tore the ball loose from Colts running back Jordan Wilkins near midfield and recovered the fumble. It's the kind of big play we've been looking for from McCourty, who has been steady but rarely spectacular over the last season or so.
17. He did have his struggles Thursday. He was in coverage on the Colts' first two touchdowns, with Erik Swoope, a tight end just activated from the practice squad, beating him for the score that closed the deficit to 7 at 24-17.
18. Brady now has six interceptions this season, just two fewer than he had last year and four more than he had in 2016, when he missed four games due to the Deflategate nonsense.
19. But both of his picks Thursday night should not go on his ledger. The first bounced off Chris Hogan's arm, and the second fell from Gronkowski's mitts. Maybe receivers should start being credited with a half-interception, a negative version of pass rushers splitting a sack.
20. Gordon's first catch didn't come until approximately 13 minutes remained in the fourth quarter. His second catch was a reminder of how great he can be.
21. Gordon capped a six-play, 75-yard drive – an immediate answer to the Colts pulling to within 24-17 – with a 34-yard touchdown catch in which he adjusted beautifully to Brady's throw.
22. I'm not sure if Brady's throw was slightly off target or Gordon's route took him slightly away from where Brady wanted him to be, but it's clear that he has that chuck-it-up-and-I'll-make-the-play ability that very few Patriots receivers have had downfield since the days of Randy Moss.
23. I am not comparing him to Randy Moss. I will not compare him to Randy Moss. It's unfair to Moss's legacy and amplifies what the expectations for Gordon should be. But . . . well . . . it was kind of Moss-like. It just was.
24. Unless Adam Vinatieri is lining up to kick a field goal that will put an end to a Patriot season — and he might have to hang on to age 50 if he plans to do that as a Colt — I don't see how any Patriots fan can really root for him to miss. It's amazing to see him still booming 54-yard field goals.
25. The decision to let Vinatieri walk after the 2005 season has worked out fine for the Patriots — Stephen Gostkowski, not Vinatieri, is the franchise's all-time leader in scoring – and for Vinatieri, too. Kicking indoors at Lucas Oil Stadium has been beneficial to prolonging his career.
26. Enjoyed hearing Joe Buck and Troy Aikman on one of their rare calls of a Patriots game (Super Bowls excluded, of course). Because they don't get many Patriots games on Fox, they tend to retrace Patriots history more than CBS or even NBC does. But then, the Brady origin story never gets old.
27. Two minor gripes: When Buck and Aikman discussed the Boston sports Mt. Rushmore (they went Orr, Bird, Russell, Brady, Williams, a cop-out but a justifiable one), Aikman mentioned Roger Clemens as an honorable mention. No. No way, Troy.
28. Also, when they referred to McCourty, they rarely said which one. Jason has been playing pretty well too, you know.
29. One more note regarding Fox: It was cool to see Brady warmly greet Jacoby Brissett in the postgame. But this old sentimentalist would have liked to see if he said hello to Vinatieri.
30. Sometimes I struggle to understand why Belichick considers Patrick Chung as irreplaceable as anyone on the Patriots defense. But his importance was evident in his absence in the loss to the Lions, and it certainly was in his presence Thursday night.
31. Chung picked off Luck in the first half, and seemed to be all over the place in coverage and even on the occasional blitz (he got a good lick in on Luck on the Colts' initial possession).
32. But his best moment might have been his Daniel LaRusso-quality crane kick aimed at two of his co-conspirator teammates after the interception.
33. It was the Patriots' best celebration since Cooks rode Gronkowski like a horse after a touchdown last year. I'm sure Belichick loved it.
34. Scott Zolak said on the radio broadcast that Luck's delivery has changed and his velocity is down, comparing him to former Jets changeup specialist Chad Pennington.
35. He may not throw like he once did, but he's put up some serious numbers over the last two games (including Thursday ) when he's passed for 829 yards and 7 touchdowns on 119 attempts. And he's probably still progressing in his recovery from his shoulder injury.
36. I should note Pennington was pretty good even after he lost whatever fastball he had. I should also note he was selected by the Jets 181 picks before Brady in the 2000 draft. J-E-T-S, man.
37. The Patriots' second touchdown came on a 1-yard Brady "run'' in which he launched himself over the line of scrimmage in the most awkward Walter Payton imitation you will ever see. It got the desired result, but it's probably best for him to remain earth-bound in the future.
38. The Red Sox-Yankees rivalry: Back. The Colts-Patriots rivalry: Also back, but only in the minds of people who don't know what rivalry means.