Patriots
What Patrick Mahomes said about Tom Brady after the Patriots-Chiefs shootout
"Hopefully we might get to see him again."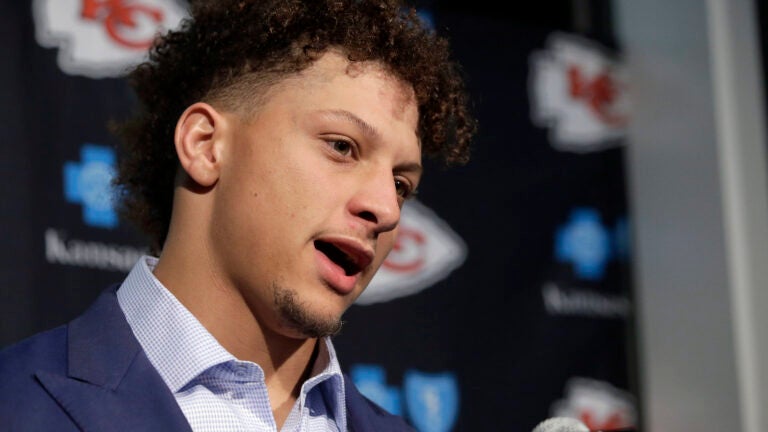 Looking at the tale of the tape after Patrick Mahomes went toe-to-toe with Tom Brady, you'd be hard-pressed to pick which stat line came from a second-year quarterback making his seventh career start. One of them completed 23 passes for four touchdowns, 352 yards, and a 109.9 rating. The other completed 24 passes for a touchdown, 340 yards, and a 109.2 rating.
Mahomes owned the former stats on Sunday night. The 23-year-old started slowly, but once he got going, Mahomes demanded a stellar performance from Brady to keep the Kansas City Chiefs at bay. The Patriots quarterback led his team down the field for a game-winning field goal with three seconds left and walked away with a 43-40 victory.
After the game, Mahomes told reporters he learned "a ton" from the narrow defeat.
"First off, you're playing a great opponent in a great atmosphere and so just to be able to go against the best, you want to compete against them every single day," he said. "We got down, we put ourselves in a huge hole and I'm just proud of my team and how we fought to get back in the game."
Although Kansas City trailed 24-9 at halftime, Mahomes noted he didn't have to fight off any self-doubt during the break.
"When you have the guys that I have on this team, with the weapons that I have, I know that I have to keep slinging it," he said.
Sling it, he did. Mahomes led the Chiefs on four straight scoring drives to open the second half. Kansas City went touchdown, field goal, touchdown, touchdown, three-and-out punt, then finished the game with yet another 7-point possession. Unfortunately for the visitors, they left too much time on the board for Tom Brady.
Brady took over with 3 minutes, 3 seconds remaining. The Patriots quarterback marched his offense from the team's own 25-yard line, all the way into field goal territory, spurred by a 39-yard completion to Rob Gronkowski.
"I have the ultimate respect for Tom and everything that he did this game and his whole entire career," Mahomes said. "He's had success in this league because he's won games with last-minute drives like that. For us, you just have to find a way to win games like this. If you want to get to where you want to get to, you have to win games that are going to be tight, and they're going to be against really good opponents."
The two quarterbacks, one nearly double the age of the other, met on the field after the game. Mahomes said Brady offered his congratulations, and "of course" he did the same to him.
"I just kind of told him good luck for the rest of the season, and we're going to go out there and hopefully we can keep playing and hopefully we might get to see him again," Mahomes said.
The next meeting between the Patriots and Chiefs would be in the playoffs. If both teams continue playing like they did Sunday night, they could be on a collision course for the AFC Championship game.