Patriots
Watch Rob Gronkowski's stiff arm and clutch catch in the Patriots' win over the Chiefs
Gronkowski was anything but quiet when it mattered most.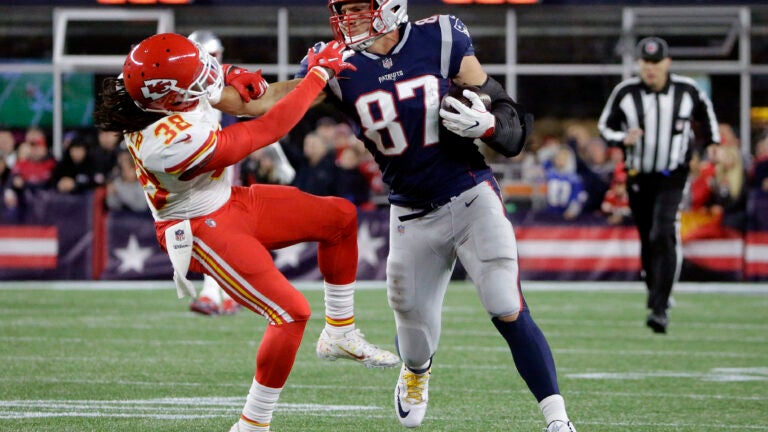 Rob Gronkowski was quiet in the first half of the Patriots' thrilling 43-40 win over the previously undefeated Kansas City Chiefs. Tom Brady targeted the tight end just three times before the half for one catch and 16 yards.
Although he only added two receptions to that one catch first-half tally, both were vital to the New England victory. Gronkowski was anything but quiet when it mattered most. Just ask Chiefs safety Ron Parker, who found himself on the receiving end of a vicious Gronkowski stiff arm with 3 minutes, 39 seconds remaining.
On that play, a Patriots first and 10 from their own 21-yard line, Gronkowski slipped into a pocket of space and caught a pass from Brady. Then the Pro Bowl tight end turned upfield, sized up an oncoming Parker, and slammed the defender to the Gillette Stadium turf.
STIFF ARM. ???@RobGronkowski is still that dude. #KCvsNE #GoPats

?: NBC pic.twitter.com/629XWcgHJO

— NFL (@NFL) October 15, 2018
Gronkowski picked up 42 yards on the completion to kick start the Patriots drive. Stephen Gostkowski capped said drive four plays later with a 50-yard field goal that gave the Patriots a 40-33 lead at the 3:15 mark of the fourth quarter.
That lead evaporated 12 seconds later, when Patrick Mahomes found Tyreek Hill for a 75-yard touchdown to tie the game. Unfortunately for the Chiefs, the instantaneous score left too much time on the clock for Brady and Co.
With 52 seconds remaining in the Sunday Night Football matchup, Brady dropped back to pass near midfield. He caressed a gorgeous throw over the Kansas City secondary and into Gronkowski's waiting hands for a 39-yard gain. The catch was the 500th of Gronkowski's career, making him just the 15th tight end to reach that milestone.
"He got a matchup and made a big play," Brady said. "He's been making a lot of those in his career. I'll keep throwing to him in the biggest moments."
Gronk gets the Pats in FG range! #KCvsNE

?: NBC pic.twitter.com/FLoTYHs8pR

— NFL (@NFL) October 15, 2018
More importantly, the catch put the Patriots in field goal range. Tom Brady took a 1-yard loss on the next play to set Gostkowski up with a dead-center attempt, then watched the veteran kicker drill a 28-yard kick through the uprights.
Gronkowski and his New England teammates improved to 4-2, kept their unbeaten record at home intact, and will face the Chicago Bears next Sunday.