Patriots
Tyreek Hill got beer and middle fingers to the face after scoring a game-tying touchdown against the Patriots
"I'm not mad at all."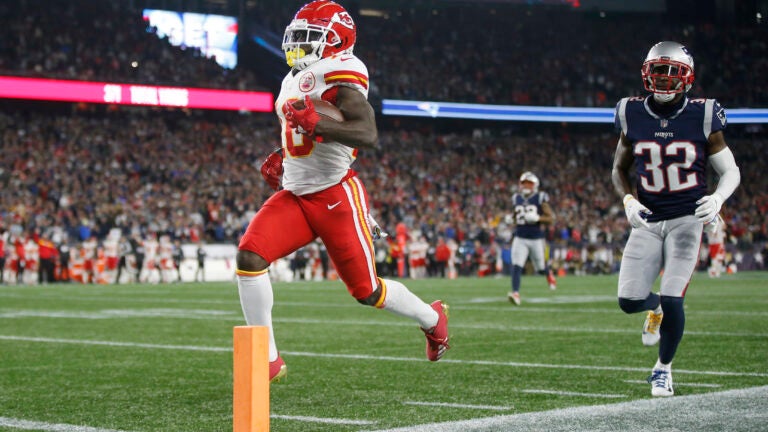 After leveling the score at 40 apiece in the fourth quarter of Sunday night's Patriots-Chiefs shootout, wide receiver Tyreek Hill encountered the wrath of a few New England fans.
On the first (and only) play of a drive starting at Kansas City's 25-yard line, Hill caught a pass from quarterback Patrick Mahomes and ran the ball in for a 75-yard touchdown. Hill kept running after reaching the end zone, and, upon hitting a wall that corraled some of the tens of thousands in attendance, he was met with beer and middle fingers to the face — courtesy of some folks clad in Patriots gear.
The team issued a statement on the incident Monday afternoon.
"Gillette Stadium security has identified the fan who violated the fan code of conduct by tossing beer onto a player during the game last night," read the statement. "The matter has been turned over to local law enforcement and the fan will be sent a letter of disinvite to all future events at Gillette Stadium."
75-yard touchdown. ?

There's no stopping the @Cheetah. ✌️ pic.twitter.com/rZCu0MywP4

— Kansas City Chiefs (@Chiefs) October 15, 2018
Hill, who racked up 142 receiving yards and three touchdowns on the night, initially didn't seem fazed by the negative reception.
"My coach [Andy Reid] told me, 'Don't get emotional. Don't get mad about it because it comes with the territory,'" Hill said after the game. "I'm not mad at all."
ESPN's Adam Schefter, however, later reported that Hill and his agent, Drew Rosenhaus, want to take action against the fan and have started talking to the NFL and NFLPA about potential options.
"That type of behavior is unacceptable," Rosenhaus told Schefter. "Players have to be protected. We want that fan to be prosecuted."
Others also took issue with the gestures, and several Twitter users condemned the fans for their lack of classiness and respect.
"Now if he smacked the piss out of one of you clowns, you would be all over social media crying ready to sue him!" former NFL running back Reggie Bush tweeted. "Fans need to chill before somebody [gets] hurt! You don't have to like the opposing team, but you need to show respect or don't go!"
Hill's speed was not lost on the Patriots' secondary, who praised the 24-year-old's quickness after their 43-40 victory.
"He's by far the fastest person that I've ever came in contact with," safety Duron Harmon said. "That's what he is. He's a great athlete, and he's fast. If he gets anybody in that position, more than likely he's going to be gone."
"I've never seen anyone that fast before," added cornerback Stephon Gilmore, "Fastest guy I've ever covered."