Patriots
Patriots notebook: Rookie Sony Michel is in for the long run
"It's a long season."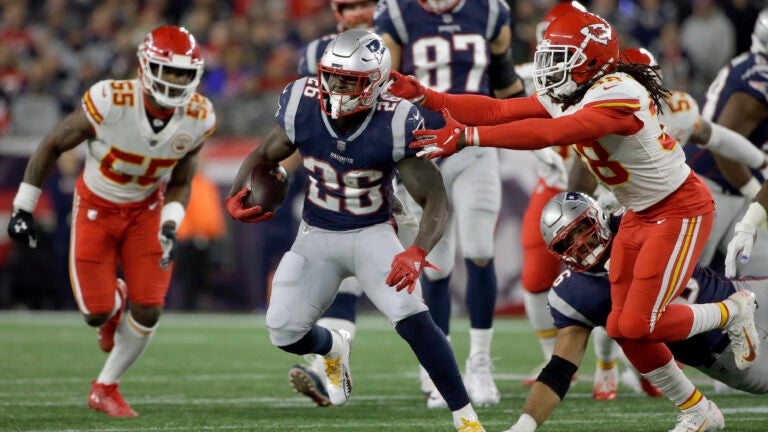 FOXBOROUGH — Sony Michel doesn't want to get worn out.
"I hear a lot that the later the season goes on, the worse people get,'' Michel said after practice Thursday at Gillette Stadium. "My kind of mind-set is to just build and get better and better because it's a long season. You're not going to be feeling good. How can you get better when you're not feeling good?''
Since making his NFL debut in Week 2, Michel has carried the ball 91 times for 400 rushing yards and four touchdowns.
The rookie running back has played well in his recent starts, falling just 2 yards short in Week 5 of logging a trio of consecutive 100-yard performances. Only Los Angeles Rams running back Todd Gurley has rushed for more yards (368) during that three-week span.
But Michel — who ranks among the league's top 10 in carries, rushing yards, average carries per game, average yards per game, rushing touchdowns, and rushing first downs — will be the first to underline that there's still plenty of football to be played.
"It's a long season,'' he said. "I'm still adjusting, still trying to get used to it [and] still trying to know how to manage things.''
If Michel were still at Georgia, where he played four seasons of college football, his regular season would be wrapping up just after Thanksgiving. Instead, he'll likely be playing well into January — if not early February — with his new team.
To keep up his performance in the NFL, Michel said he takes his sleeping habits and body maintenance "very seriously.''
And in the film room, he analyzes his decision-making and cut-making abilities with a critical eye.
"I just try to find one thing to get better at each day in practice,'' he said. "I'll take something — basically things I made a mistake on in the previous practice — and be like, 'I can't make this mistake twice,' so I try to get the information while watching film in order to execute it the next time.''
As the weeks go on, Michel's strides, including better patience at the line of scrimmage and ball security, are reflected in his improved statistics and increased workload.
The biggest facilitator for his progress? Anything but himself, he said, attributing his successes to "this team, the play calls, the offensive line, [and] the other players around [him].''
"I've learned a lot,'' Michel said. "I'm learning new ways, learning a lot from guys that I'm around, [and] just really trying to see my way through this NFL lifestyle.''
Sunday's game in Chicago against the Bears may be his toughest challenge yet. The Bears are the only team in the NFL that hasn't allowed a rushing touchdown this season.
Bumps on the road
Defensive end Trey Flowers said it's important for the Patriots' defense to be fired up at Soldier Field Sunday afternoon.
"We got to bring our own energy,'' Flowers said. "Something we haven't done this year.''
Both of New England's losses this season have come on the road (Jacksonville, Detroit), and Flowers said combating home-field advantage is "a matter of energy.''
"That's one of the things teams kind of lose when they go on the road,'' he said. "But we've won on the road. We know what it takes to win on the road, so we just go out and execute fundamentally.''
Flowers and the defense will also be looking to establish some consistency in Week 7. As linebackers coach Brian Flores said Wednesday, the team has only played well "in pockets.'' Against Kansas City, for example, the Patriots limited the Chiefs to 9 points in the first half but gave up 31 in the second. Kansas City's four second-half touchdowns came on just 11 plays over four drives.
"When you're giving up big plays like that, obviously, you don't want to do it, but sometimes you just got to tip your hat to them,'' Flowers said. "You want to limit those plays as much as possible through technique, fundamentals, and things like that. You don't want to give them anything, but if they just make a play, they make a great play.''
Cannon still out
Offensive tackle Marcus Cannon (concussion) was the lone absence at practice. Cannon, who was also the only nonparticipant Wednesday, suffered a concussion during the second half of Sunday's game against the Chiefs. If he remains sidelined, right tackle LaAdrian Waddle likely will get the start against the Bears.
Waddle has a history against Bears outside linebacker Khalil Mack, who did not participate in practice and remained day-to-day because of an ankle injury. When Mack was on the Oakland Raiders last season, Waddle largely neutralized the 27-year-old's impact, limiting him to two quarterback hits and one hurry.
Bears wide receiver Allen Robinson (groin) also did not participate in Thursday's practice, and offensive lineman Eric Kush, cornerback Prince Amukamara (hamstring), and defensive back Marcus Cooper (hamstring) were limited.
Limited for the Patriots were wide receiver Julian Edelman (heel), tight end Rob Gronkowski (ankle), wide receiver Josh Gordon (hamstring), Michel (knee), tight end Jacob Hollister (hamstring), defensive tackle Malcom Brown (knee), cornerback Eric Rowe (groin), defensive end Deatrich Wise (ankle/knee), defensive end John Simon (shoulder), and defensive lineman Geneo Grissom (ankle).