Patriots
What the experts are predicting for the Patriots-Bears game
The Patriots have a chance to extend their winning streak to four games.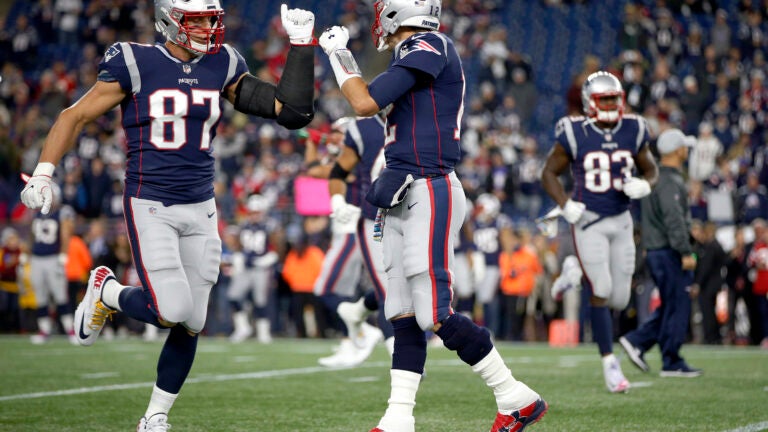 Here's where the New England Patriots have seemingly flipped the switch.
The road hasn't been kind to the Patriots in 2018, handing them a pair of ugly losses in Jacksonville and Detroit. Combine that with a trip this weekend to an NFC lair in Chicago, where the Bears are coming off an embarrassing loss to Brock Osweiler, seething for retribution.
Normally, that might be a recipe for an upset.
Except … nope.
Despite the annual September freak-out that the Patriots were falling off some sort of non-existent cliff, Tom Brady has found his groove, thanks to the additions of Julian Edelman and Josh Gordon. New England's defense might be suspect, but then again, welcome to the modern NFL, where defensive presence is sort of like a placeholder.
New England is New England is New England.
Again.
This week's picks:
Chicago Sun-Times staff: Three out of five pick the Bears. From Rick Telander: "By certain measure Trubisky is maybe the hottest quarterback in the NFL. But so is Dolphins backup Brock Osweiler. Still, 'Tru' has nine TD passes in his last two games. Forget the dumb stuff. Going out on a limb here."
Greg Cote, Miami Herald: Patriots 27, Bears 23. "Yes, both Pats losses were on the road, but they didn't have Josh Gordon or Julian Edelman for either. And Bill Belichick has made a career of bedeviling young QBs such as Mitch Trubisky; Belichick is 57-18 on the road vs. under-25 arms. Oh, and Bears D just got shredded by Brock Osweiler. Meet Tom Brady."
Jimmy Kempski, Philly Voice: Patriots (-3). "The Pats are only three points faves over the Bears? I'll gladly lay the three."
Pete Prisco, CBS Sports: Patriots 24, Bears 17. "The Bears are coming off a loss, while the Patriots are coming off a big victory over the Chiefs. New England's offense is back to being what we expect with Tom Brady, but I think the Bears will be better on defense here. The Pats will win the game, but it won't be high scoring."
CBS Sports staff: Six out of eight pick New England (Chicago +3). Six out of eight also like the Pats straight-up.
Gerry Dulac, Pittsburgh Post-Gazette: Patriots 30, Bears 20. "In case you haven't noticed, the Patriots have scored 38, 38 and 43 points in their past three games. Chicago's overtime loss to the Dolphins in Miami was, uh, un-bear-able."
David Steele, Sporting News: Patriots 30, Bears 21. "It always was going to feel too early to anoint the Bears no matter what, but their loss in Miami postponed it indefinitely. Possibly having a hobbled Khalil Mack, or having none at all, makes the climb this week even steeper. Meanwhile, the Bears have no choice but to wait on Mitch Trubisky to learn consistency. He'll have a front-row seat for the master, Tom Brady, which could be the silver lining in this game."
Vinnie Iyer, Sporting News: Patriots 30, Bears 27. "Tom Brady and the Patriots survived a shootout against the Chiefs last week, and they draw a similar, versatile Bears offense in Chicago. The Bears' defense will play better away from the Miami heat with Khalil Mack doing his best to keep the visitors in the cold. The difference will come late, when New England will be more committed to power running to ice the game after Brady puts them ahead in the fourth quarter."
Michael Hurley, CBS Boston: Patriots. "Last week, the Patriots were a 3.5-point favorite over the undefeated Chiefs. This week they're a 3.5-point favorite against a 3-2 Bears team that just lost to the Dolphins and also have a hobbled Khalil Mack. Surely home-field advantage in Chicago is not that powerful. Bad line. I'll take it. (Transitive property, by the way, shows that the Patriots beat the Dolphins by 21 points, and the Dolphins beat the Bears by three points, ergo the Patriots will beat the Bears by 24 points this weekend. Just you wait. It's science.)"
SB Nation staff: All New England.
Mike Florio, Pro Football Talk: Patriots 30, Bears 21. "The Patriots get the benefit of facing an Andy Reid-style offense for a second straight week. Throw in a banged-up Khalil Mack, and the winning streak moves to four."
Michael David Smith, Pro Football Talk: Patriots 27, Bears 20. "The Patriots are righting the ship and the Bears will drop their second straight and drop out of first place in the NFC North."
MassLive staff: All Pats. "This game has some let-down potential for the Patriots. After an amazing game against a very good Chiefs team, New England figures to have its hands full against a good Bears defense."
Joe Giglio, NJ.com: Patriots (-3.5). "Two things that are 100 percent true: Khalil Mack isn't as good as Lawrence Taylor, and the Bears aren't ready for prime time."
FiveThirtyEight: Patriots with a 60 percent chance of winning.
Elliot Harrison, NFL.com: Patriots 26, Bears 22. "Love this matchup. You know the Bears are Ditka-level pissed off over how last week's loss to Miami went down, a glacially-paced disaster if there ever was one. (It was kind of like climate change, though some folks choose to deny that. Not as easy to ignore NFL standings.) Chicago will attempt to tee off on Tom Brady, which is compelling because A) he will most certainly get the ball out quickly in the early goings and b) the Patriots have stunk on the road in two outings, getting manhandled in both Jacksonville and Detroit. The issue for Chicago is whether Mitch Trubisky and the offense can move the ball early. Still waiting for that 125-yard Jordan Howard game. Season high: 82 yards, Week 1."
It says here: Patriots 27, Bears 26. I miss Jay Cutler.