Patriots
Tom Brady continues to have nothing but praise for Josh Gordon
"We're just going to keep developing our confidence in one another."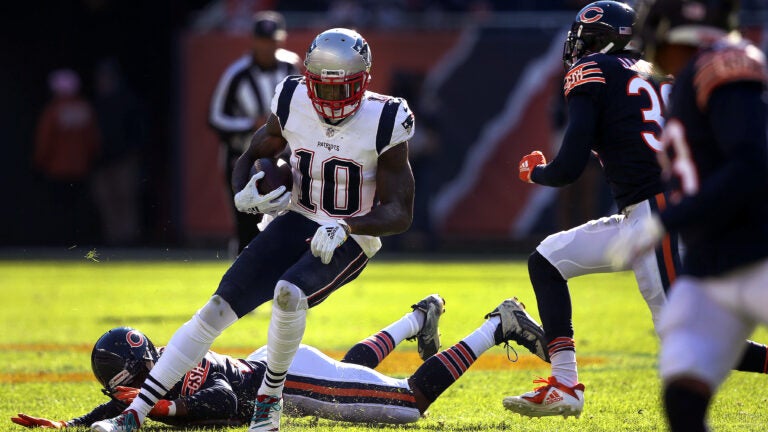 Patriots wide receiver Julian Edelman would like to the thank the Cleveland Browns for trading away Josh Gordon, the latest addition to New England's receiving corps.
"He's a real fast learner," Edelman told ESPN's Dianna Russini after his team held on for a 38-31 win over the Chicago Bears Sunday afternoon. "He picks it up quickly. He is unreal. Thank you, Cleveland."
Against the Bears, Gordon — who was dealt to New England in September — notched his first 100-yard game as a Patriot. The 27-year-old recorded four receptions, including one for 55 yards up the middle in the fourth quarter. Gordon caught the pass from quarterback Tom Brady just inside Chicago's 40-yard line, but he broke a trio of tackles to bring the ball one yard shy of the goal line.
.@JOSH_GORDONXII making catches and breaking tackles. #NEvsCHI | #GoPats pic.twitter.com/DqArwTfoeK

— New England Patriots (@Patriots) October 21, 2018
"I had him matched up on a one-on-one, and he just went up and got it," quarterback Tom Brady said. "We had a good play-action pass, I had great protection, he was running kind of a deep in-cut, [so I] tried to throw it. He caught it in stride, ran over the safety, and got down to about the one-yard line. It was an incredible play."
As he was hustling toward the end zone, however, Gordon looked a tad sluggish for someone whose social media handle is "Flash." It's possible the slight lethargy was due to the lingering hamstring injury that's kept him limited in practice, but Gordon revealed after the game that he was just fatigued during the drive.
"Unfortunately, I got a little bit tired there, at the end of the 96 yards," he said, letting out a small chuckle. "It was fun. It was great. I'm glad I was able to get a good touch on the ball and was able to make something happen."
Coach Bill Belichick had said in the week leading up to Sunday's game that Gordon's role would continue to expand — a development that was likely expedited against the Bears due to the absence of tight end Rob Gronkowski, who did not travel with the team due to a sore back. Gordon said offensive coordinator Josh McDaniels had mentioned that possibility in advance, so the pass catchers had practiced different looks and groupings. Brady recognized the adjustments were "challenging for [Gordon], especially," but he was pleased with how his teammate handled the test.
"I give him so much credit," said Brady. "He never loses his poise."
"We're just going to keep developing our confidence in one another," he continued. "He's making great plays when I throw him the ball, so just got to keep doing it."
"He's working extremely hard," added captain James White. "He's buying in. Just paying attention to everything the coaches have been talking to him about. He's playing hard. He's been making big plays for us. He had a huge play toward the end of the game, and a huge fourth-down conversion, too. We have a lot of guys stepping up, making plays, nobody really cares who gets to shine. Just go out there and make a play if the ball comes your way."