Patriots
Josh Gordon starts against Bills, despite reported discipline
Gordon was on the field for New England's first possession.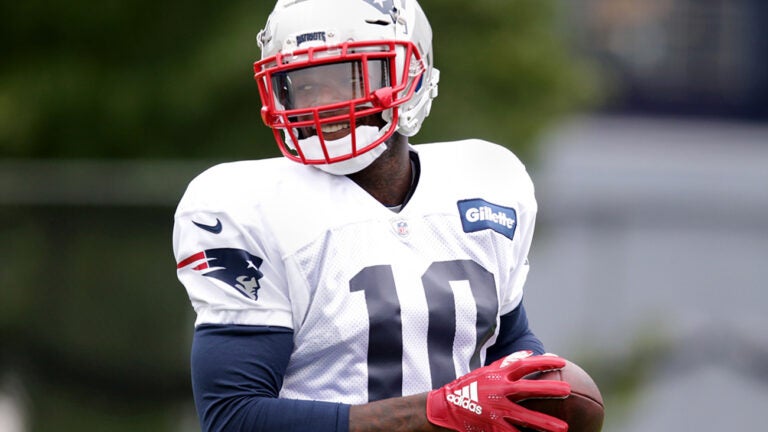 ORCHARD PARK, N.Y. — Patriots wide receiver Josh Gordon was on the field for New England's first possession against the Buffalo Bills Monday night.
Prior to kick-off, NFL Network's Ian Rapoport had reported that Gordon would miss a portion of the game as discipline for a tardiness issue. According to Rapoport, Gordon was expected to be kept off the field for about a quarter. The NBC broadcast crew said the Patriots would not confirm whether Gordon was disciplined.
It's not clear whether Gordon's issue was an isolated incident or something that's been ongoing. The Patriots, publicly at least, have praised his attitude and work ethic since he arrived in Foxborough via trade from Cleveland Sept. 18.
That said, Gordon's split with the Browns was due to several factors, most of them having to do with the team's ability to count on him. Gordon showed up late to a team meeting Sept. 16, reportedly one of the final straws that led the Browns to move on from him.
Even though Gordon started, the report is interesting because the Patriots have been linked to several receivers on the trade market ahead of the Tuesday trading deadline. So far, Gordon has looked to be a steal, capable of playing a top receiver's role, someone who can join forces with Julian Edelman, James White, and Rob Gronkowski to give Tom Brady an upper-echelon set of targets, including a viable deep threat.
"For him to play the role that he's played is a credit to him, what he's been doing and what his routine here has been,'' Brady said Saturday. "I know he's got a lot of great support, and everyone wants to see him do as well as he possibly can.''
Gordon has 224 receiving yards in four games, with an average gain of 17.2 yards, and had his first 100-yard game as a Patriot last week.
Though teams are always looking to improve, the Patriots seeking out additional receiver talent may indicate that they don't see Gordon as reliable, since his production has been too good to complain about.
The Patriots coaches, Bill Belichick in particular, place a premium on timeliness and have handed down discipline in these kinds of situations before. Belichick benched running back Jonas Gray for oversleeping and showing up late to a practice in November 2014 and sent receiver Randy Moss and linebackers Adalius Thomas, Gary Guyton, and Derrick Burgess home after they arrived late to a meeting in 2009.
The Patriots have taken some preemptive measures intended to keep Gordon on track. His locker is next to Brady's, and he has been spending a lot of time with Jack Easterby, the team's character coach.
Gordon has faced multiple suspensions for substance abuse issues, though there's no indication this discipline has anything to do with that.