Patriots
What Josh Gordon and Bill Belichick said about the wide receiver's reported tardiness
"I was available, so that's a plus."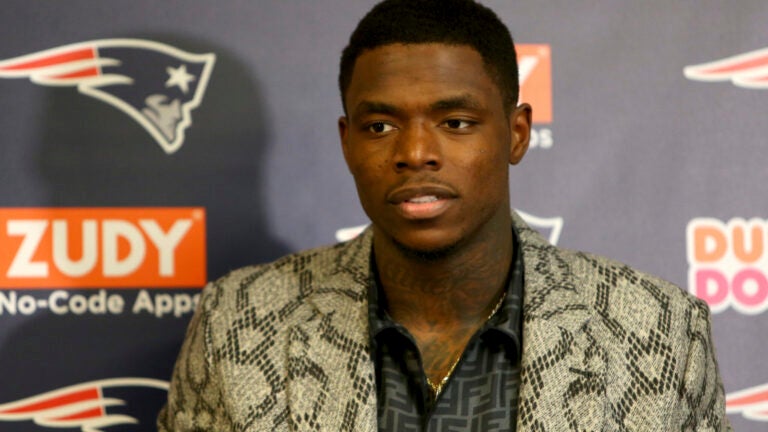 Patriots wide receiver Josh Gordon's reported discipline did not materialize on Monday night against the Buffalo Bills.
NFL Network's Ian Rapoport had reported prior to kickoff that New England would keep Gordon on the sidelines for about a quarter as punishment for tardiness. However, when Tom Brady and the Patriots offense took the field for their first possession, Gordon was in the huddle.
Brady targeted the wide receiver six times as the Patriots beat the Bills 25-6. Gordon hauled in four catches for 42 yards, including an 18-yard gain on first and 20 in the third quarter.
When Gordon was asked about the reported discipline after the game, he directed the questions to coach Bill Belichick.
"You know what, that's gonna be a question you're going to have to ask coach about," he said. "But as it relates to the game, I was available, so that's a plus."
The 27-year-old noted he was not sure what reports had been published.
"I gotta check on everything, you know," Gordon said. "I'm not too sure about what's out there myself, I couldn't even give you an answer."
The Patriots traded a fifth-round pick to the Cleveland Browns for the wide receiver in September. Gordon has been suspended multiple times for substance abuse issues, and showed up late to a Browns team meeting two days before the team sent him to New England. Since Gordon arrived in Foxborough, the Patriots have lauded his ability to pick up the playbook and thanked Cleveland for moving on from the talented wideout.
Belichick was also asked about the reported discipline, but gave no further insight into the incident.
"I don't know," he said. "You'd have to talk to whoever wrote that. I have no idea."