Patriots
LeSean McCoy laments 13-yard outing against the Patriots
"I've had bad games, but this?"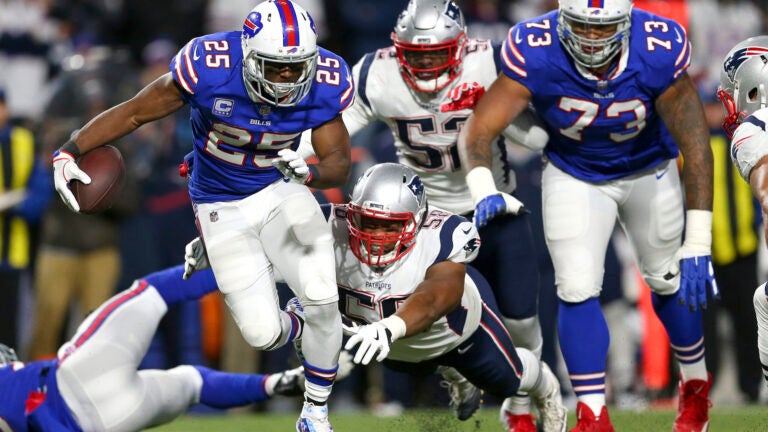 ORCHARD PARK, N.Y. (AP) — Ever since he topped the 10,000 career yards rushing mark last season, LeSean McCoy set a "12K or bust" objective.
Bust was more like it for the Buffalo Bills running back on Monday night, when McCoy totaled 13 yards on 12 carries in continuing what's been a season-long struggle for the 10th year player.
"I've had bad games, but this? The flow of the season and everything is bad," McCoy said following a 25-6 loss to the New England Patriots. "I'm 30 years old. I've been playing since high school. This stuff has never happened to me. Yeah, it's tough."
McCoy, who has missed one game with a groin injury, has just 257 yards rushing through eight games. That's 20 yards more than he had in his first two games with Philadelphia in 2013, when McCoy finished with an NFL-leading 1,607 yards rushing.
What hurts even more is being part of an anemic offense that is doing very little in supporting a defense that limited Tom Brady and the Patriots to scoring four field goals through three quarters.
"It's tough. And you see the defense out there just grinding, it's so frustrating," said McCoy, who did lead the Bills with 82 yards receiving. "We don't do nothing on offense, and it's not fair on them."
Buffalo lost its third straight and dropped to 2-6 in which it has scored just 87 points.
As for New England, Brady was held without a touchdown pass for the first time this season. And yet the Patriots secured their fifth straight win and improved their AFC East-leading record to 6-2 courtesy of James White scoring on a 1-yard run and defensive back Devin McCourty returning an interception 84 yards for a touchdown four minutes apart in the fourth quarter.
The interception was the turning point.
Trailing 18-6, the Bills responded with what was initially ruled a touchdown, when tight end Jason Croom appeared to make a diving, one-handed catch in the end zone. The 25-yard catch was negated when replays showed Croom never had possession.
Two plays later, McCourty jumped in front of Derek Anderson's attempt to hit tight end Charles Clay over the middle.
"Those are bonus points. It's hard to count on those," Patriots coach Bill Belichick said. "It was a big play for us. They were driving in the red area and it turned it around."
Sunday night showdown
With a win on Monday night out of the way, the Patriots can look ahead to hosting Aaron Rodgers and the Green Bay Packers for a Sunday night showdown. It'll mark just the second time Brady and Rodgers will face each other as starters. And Green Bay won the last meeting, 26-21, in 2014.
"Aaron's one of the best to ever play, so it'll be exciting," said Brady, who finished 29 of 45 for 324 yards passing against the Bills.
Patterson on the run
With rookie running back Sony Michel out with a left knee injury, the Patriots leaned on Cordarrelle Patterson to help their ground game. Patterson finished with a team-best 38 yards rushing.
White had 15 yards rushing, and added 10 catches for 79 yards. He now has 55 catches in becoming the NFL's ninth running back to top 50 in his first eight games.
Sputtering Bills
The Bills have scored just seven touchdowns this season, and two in their past five. Buffalo also hasn't scored a touchdown in the first half since rookie quarterback Josh Allen scored on 14-yard run in a 13-12 win against Tennessee on Oct. 7.
Kicker Stephen Hauschka accounted for all of Buffalo's points by hitting 51- and 47-yard field goals.
Anderson hurt
The Bills might be down yet another quarterback after Anderson was escorted off the field after being sacked with 1:25 left. Coach Sean McDermott couldn't provide any details on Anderson's injury because the player was still being evaluated.
The 35-year-old went 22 of 39 for 290 yards passing with an interception and a lost fumble in making his second start in place of rookie Josh Allen, who is listed week to week with a sprained right elbow. Buffalo's only other quarterback is Nathan Peterman, who lost the starting job after faltering in the first half of a 47-3 season-opening loss at Baltimore.
By the numbers
Brady improved to 29-3 against the Bills, extending his NFL record of most wins by a quarterback against one opponent. … The Patriots have won at least six of their first eight for the sixth straight year. … The Bills are off to their worst start since losing their first eight games in 2010. … The Bills have lost seven straight games on Monday night since a 23-18 win at Miami in 1999.