Patriots
Patriots rumor roundup: The latest on the team's activity ahead of NFL trade deadline
Will New England make a move Tuesday?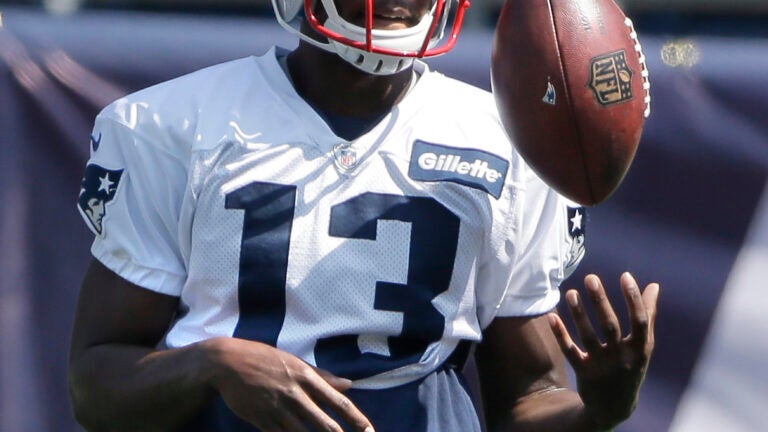 The NFL trade deadline is 4 p.m. Tuesday.
Here are the latest updates involving the Patriots:
At 3:40 p.m., coach Bill Belichick said on WEEI's "Ordway, Merloni & Fauria" that he does not expect the Patriots to make any moves before 4 p.m.: If New England stands pat, it will be the first time since 2014 the team did not make any moves near or at the October trade deadline.
Golden Tate, another name linked to the Patriots, has reportedly been traded to the Philadelphia Eagles: The Detroit Lions will receive a third-round pick in return, per ESPN's Adam Schefter.
Detroit is trading WR Golden Tate to the Philadelphia Eagles for a third-round pick, per source.

— Adam Schefter (@AdamSchefter) October 30, 2018
Demaryius Thomas, a rumored target of the Patriots, has reportedly been traded to the Houston Texans: New England was one of four teams — the others were the Philadelphia Eagles, Tennessee Titans, and, of course, the Texans — to inquire about the wide receiver, according to Benjamin Allbright. Houston, however, was the only team to offer higher than a sixth-round draft pick. NFL Network's Ian Rapoport also reported Tuesday that the Texans might not be done making moves. Patriots wide receiver Phillip Dorsett is reportedly on their radar.
The #Texans are closing in on a trade for Demaryius Thomas in exchange for a mid-round pick.

(via @RapSheet)

?: Up To The Minute pic.twitter.com/DkH2gvTX5K

— NFL Network (@nflnetwork) October 30, 2018
Is wide receiver Josh Gordon's status with the team influencing the Patriots' decision to pursue another wideout? Prior to Monday night's game against the Buffalo Bills, NFL Network's Ian Rapoport reported that wide receiver Josh Gordon would be benched for the first quarter as discipline for tardiness. Rapoport added that Gordon's punishment underscores why the Patriots have engaged in conversations about trading for a wide receiver, naming Demaryius Thomas of the Denver Broncos and Golden Tate of the Detroit Lions as two leading options.
Gordon, however, was on the field for the first possession of the game Monday. Neither Gordon nor coach Bill Belichick had much to say about the previous report.
Tate, on the other hand, took notice of Rapoport's tweet and replied, "What you talking about Willis?" NFL Network's Tom Pelissero reported Monday that the Lions were "fielding calls" for Tate, but he also noted a trade is unlikely unless the team is "blown away" by an offer (i.e. mid-round draft pick). Tate had told the Detroit Free Press Monday he doesn't think he's getting traded because he is "a huge part of this organization and this offense, especially."
The Patriots have reportedly discussed trading for linebacker Jamie Collins: According to The Athletic's Jeff Howe, New England has had "internal discussions" about bringing back linebacker Jamie Collins — one of the Patriots' second-round picks in the 2013 NFL Draft. The 29-year-old spent three and a half seasons with the Patriots, becoming a critical part of the defense before Bill Belichick dealt him to the Cleveland Browns in a stunning move ahead of the 2016 trade deadline.
The Patriots are reportedly interested in trading for a wide receiver: NFL insider Jay Glazer reported during FOX's pre-game coverage Sunday that New England is "trying to go after a bonafide premium wide receiver, offering up high-draft choices for that." NFL Network's Mike Giardi confirmed Glazer's report, adding that one player of interest is Denver Broncos wide receiver Demaryius Thomas.
Someone had some fun with Demaryius Thomas's Wikipedia page. pic.twitter.com/MRwtp6mdbQ

— Boston.com Patriots News (@BDCPatriots) October 28, 2018
During Patriots offensive coordinator Josh McDaniels's brief tenure as Broncos head coach, Denver selected Thomas 22nd overall in the 2010 NFL Draft. Thomas has remained in Denver for all nine seasons of his pro career. He has started all eight games for the 3-5 Broncos this season, recording 36 receptions for 402 yards and three touchdowns. Last year, the 30-year-old fell 51 yards shy of extending his five-season streak of posting at least 1,000 receiving yards.
Pierre Garçon of the San Francisco 49ers and Odell Beckham Jr. of the New York Giants are two other receivers rumored to be in trade discussions across the league.
The Patriots' wide-receiver depth chart currently consists of Julian Edelman, Josh Gordon, Chris Hogan, Phillip Dorsett, Cordarrelle Patterson, and Matthew Slater.