Patriots
Tom Brady talked Josh Gordon, Aaron Rodgers, the Red Sox, and his Halloween costume in WEEI interview
"It's kind of a work in progress."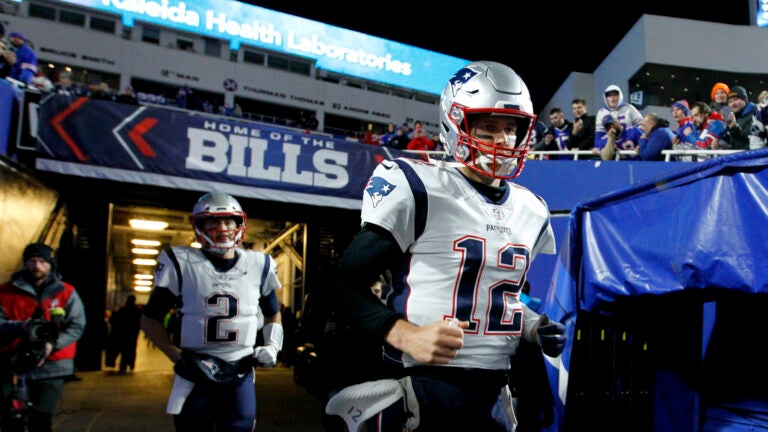 Tom Brady acknowledged what Patriots fans were thinking for much of Monday night's 25-6 win over the Bills: The game in Buffalo was not the easy victory that many expected.
"It was tough last night," Brady said in his weekly interview on WEEI's "Kirk & Callahan." "Because we really didn't produce many points, the crowd was into it the entire night until really [when] Derek Anderson threw that interception that Devin returned for the touchdown, so I think we really made it so hard on ourselves just with our overall communication."
One thing Brady was more amused by was his block on Bills linebacker Lorenzo Alexander.
"I said after the game I was like a speed bump," Brady said. "I was just trying to slow him down. He's a big guy. Usually I'm around the corner kind of looking for a safety but my job's to kind of get the play started, so if someone sniffs it out, [I] just kind of get in the way and hope Julian gets around the end which he did. It ended working out. I probably took the brunt of the hit."
One reason for the Patriots' struggles on offense – especially in the red zone – was the lack of running backs. Injuries pressed New England to be creative in personnel usage.
The solution, at least partly, was to use wide receiver Cordarrelle Patterson in the position. Brady sees potential for the speedster in his new role.
"I think he did great to be put in that role," Brady noted. "And the one big run that he had down their sideline. I think there's more opportunity there. I'm sure if he's playing there more often, he's going to make more and more bigger plays. He's a threat with the ball in his hands, whether that's receiver, kick returner or whether its running back.
"And we've got to do a better job overall in the run game," Brady continued. "I think that was one thing that was probably frustrating for everybody last night. We've been shorthanded at that position even before Sony [Michel] got hurt. We'll just have to figure out a way."
Asked how developments like that occur in the Patriots' offense, Brady credited his offensive coordinator.
"That's stuff that Josh [McDaniels] comes up with, and I think everybody loves when they see the ball in his hands, so the better we do, the more we do it."
Brady offered an interesting answer on the subject of Patriots versatility, reciting many of the past examples of players being utilized in other roles by Bill Belichick:
Everyone has a different skill set, and you don't want good players sitting over on the sideline for the entire game. Obviosuly with Julian and Hogan and Josh, Cordarrelle isn't getting as many snaps at receiver as he'd like, but if he can play a role in other areas, I think that's just a great benefit to help the team.

And I think we've seen that in a lot of Patriot players over the years. Guys who played multiple roles and actually made a really big difference in games. Goal line full backs like [Richard] Seymour or Junior Seau. Tom Ashworth as a tackle, or jumbo tight ends like Nate Solder in his entire first year. Troy Brown as a [defensive back] or Julian at [defensive back], or Mike Vrabel at goal line tight end. All these things help. Over the course of a 16-game season, there's a lot of attrition, and guys are going to be out and you just have to find ways to adapt.
On the subject of Josh Gordon, Brady stressed patience.
"It's kind of a work in progress, and we just have to stay with it," the Patriots quarterback said of his teammate's development in the offense. "But I have a lot of confidence in him. When I throw the ball to him, he makes the play and good things happen."
Brady avoided any comment on the pregame reports about Gordon being potentially punished for tardiness.
The Patriots' next opponent will be the Packers, who travel to Gillette Stadium for a Sunday night game.
It will be a battle of No. 12s, with Brady squaring off against Aaron Rodgers. Brady had only kind words for Rodgers, who he said he's had tabs on since he was in college:
I know Aaron pretty well. We've been friends for a long time. I've always known about him. He grew up in the Bay Area, and then at the Packers behind Brett [Favre]. He actually came in when Brett got hurt one time. What he's done as a quarterback, I think it's inspiring, even for me. I watch his game and it makes me want to get out there and practice and improve.

I think he's so phenomenal with how he manages himself in the pocket, and his ability to throw the football is probably unlike anybody in the history of the league. It's pretty awesome to watch. I mean he throws some of the best incompletions I've ever seen.
"I'm sure this one will come down to the wire," Brady concluded.
Of course, Brady was asked about the Red Sox' World Series win, which he showed himself watching in Instagram stories at various points throughout the baseball playoffs.
"I saw a little bit of it, the early part of the game but not the end. Obviously just couldn't stay up that late. But what an incredible year the team had. I remember following them earlier in the year and they just won every series and played so great. They just have made such a commitment to winning. I think it just makes the whole region pride that the team is just all-in for winning all the time.
"Give a lot of credit to the organization, the players, what they accomplished," Brady said. "The parade is going to be pretty amazing. [Boston's] had a lot of championships here. I know what it's like to win a championship and I know what it means to the city to go out there and celebrate it with all the fans. We get incredible support. This is the best sports region in America. It's just a great, great thing to be a part of."
And the other topical discussion point was Halloween. Yet Patriots fans aren't the only ones in the dark about what Brady's 2018 costume will be. He doesn't even know yet himself.
"I have to check in with [Gisele]," Brady admitted. "I don't know what she got. That hasn't been on my radar unfortunately."