Patriots
Bill Belichick addressed why he doesn't wear the NFL's 'Salute to Service' gear
"Honestly, I don't think what sweatshirt I wear is that important."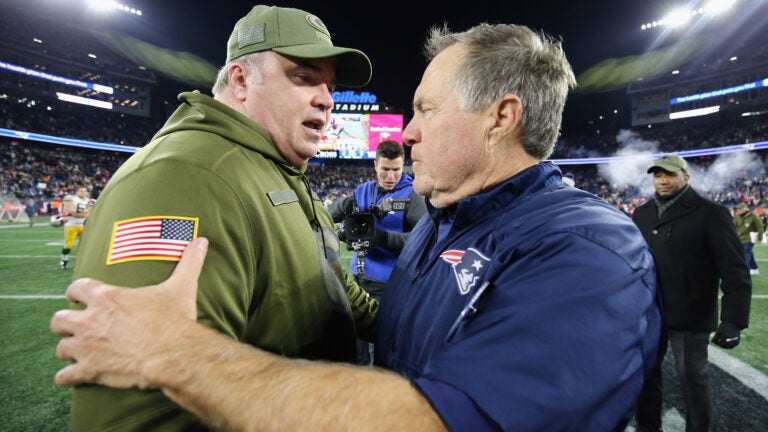 With the return of the NFL's annual "Salute to Service" campaign, football fans likely noticed the abundance of green, military-themed gear on the sidelines across the league Sunday.
Now in its eighth year, the annual campaign is intended to honor the country's service members and veterans and raises money for organizations that support their families. However, one notable figure has always abstained from the more visible, performative aspects of the November campaign: Patriots coach Bill Belichick.
Despite growing up at the Naval Academy as the son of a WWII veteran and having a deep interest in military history, Belichick has eschewed the military-inspired camouflage and olive-colored sideline jackets, hats, and headsets donned by nearly every other NFL coach and many Patriots assistants — and commercialized by the league — in favor of his normal, understated look.
The Patriots' game Sunday night against the Green Bay Packers was no different. Belichick was casually dressed in his usual Patriots-colored attire, and more than a few observers noticed. For the first time during a press conference Monday morning, he explained why.
"I usually wear the same thing for every game — I mean, not the same thing, but depending on the weather and so forth, I just wear the same thing for every game," Belichick said, when asked about his decision. "I don't change what I wear weekly based on whatever the theme of the week is."
The 66-year-old coach explained that he doesn't object to others wearing the "Salute to Service" gear and that "the military and the job that our servicemen and women do and the sacrifices that they make are very important to me and my family."
"Always has been, always will be," he said.
But at the same time, Belichick indicated that he thinks there are other, perhaps better, ways of recognizing and honoring those sacrifices.
"Honestly, I don't think what sweatshirt I wear is that important," he said. "What's important to me is what your actions are, what you do, so I try to make those count."
Belichick has taken players to visit wounded Army veterans at Walter Reed hospital in Washington, D.C., and, as Yahoo Sports columnist Dan Wetzel reported in 2015, regularly preaches the importance of the military inside the Patriots locker room:
Sources say he always takes time on Veterans Day or other times through the season to address the full team about what the holiday means, or why the national anthem is played before games or bring in others to speak about the importance of military service. It isn't just about honoring, it's about teaching the generally young men in his charge about what he believes is important.
And while not dressed in any military green outerwear, Belichick was wearing a button Sunday provided by the Tragedy Assistance Program for Survivors, a nonprofit that supports the families of fallen service members.
As part of the "Salute to Service" campaign, the Patriots partnered with TAPS to invite 25 New England-area military families that have lost a loved one in the military to attend Sunday's game against the Packers in Foxborough. Every one of the Patriots players wore a decal sticker with the initials of one of those 25 veterans and the team's coaches wore buttons with their faces.
Belichick's button honored Navy Petty Officer Second Class Andrew R. Bibbo, a Clinton native who enlisted after graduating from Milford High School in 2003 and was killed during a Nevada training mission in 2007. During his postgame press conference Sunday night, Belichick expressed appreciation for the TAPS families in attendance and said he was "proud" to wear Bibbo's button.
"I actually spent a lot of time in Milford," he said, noting that he had several friends from college in the town.
"Of course, he was in the Navy so I'm proud of that," Belichick said. "I'm really just proud for all of us — all of our players, coaches — that we recognized that and what they've done, the sacrifices they've made and their families have made for our behalf."