Patriots
What's going on with Rob Gronkowski?
The Patriots tight end has just one touchdown catch through nine weeks.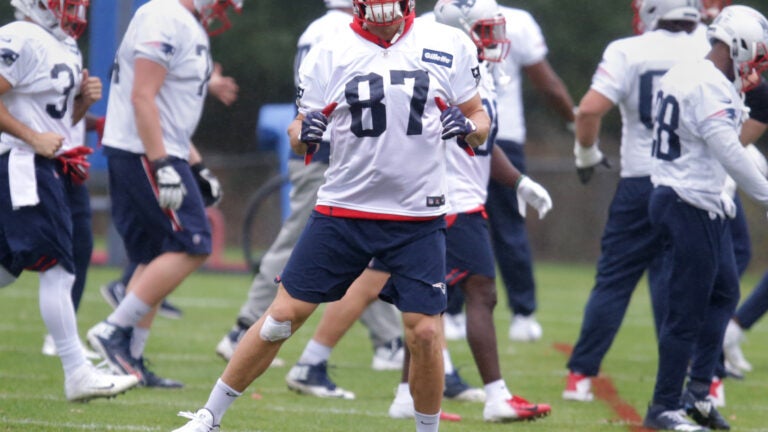 Patriots tight end Rob Gronkowski has been experiencing an extended stay on the injury report — a concerning detail in his puzzling start to the 2018 season.
Though he has exhibited flashes of success, Gronkowski has been limited to just one touchdown this season and has missed two games due to ankle and back woes. With rumors of retirement and unrest still lingering from last season, many are left wondering if things are copacetic with the four-time first-team All-Pro selection.
Here's what we know about the situation:
A timeline of Gronkowski's status:
Gronkowski first popped up on the injury report in Week 3, two days before the Patriots' matchup against the Detroit Lions. He was limited in one practice with an ankle injury but returned to full participation the following day and was removed from the injury report. Against the Lions, Gronkowski was on the field for 100 percent of New England's offensive snaps; he caught four passes on five targets for 51 yards.
In Week 4, Gronkowski was back on the injury report, again with an ankle injury, and he remained limited in all practices ahead of the Patriots' divisional game against the Miami Dolphins. Though he was initially listed as questionable, Gronkowski started and caught four passes on seven targets for 44 yards before exiting the game in the third quarter with an ankle injury. With New England leading by multiple scores, he did not return.
After steering clear of the injury report in Week 5 — and posting 75 yards against the Indianapolis Colts — Gronkowski returned to the injury report in Week 6 and has been limited or a non-participant in every practice since. During that four-week span, Gronkowski still added to his highlight reel with an impressive catch and stiff arm against the Kansas City Chiefs. But he also missed two games, staying home for the team's Week 7 trip to Chicago and sitting out Sunday night against the Green Bay Packers.
In addition to his ankle, Gronkowski's back was cited as an injury starting in Week 7 when it reportedly locked up on him during practice. According to NFL Network's Ian Rapoport, there are no "long-term concerns" surrounding his back.
Gronkowski's productivity this season:
Through seven starts in nine weeks, Gronkowski has 29 catches on 43 targets for 448 yards and one touchdown this season. His statistics are all lower than his marks at the same point in time last season — when he had 34 catches on 56 targets for 509 yards and five touchdowns — but one sticks out more than others: There has only been one Gronk spike this season.
Gronkowski has now played a career-high six games without scoring a touchdown. Quarterback Tom Brady has targeted him in the red zone only twice, which is quite low compared with the pair's production last season. In 2017, Gronkowski was targeted 22 times in the red zone — sixth most in the NFL — and hauled in 11 catches for 94 yards and six touchdowns.
"It is clear Gronk has not quite been himself in recent weeks," NFL Network's Ian Rapoport reported Friday. "From the defensive coordinators I've talked to, they've noticed."
Brady said Friday he doesn't know why he and one of his favorite catchers haven't been connecting as much this year, attributing the difficulties to overall offensive struggles.
"I don't think we've played our best offensively over the last eight games," Brady said. "We've got to all figure out — whether it's me and Rob, or me and Josh [Gordon], or me and Jules [Julian Edelman] or everyone, I think we're just trying to work at it every week."
The Patriots have managed to find other sources for their offense — running back James White has a team-high 10 touchdowns — and have racked up at least 30 points five times en route to their 7-2 record.
Still, if Gronkowski plans on earning any of his performance-based contract incentives this season, he's going to want to get more involved. As things stand now, Gronkowski is on track to hit just one of the statistical milestones that were laid out in his reworked deal before the season began. With up to $4.3 million on the line, Gronkowski should be eager to hit the field — he earns a $109,375 bonus for every game he's active.
Patriots coach Bill Belichick noted earlier this season that the different structures of player contracts do not shape the team's agenda.
"Our goal is the same as it's always been," Belichick said. "Our goal is to win games."
What Gronkowski has said:
Because of his extensive injury history, Gronkowski is frequently asked how he is faring physically.
"Feeling good," he said ahead of the Week 7 game against the Bears. "It's football."
"I feel good," he said again the following week, ahead of a divisional matchup against the Buffalo Bills. "Just taking it day by day, one step at a time to get back on the field."
Gronkowski's answers, however, were different before Sunday's game against the Packers.
"How are you feeling right now, Rob?" a reporter asked.
"Living," Gronkowski shrugged.
"You seem a little subdued," the reporter added.
"Thank you," Gronkowski replied.
The exchange was difficult to interpret, as were most of Gronkowski's answers during the press conference.
"It's a silly question, but how much do you miss the end zone?" another reporter asked.
"I think it misses me," Gronkowski said.
"What does that mean?" the reporter replied.
"I don't know," Gronkowski said.
Gronkowski proceeded to brush off questions about his performance and confidence level by praising the team's success. He insisted he is not frustrated by the lack of targets and production.
Earlier this season, one of Gronkowski's brothers, Chris, said after the Patriots' Week 3 loss to the Lions that it was clear to him the tight end wasn't happy.
"I can just tell by his emotions, his facial features, that he's super frustrated with it. You can see at the end of the game, how they ended the game double-covering him, pressing him off the line," he told WEEI. "He just wants to get the ball in his hands and make plays. But you just can't do it when no one else is getting open."
What Belichick has said:
Belichick rarely comments on a player's health, often advising inquiring reporters to refer to the injury report. When asked in Week 7 about Gronkowski's slower start this season, the coach said he's just focused on the upcoming matchup.
"We're really just worried about this game," he said. "Try to go out there and beat Chicago, so that's what we're going to focus on. If we score enough points and hold them to fewer, then we'll win. That's the goal."
Belichick acknowledged game-planning can be "a little bit harder" with Gronkowski's availability in flux, but he noted the brunt of the challenges falls more on the players than the coaches.
"For the players to be able to make those adjustments and go to a new set of plays, or go to a different adjustment on a play because of the way the players are positioned due to availability, that's harder on the players, and there are some other effects, too," Belichick said. "Without Rob, Dwayne [Allen] plays more on offense, which then Dwayne maybe is playing a little less in the kicking game, which then affects somebody that would play in his spot there and so forth."
What's next?
ESPN's Adam Schefter suggested on "Monday Night Countdown" that the Patriots could rest Gronkowski against the Tennessee Titans in Week 10 because, with their bye in Week 11, they could get "two weeks of rest for the price of one."