Patriots
Rob Gronkowski says the 2018 season has been 'more challenging'
The Patriots tight end also continued to be cagey about his health status.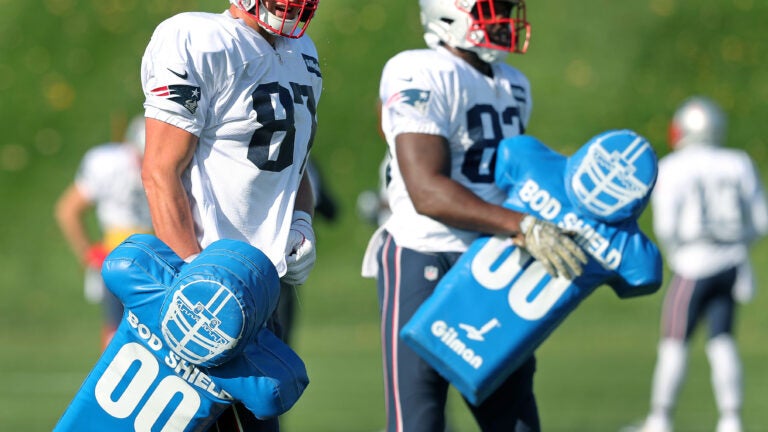 Rob Gronkowski says his underwhelming 2018 season has been tougher than most.
"It's been more challenging" the Patriots tight end told reporters in the locker room Friday afternoon, after being asked if the season had been difficult.
Video: Rob Gronkowski acknowledges some obstacles that have made it challenging for him this season, but is determined to get back to being himself on the field. pic.twitter.com/Sj7YsYTBeh

— Mike Reiss (@MikeReiss) November 9, 2018
"But I mean, it's just a little obstacles in the way,'" he said. "It's life — you gotta take them on. That's what I'm doing, and just got to get back to where I need to be and be myself when I get back."
Gronkowski missed two of the last three Patriots games and has been limited since Week 3 with somewhat mysterious ankle and back injuries. In seven games, the All-Pro tight end has just 29 catches for 448 yards and one touchdown. He admitted that the season has been hard to watch at times.
"Ah, nah. I mean, sometimes," Gronkowski said. "But I mean, it's going good."
The smiling 6-foot-6 tight end otherwise projected nothing but positivity Friday, answering questions about his health and emotions almost entirely in cliches and boiler-plate answers.
"Definitely the most important thing is contributing to the team and being out there with the boys," he said, according to WEEI. "Just working hard every single day. Extra days, extra work and just doing the best I can. Everything is going smooth and we'll just see what happens from here."
However, Gronkowski continued to be cagey about his health status and declined to give a percentage when asked if he felt 100 percent.
"We don't do percentages around here," he said. "Some kind of rules."
The Patriots listed Gronkowski — who was limited in practice this week with those nagging ankle and back injuries — as questionable Friday for Sunday's game in Nashville against the Titans. Asked if he would be playing, Gronkowski said it was up to the team's coaches.
"Coach's decision," he said.
"You feel like you could go?" a reporter asked.
Gronkowski, still smiling, shrugged and then, in lieu of directly answering, subtly nodded his head, before breaking out into giggles.
"If coach thinks I can go, I can go," he said.
Interpret that as you will.
https://twitter.com/PhilAPerry/status/1060972781691637763