Patriots
9 times Tom Brady's been 'in decline' since 2013
"He's never going to play in another Super Bowl in New England," wrote one critic in 2014.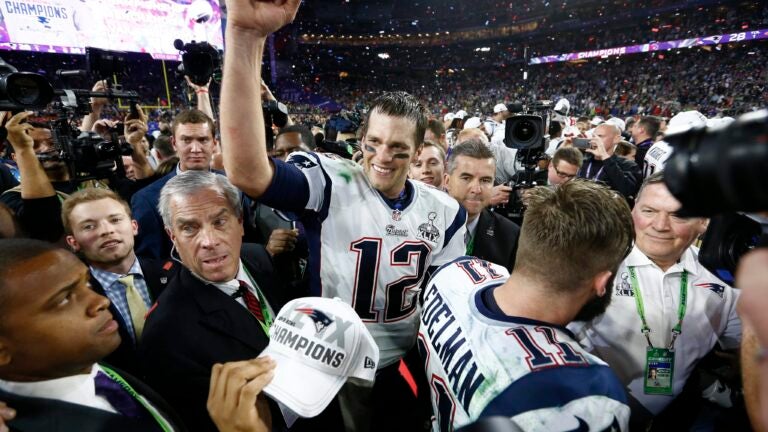 "The report of my death was an exaggeration," Mark Twain told The Boston Globe in June, 1897, debunking a brief but worrying rumor regarding the humorist's health.
Over a century later, New Englanders are getting increasingly familiar with reports of Tom Brady's football demise.
It's become an almost annual tradition since 2013. Each time, Brady's answered the bell, echoing Twain's words in his own inimitable style on the football field.
The latest crop of accusations began growing after a 34-10 loss in Tennessee to the Titans on Nov. 11. Since then, prognostications of the 41-year-old Brady's decline have again been made.
Before jumping to conclusions on the current state of Brady, here's a look back at some of the notable decline takes from the past few years:
2013
An early example of Brady declinism came from Cian Fahey of Football Outsiders in December, 2013. Fahey prefaced by explaining all of the offensive weapons that the Patriots lost following the previous season. Still, he explained that it wasn't Brady who was propping up New England's offense.
"Unfortunately for [Brady], the tape doesn't back up that statement," wrote Fahey. "Brady hasn't elevated his individual performance on the field. Instead, he appears to be finally fading from the pedestal where he sits among the best quarterbacks in the league."
In a detailed breakdown of Brady's season to that point, Fahey concluded that, "Looking closer at the film, it's clear that Brady's own decline is the reason he is no longer playing at the historically high levels he established from 2007 through 2012."
His closing paragraph outlined his film study takeaway:
It gets overlooked, and the importance of it is played down because of Peyton Manning's success these past two seasons, but Brady will soon be 37 years old. While he hasn't been an oft-punished quarterback during his career in relation to others playing the position, the effects of Father Time do appear to be taking their toll. He still flashes all the physical ability, but a fading physique may be an explanation for his inconsistency as a passer and his growing reluctance to absorb hits in the pocket. Myth and the legend of his career has clouded our perspective, but it's possible that Brady's decline has already begun. Every star fades at some point.

Even the brightest of them all.
2014
Before the season was even underway, ESPN's Sam Monson sent shockwaves around New England by putting "Tom Brady is no longer a top-5 QB" in a headline. Citing specific stats, including completion percentages when under pressure, and an inability to extend plays, Monson concluded:
There is no doubt that Brady is still a good quarterback — his peak was so high that even in the midst of decline there is a lot of room to fall before it becomes a problem — but there is little doubt at this point that we are witnessing his decline in action. Brady is no longer an elite quarterback. He remains very good, but if the decline continues at the same rate, it won't be long before that is no longer true.
Brady didn't immediately dispel doubters when the season began. A memorably shocking loss to the Chiefs on Monday Night Football in September produced a bevy of Brady takes (as well as Trent Dilfer's infamous "They're not good anymore" assertion about the Patriots as a whole).
A notable example in this time came from WEEI's Kirk Minihane, who wrote a piece titled, "The uncomfortable reality that is a fading Tom Brady."
He prefaced by noting that, "Brady's offensive line has been brutal, his skill players aren't exactly elite (though he's done more with less in the past) and Josh McDaniels has bursts of astonishing cluelessness."
But the blame was quickly shifted inexorably back to Brady and his then-79.1 quarterback rating. Minihane concluded with an avalanche of predictions:
Brady will never win another MVP. He's never going to play in another Super Bowl in New England. His best days are gone, and the days at a level right below his best days are gone. There will be flashes of the old form, but those will be outnumbered by what we've seen the last year and a half. It's only going to get worse for Brady and the Patriots over the next couple of years.

And that is how it ends.
Brady would not only go on to win another Super Bowl (and Super Bowl MVP) at the end of the season, he would repeat the feat two years later.
2015
Quieted by Brady's Super Bowl XLIX win – a resounding answer to his critics – the predictions of his decline slowed to a trickle during 2015.
The only memorable one came from a strange source: Madden. The 2016 iteration of the popular video game produced a strange prediction in a season simulation. Brady, according to the video game, would retire after the first season in franchise mode.
2016
By the summer of 2016, having been afforded ample time (and a non-Super Bowl season) to restock their vision of a declining Brady, critics returned. The most famous of these appeared in the form of ESPN's Skip Bayless replacement, Max Kellerman.
Speaking on morning show "First Take," Kellerman made a bold – though equivocating – prediction.
"Tom Brady's just about done," Kellerman said. "It could be his next game, it could be a year from now, but he is going to fall off a cliff. Tom Brady is going to be a bum in short order."
In Oct. 2018, Kellerman "revised" his cliff prediction:
2017
A few takes emerged before the 2017 season insisting that Brady would decline rapidly at some point, but it wasn't until December that a true prediction of imminent decline emerged.
Nick Wright of Fox Sports compared the fast ending of Peyton Manning's career to the expected conclusion of Brady's.
"In 2016, Tom Brady was as good as we've ever seen him," Wright began. "This year, through ten games, was almost as good as last year. Last week, we saw a little creak. Yesterday, last night, was as poorly as we've seen him play in a decade. When it happens, sometimes it happens like that and sometimes it happens during the season."
"Last night was as poorly as we've seen him play in a decade."@getnickwright explains why it may be the beginning of the end for Tom Brady pic.twitter.com/aT2M5zO9yl

— First Things First (@FTFonFS1) December 12, 2017
Brady went on to lead the Patriots back to another Super Bowl appearance, passing for 1,132 yards, eight touchdowns and no interceptions in the postseason.
2018
Rob Parker, a frequent contributor on Fox Sports, got things started before the 2018 season:
"Tom Brady and Brett Favre have almost identical numbers at age 40. Brett Favre fell off at age 41… This is the year Tom Brady looks 41." — @RobParkerFS1 pic.twitter.com/e6hI2yJGrm

— UNDISPUTED (@undisputed) August 17, 2018
And despite Brady guiding New England to a 7-3 start to the season, he weighed in after the Patriots' lost to the Titans on Sunday with another bold prognostication:
I tried to warn everyone this was coming. Brady MAY have thrown his last TD for Pats. Ijs. U never know. https://t.co/j8LOHKYcM5

— Rob Parker (@RobParkerFS1) November 11, 2018
While Parker's tweet was especially speculative, he wasn't alone in his take after New England's Week 10 loss.
Mike Tanier of Bleacher Report offered a considerably more measured thesis.
"Most of all, it's time to think of Brady as a wily old quarterback, but not one of the best in the league anymore."
"The Patriots offense has become a succession of touch passes over the middle, intricate screens and increasingly desperate trick plays," wrote Tanier. "The Titans caught on, and other opponents are about to figure it out as well."
Time will tell how Brady responds to the latest round of predictions. If history is any indication, there's reason to believe he might still prove them to be an exaggeration.