Patriots
What experts are saying about the Patriots during their bye week
"Tom Brady has a wet noodle for an arm right now. Let's just say what it is."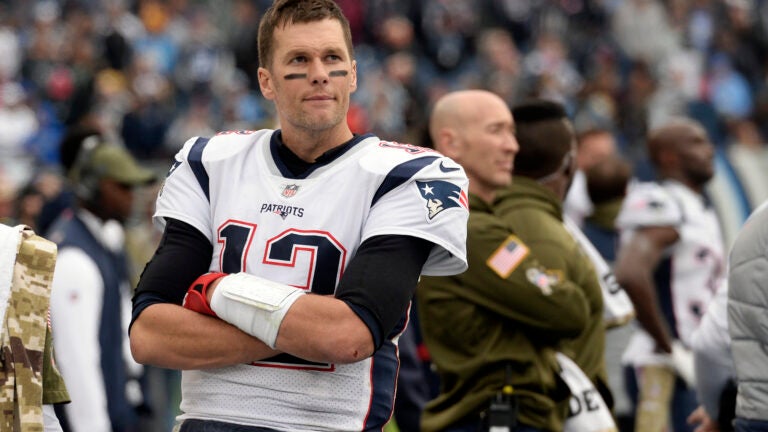 The Patriots are heading into their bye week perched atop the AFC East with a 7-3 record. Out of context, it sounds like they're once again getting ready to punch their ticket to the playoffs and ride that wave all the way into the Super Bowl, as they've done so many years before.
But this season, the Patriots have dropped three of their five away games – accounting for all three of their losses this season. They'll play three more games on the road going forward, something that's raising doubts among the pundits of the NFL world.
Here's what some experts are saying ahead of the Patriots' week off.
Max Kellerman and Stephen A. Smith, ESPN's First Take
For Stephen A. Smith, the Patriots' ugly 34-10 loss to the Tennessee Titans Sunday was a definitive and significant one.
"I think it means they ain't going to the Super Bowl," Smith said on ESPN's First Take. "I saw a New England Patriots team that got smacked around. And I'm not talking about the score, I'm talking about the fact that they got beat up. … I think that [the Titans] exposed the New England Patriots to a certain degree."
With Rob Gronkowski inactive for the second week in a row and third this season, Smith cut New England some slack on the roughhousing front. But his concerns lay with the team's poor on-the-road performance, rather than with Gronkowski's questionable status.
"Look at the New England Patriots on the road this year, they have not been impressive at all," Smith said. "They've been a really porous road team. So when I look at it from that perspective, along with their history of what I'm accustomed [to] seeing from them when they win on the road in the postseason in recent memory, I think this is something that spells doom for them."
Max Kellerman didn't take long to denounce the Patriots – more specifically, their quarterback – either.
"They play in the AFC East, so they have a free ticket to the playoffs every single year," Kellerman said on First Take. "But they're not going to do much in the playoffs because they're not going to win their road games. Stephen A. pointed it out: they have three losses now, all on the road. And by the way, Tom Brady has a wet noodle for an arm right now. Let's just say what it is. They're dinking and dunking teams to death. … And Gronk isn't the same. Not the same. So now you don't have an elite, playmaking difference maker on offense. You have a quarterback who really can't throw the ball down the field right now. When he tries to put mustard on the ball, it doesn't look the same. Let's be honest about it."
Mike Florio, Pro Football Talk
Heading into this season, Brady worked with the Patriots to revamp some of the incentives in his contract. According to Florio, Brady has up to $5 million riding on his performance in five different statistical categories this season. Brady, however, is struggling to crack the top 10 for some of these categories, statistically falling behind other quarterbacks who are experiencing increases.
"Even though Brady is still getting it done, objectively speaking, they're 7-3, you just have to wonder: As the other quarterbacks are finding ways to perform at a higher and higher level, what's keeping Brady from joining them as we see this offensive uptick this year in the NFL? Is it coaching? Is it play design? Is it supporting cast? Or is it Father Time? And we have to keep an eye on Father Time. I'm not rooting for Father Time here. I'm just being realistic. Tom Brady is 41. He wants to play until he's 45. Until he reaches 45, if he's still playing, we're going to constantly be looking for any evidence that we can point to to say, 'Maybe Father Time is finally making his last kick toward the finish line?' And the fact that so many other quarterbacks are performing at a much higher level than Tom Brady is right now, is that one piece of evidence we can look at and say, 'Maybe, just maybe, Father Time finally is gaining ground on a player who has seemed to be ageless for the last 18 years.'"
Tara Sullivan, The Boston Globe
In the eyes of the Globe's Tara Sullivan, Sunday in Nashville was one of those days.
"Some days it's all too easy to remember Tom Brady is 41 years old, those days when he's running for his football life or buried under a pile of his football foes, when he and his Patriots' offense are so out of synch and so far behind that you don't just question what went wrong in one ugly loss like Sunday's 34-10 beating at the hands of the underdog Titans. Those are the days you begin to fend off that gnawing concern that lives at the outer edges of your football consciousness, the one that reminds you Brady cannot play forever, that makes you wonder every time a game goes bad if this is the beginning of his inevitable end."
Sullivan points out that this isn't the first time the Patriots' doubters have been granted a field day. The woes of Weeks 2 and 3 are still noteworthy on their resume nearly two months later, even after they bounced back with six straight wins. All Brady needed was time, but at this point in the season and this point in Brady's career, it remains to be seen whether there's much left.
Mike Tainer, Bleacher Report
Hopping on the noodle bandwagon, Mike Tainer compared Brady's throwing arm to "overcooked fettuccine" in Monday's report, titled: "The Decline of Tom Brady, Part XIV: This Time It's Really Happening."
"Don't act shocked that we're saying it. Patriots fans may deny it on the comment threads, but they whisper it among themselves when us Muggles are not around. Other analysts might tiptoe around the topic, but that's just because we've all been writing End of Brady fanfic since 2009, and none of us want to read the "this didn't age well" tweets when Brady throws four touchdown passes against the Jets after the bye. … The great ones can compensate for losing a little velocity here and a little athleticism there until one day they are compensating their way through whole games just to stay competitive. That's what Brady has done for three weeks. He can probably do it well enough for two more months to keep the Patriots in the Super Bowl picture. But tomorrow is guaranteed to no one, not even Tom Brady."
Tainer insists that though Brady's days as the greatest of all time are winding down — he's somewhere between "a wily, old quarterback" but "not yet rusted out as badly as Peyton Manning was" — the Patriots might still be able to pull off one more Super Bowl win.
John Tomase, WEEI
Tomase directly responded to Kellerman's never-ending argument that Tom Brady is "tumbling over a cliff," insisting that the quarterback is, rather fittingly, "stumbling down a hill."
"There's an obvious distinction between the two," Tomase said, "but it's not like the latter is ideal. We love to describe the Patriots quarterback as ageless – and lord knows, what he's doing now remains unprecedented— but if we're being honest and objective, subtle signs point to his clock ticking like everyone else's."
While Tomase thinks that the 41-year-old quarterback still has ability left in him, he's not convinced that it's enough to carry the Patriots to the promised land that they're so accustomed to. History is working against the Patriots in Week 10:
"Game 10 usually represents that moment in a Patriots season when the potential energy of the slingshot becomes kinetic and begins slicing through the rest of the NFL. That's one of the many reasons that Sunday's 34-10 defeat in Tennessee was so shocking. At a time when the Patriots are usually hitting their stride, they fell flat on their face. To understand just how out of character this is, consider the Pats' performance in equivalent weeks of every season since 2007."
Chris Gasper, The Boston Globe
The 'Patriots Mystique' is fading and fading quick, according to Chris Gasper. The Mystique is something that intimidates teams all over the NFL. The Brady-Bill Belichick duo, their reputation, and their past all make beating the Patriots feel like a daunting task for other teams — just don't tell that to Mike Vrabel and his Tennessee Titans.
"Vrabel's Titans treated the Patriots like any other NFL team coming into Nissan Stadium," Gasper said. "They played them and beat them, 34-10, like the flawed, vincible, vulnerable team the Patriots currently are. There is an important common thread in the three Patriots losses this season, and it's not that all three have come on the road. All three have come against teams that have treated Patriots Mystique like a brand of bad cologne and not an actual factor. They've seen the Patriots for who and what they are — fragile if they fall behind early — and not as inevitable and indomitable AFC finalists."