Patriots
Rob Gronkowski is reportedly expected to return Sunday against the Jets
Gronkowski hasn't played since October 29.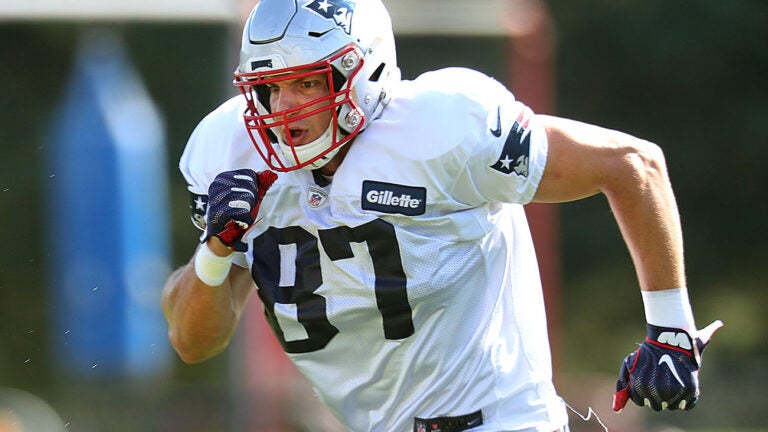 Patriots tight end Rob Gronkowski is expected to return on Sunday after missing three of the last four games due to a back injury, per ESPN's Adam Schefter.
After missing three of the past four games with a lingering back injury, Patriots tight end Rob Gronkowski is expected to be able to play in New England's next game after Sunday's bye against the New York Jets, per sources. More on ESPN's Sunday NFL Countdown.

— Adam Schefter (@AdamSchefter) November 18, 2018
The 29-year-old has been limited due to lingering injuries this season, posting 29 receptions on 43 targets and just one touchdown in seven games. He first appeared on the team's injury report with an ankle injury in Week 3 and then again with a back injury in Week 7.
Though Gronk hasn't played since October 29 against the Buffalo Bills, he did join the Patriots on their trip to Nashville last week ahead of their loss to the Tennessee Titans.
The Patriots have struggled offensively this season, particularly in the red zone, which is historically where Gronk does his best work. His numbers throughout his seven games so far are noticeably lower than in past seasons, but quarterback Tom Brady doesn't have any doubts about the tight end.
"I've played a lot of football with him, and I think I have a lot of trust and confidence in a lot of the things that have happened over the years," Brady said. "When he's not there, there's a different level with other players. Sometimes we don't try things because Gronk isn't in there. Sometimes we do. … Obviously, the more dependable, consistent players you have on the field, the more productive and efficient you'll be, which leads to more points, which leads to better opportunities to win the game, which is ultimately the reason we're all here."